We are all aware of the obvious consumer trend that has been around for years now. Mobile has been a dominating factor in many different aspects. Whether it be finance sites, technology blogs or holiday gifts, smartphones and tablets have been (and remain) a huge topic. That's no surprise considering the incredible capability they have and their tremendous growth.
There are a lot of companies that will benefit from the continued flow into mobile -- and there a lot of companies that will not as well! While some may benefit more than others, one name that I think will do really well is eBay (NASDAQ:EBAY). I wrote about eBay earlier this week and why I think the recent selloff is an opportunity for long-term investors.
eBay is more than just an online marketplace like Amazon (NASDAQ:AMZN). Amazon has done an incredible job of expanding its business segments, digital media content and brand awareness. However, eBay has strolled down a different path. Instead of focusing on streaming music and video (which is also gaining a lot of steam), it chose to stick with what it knew: Online auctioning.
However, the one wild card eBay holds comes from 2002, when it acquired PayPal. The business segment now accounts for over one-third of eBay's revenues and is the fastest growing part of its business. The Marketplace segment accounts for roughly the other two-thirds of eBay's revenues and by 2015, the company expects PayPal to match those numbers.
This means that each segment will account for about half of the company's revenues. PayPal is the reason that eBay has a chance on mobile, but the Marketplace just makes it a bit easier. The Marketplace still faces stiff competition from Amazon, which has made it extremely simple to make purchases and have them quickly shipped to consumers' desired location. Amazon Prime makes this task even easier.
And don't get me wrong, I'm not taking anything away from Amazon. Although the valuation seems extremely steep, it's a different situation than that of eBay. While both companies thrive with their own online market, the addition of PayPal has not only left the market in place, but allows eBay to profit from the transactions as well. It would be as if Amazon owned the credit card company that was used to pay for items off the site.
PayPal finds room as the middleman, by becoming the facilitator of online transactions and transfers. Now eBay doesn't have to sell anything from their site or mobile app, as long as the consumer is using PayPal to pay for whatever it is they're purchasing -- although buying something off of eBay using PayPal certainly helps!
PayPal will see most of its competition from a couple of different players. Google's (NASDAQ:GOOG) new Gmail Wallet feature might seem threatening at first, but so far has not been able to gain traction. Visa (NYSE:V) and MasterCard (NYSE:MA) also compete with PayPal, but more so on the physical front of payments, (for example, with credit cards).
There will likely be increased pressure from all three of these different sources. Google certainly has the user base to roll out a plan that many could quickly adapt to. However, when so many people already use PayPal for simple (and often times free) money transfers between one another or to easily and securely pay for something that directly links to their credit card or bank account, why would they want to switch?
After all, it's the seller that pays the fees on PayPal, not the buyer. So again, I must ask, what will compel consumers who are happily using PayPal for online purchases to stop? Just like how more consumers are switching to plastic instead of using cash or check, online payments and money transfers are becoming more and more prevalent in today's world.
There's no reason to think that should slow down either. PayPal already has 128 million active users and that bodes well for the company, as this number is expected to increase going forward. It's not just buying something on eBay and paying for it with PayPal. Small business can accept credit cards through PayPal's card reader and send out invoices via email. Parents can transfer money to their kids in college and friends can pay each other back with a few flicks of the thumb on their smartphone.
CEO John Donahoe recently emphasized the importance of mobile and continued innovation at eBay. He stressed that the company would continue to pour money into these initiatives so that they would constantly be ahead of the curve on both the competition and consumer front. Below are some excerpts from the 2013 annual shareholder meeting pertaining to this:
"There are four battlegrounds where a lot of this new opportunity is going to evolve: mobile, local, global and data...rest assured that our company is investing heavily in each of these areas, investing so that we're the innovation leader, investing so that we build great consumer experiences, investing so that we're the best partner for merchants as this profound change happens in the world of commerce and payments."

"We invested early, we invested heavily in mobile, we are the clear mobile leaders today, and we will continue to invest in mobile innovation and our capacity to innovate in the mobile environment has never been higher."
I highlighted these comments, as well as several others, in my article that's referenced above. But the purpose isn't to be redundant. It's to show that eBay is actually focused on innovation. They have been saying this -- rather, screaming from a mountaintop -- for quite some time. It's not as if eBay simply missed the boat and are trying to play catch up. No, they are the boat. Here's some more insight from the 2013 first quarter conference call:
"Our mobile innovation capacity is accelerating. For example, in Q1, we added over 2.8 million new users to eBay and Paypal through mobile devices."

"On the global front, our eBay and Paypal businesses are true global platforms today, with over half our users and volume coming from outside the U.S. But we're just scratching the surface. In emerging growth markets such as Russia, Brazil, India, and China, we see the opportunity for enormous growth."

"Paypal continued to expand its footprint, increasing merchant coverage and share of checkout. Finishing the quarter with 128 million active accounts globally, Paypal added 5 million new active accounts during the quarter, the fourth consecutive quarter of accelerating new user growth."

"Paypal mobile continued its growth trajectory. In fact, over the past 12 months, one out of every four Paypal account holders made at least one purchase through mobile."
Based on what's above, we can assess that PayPal is beginning to do more and more of its business through mobile. Of the 5 million users that were added in the first quarter, nearly 3 million of them came via mobile signups. In other words, nearly 60% of new signups did so through their smartphone or tablet.
So given that Donahoe told investors the company was investing heavily in mobile and doing so early, one would estimate that this is going to be a very important business segment for eBay going forward. As a shareholder I am looking forward to see how eBay can continuously stay ahead of the pack and continue to grow their PayPal and mobile segments of their business.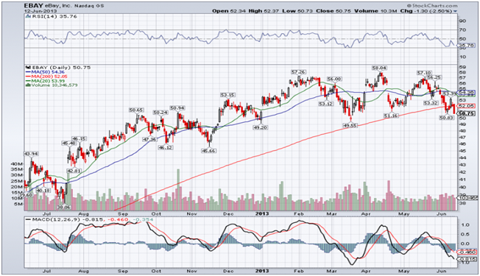 I think the current share price of eBay offers a nice entry for long-term investors. As of Wednesday, eBay closed for trading at $50.75. I think that shares may work their way lower ahead of the next earnings report, which is on July 17th. eBay may also continue lower if the general market continues to correct.
I believe that below $50 per share eBay offers a reasonable entry for long-term growth investors. With revenue growth estimated to increase by 60% by 2015, (this was mentioned by Donahoe in the shareholders meeting), I think it's incredibly reasonable to pay today's prices for a piece of the pie. Keep in mind that a poor report in July could further hurt the stock.
Note: eBay provided guidance slightly below analysts' expectations for the second quarter, during its first quarter conference call. Fiscal year estimates remained unchanged and in-line with analysts' expectations.
Disclosure: I have no positions in any stocks mentioned, and no plans to initiate any positions within the next 72 hours. I wrote this article myself, and it expresses my own opinions. I am not receiving compensation for it (other than from Seeking Alpha). I have no business relationship with any company whose stock is mentioned in this article.