CSX Corp (NYSE:CSX) based in Jacksonville, Florida, is one of the nation's leading transportation companies. The Company provides rail-based transportation services including traditional rail service and the transport of intermodal containers and trailers.
Its stock price has been under pressure because of depressed natural gas prices, which decreased domestic demand for coal. Hauling coal is an important part of CSX business. However in the latest Q1 2013 earnings call Michael Ward (Chairman of the Board, President and CEO) stated:
Over the next several months we envision a transition period where coal begins to stabilize at a lower level and more importantly where the 80% plus of our business that is not related coal provides opportunities for the team to deliver vibrant results. Our diverse portfolio, far-reaching network and dynamic operating platform will allow the company to optimize its performance and any momentum that would occur in the economy with increased opportunities further.
This contrast with earlier earnings call, where management was less optimistic about coal stabilizing. These problems with coal demand mask an otherwise solid business. At the current price of $24.85, CSX future cash flows are offered at an attractive price.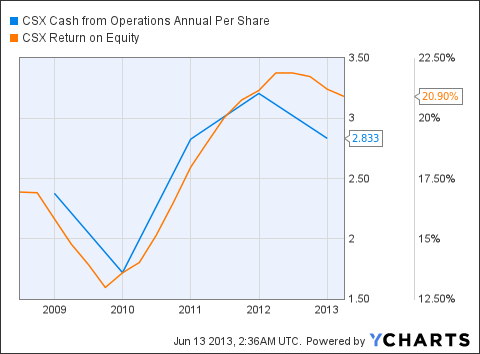 CSX Cash from Operations Annual Per Share data by YCharts
I'll highlight some of the positives and negatives of the business in short:
Consolidation in Sector and Sensible Competition
There has been an interesting development going on in railroads. A consolidation process has decreased the number of major rail companies from 40 to 7. Competition on price between these railroads has become less cutthroat.
Which reminded me of chapter 8 in Competition Demystified, called "Games Companies Play," an excellent book on business strategy by Bruce Greenwald and Judd Kahn. In this chapter, they treat price competition strategy and how the problem of price competition should be approached. A sensible approach where competitors are comfortable in the existing equilibrium leads to great profits. All out price wars, hurt everyone. As long as no market participant is tempted into starting a price war to attempt to grow its market share this equilibrium can continue to exist.
Fuel Efficiency
Shipping by rail is about four times as fuel efficient as shipping by truck. Government also tends to look favorably towards rail shipping because it alleviates congestion concerns on highways and is more environmentally friendly.
Streamlining Operations
The company has been restructuring its business over the last few years. CSX has been vigilant in reducing overhead by reducing management layers and driving down labor costs. At the same time, they are reporting increases in safety levels and other operating improvements quarter after quarter.
Serves Attractive Areas
CSX is in the highly populated Eastern part of the U.S where 2/3 of the US population lives. There are different industries where future growth can materialize but one thing is for certain, being near people will be helpful.
Returning Cash to Shareholders
CSX is doing a great job of returning cash to shareholders. They have been and will continue to return 30% of profits through dividends. In addition, in 2012, CSX fulfilled its commitment to complete its 2 billion share repurchase program by repurchasing $734 million during the course of the year. Collectively, CSX has repurchased $7.9 billion of shares since 2006, representing approximately one-third of total shares outstanding today. Looking forward, CSX remains committed to share buybacks as an important tool to return free cash flows to investors.
Negatives
It's rare to find an attractively valued company or business that is not facing any problems and CSX is no exception in that regard. These are some of the bigger problems they face:
Domestic Coal Demand
Coal is a commodity that is often shipped by rail, yet because of the cheap natural gas prices, it's not very popular right now. With the demand reduced and uncertainty if demand will return, CSX stock price is under pressure. This is a quote from management in the Q4 2012 earnings call:
Furthermore we anticipate our rates to be pressured as we work with producers to keep U.S. coal competitive globally in an environment where underlying commodity process for thermal and metallurgical coal are low. At the same time domestic coal headwinds will persist but we expect them to continue to moderate throughout 2013.
Fellow SA contributor Regarded Solutions wrote a great article on CSX showing that coal import is picking up in Europe and that this railroad with its strong East Coast presence is well positioned to profit from this trend.
Vulnerable to Natural Disaster
Railroads are vulnerable to natural disasters. For example: CSX was impacted by Hurricane Isaac recently. The storm caused significant damage to a stretch of the railroad near New Orleans, causing outages and reroutes for several weeks. Ultimately delays suffered by customers were limited, but this goes to show that there is very little a railroad operator can do to protect its business against nature.
Valuation
The coal problems put enough pressure on CSX to create an interesting opportunity. With a P/E of 13.72 and a tangible book value of 8.7, the railroad appears attractively valued. I do count on management continuing to successfully replace the lost coal business or demand for coal picking up, somewhere in the next few years.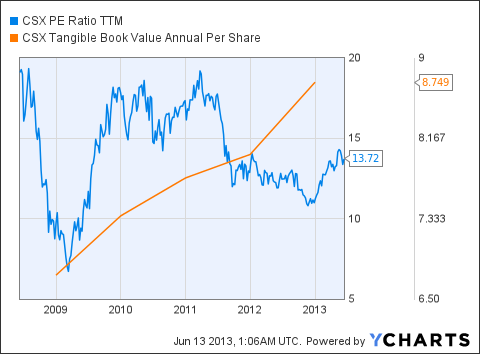 CSX PE Ratio TTM data by YCharts
Alternatively, we can also compare CSX Enterprise Value/Ebitda to that of competitors in the railroad industry. EV/Ebitda seems to be a reasonably fair stick to measure them all with, and see how CSX holds up.
With a value of 7.299, it actually looks attractive compared to Canadian Pacific Railway Ltd. (NYSE:CP), Union Pacific Corp. (NYSE:UNP) and Canadian National Railway Co. (NYSE:CNI) and is on even ground with Norfolk Southern Corporation (NYSE:NSC).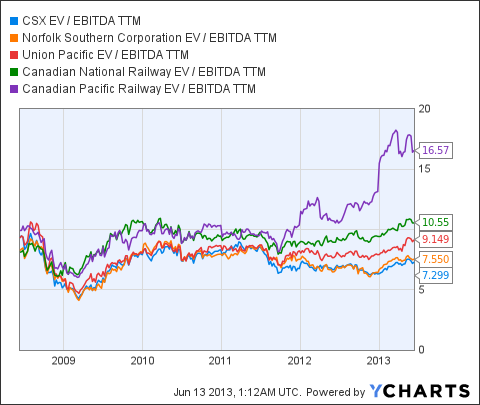 CSX EV / EBITDA TTM data by YCharts
Conclusion
CSX management is doing a great job with this company and these efforts are masked because of the drop in coal demand. These problems will turn out to be temporary or will get worked out and the business will shine and the stock price rise to a level more in line with valuations of competitors. If an increase in stock price of 25%-30% were to materialize, within reasonable time, that would be quite satisfactory.
Clear catalysts would be rising natural gas prices or demand for coal from Europe taking flight. It's possible it will take some time for CSX to trade closer to intrinsic value but at least there are clear identifiable catalysts that can spur its stock price in the right direction.
Disclosure: I have no positions in any stocks mentioned, and no plans to initiate any positions within the next 72 hours. I wrote this article myself, and it expresses my own opinions. I am not receiving compensation for it (other than from Seeking Alpha). I have no business relationship with any company whose stock is mentioned in this article.