What is Vanguard Natural Resources (NYSE:VNR) up to? This was the question I asked myself when I saw that they had announced a public offering of perpetual preferred units. You can also read the preliminary prospectus here. This offering of preferred units comes only a few weeks after a large secondary offering of common units on May 29. Since announcing the secondary, Vanguard's stock has declined 7% and now yields 9%.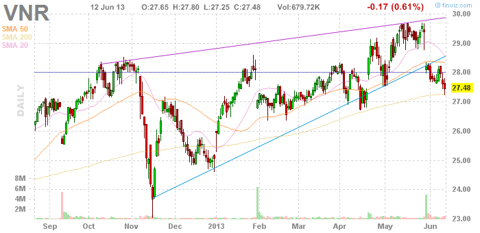 Vanguard's secondary offering of common units netted the company about $191M while the size of the offering of preferred units has still not been released as of this writing. However, it is very likely that the yield on the preferreds will be similar to that of the common. Vanguard is clearly planning to do something big with all these extra funds as it needs to generate cash flow to pay for the dividends and distributions on the new common and preferred units. The most likely areas where Vanguard will put this cash to work is to either pay down long-term debt or fund a large acquisition. Below is an explanation for both cases:
Pay Down Debt
Out of the two choices, this one seems to be the less likely one to occur. Technically, Vanguard has stated that the net proceeds from the offerings are to repay portions of its senior secured revolving credit facility. As of April 30, Vanguard had $714M in outstanding borrowings under its $1.3B revolver. Vanguard only other debt are its $550M of 8% senior notes due 2020. Deducting the $191M received from its common unit offering, Vanguard's revolver should now only have $523M in outstanding borrowings. Therefore, Vanguard's total long-term debt should only be around $1.07B, which is less than the $1.25B reported in Q1 2012. Considering that Vanguard has grown significantly over the past year and that much of the senior notes were issued only last October, I seriously doubt that they are in any rush to pay down their senior notes. Additionally, Vanguard's preferred units will likely yield near 8%, further reducing the positive impact of paying down this debt.
Then there is the issue of how Vanguard is going to pay for the new common units distributions. Vanguard issued about 7M units to its recent equity offering. These units will now need to be paid about $1.435M per month, or $4.31M per quarter, in distributions. Due to these reasons, I think it is highly probable that Vanguard is working on a major acquisition.
Acquisition
Vanguard's Q1 2013 DCF was $41.4M and its distribution coverage ratio was only 1.00X. When adding in the $1.435M in monthly distributions that the new units would be paid, this drops the coverage ratio to about 0.91X. A coverage ratio below 1.00X is typically unsustainable. Considering that this is not including the dividends that the new preferred units would be paid, Vanguard clearly needs to find an extra source of cash flow. For upstream MLPs such as Vanguard, this cash flow comes from asset purchases.
Vanguard's borrowing capacity under its revolver should be about $750M, which is more than enough to fund a decent size acquisition. While it is always difficult to determine a acquisition's effect on DCF, Vanguard has usually seen an accretive effect on DCF from asset purchases. Vanguard has always excelled at buying properties when energy prices are at their lowest. Back in 2008 and 2009, Vanguard was a buyer of oil-rich properties due to the weak price of oil. During 2012, when natural gas was below $2.00 per MCF, Vanguard was buying natural gas rich properties.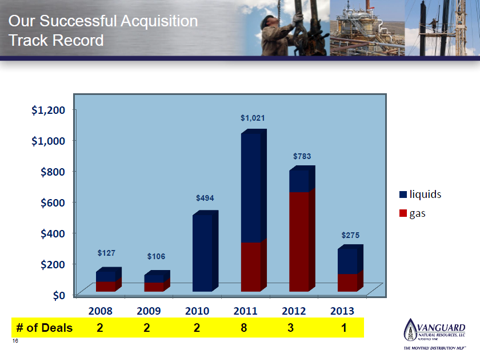 Conclusion
Something big must be in the works for Vanguard. Why else would it be raising capital this aggressively? This has me excited about what and where this possible purchase would be. There are many sellers of properties out there, and Vanguard should receive a very handsome discount since it is definitely a buyer's market. I also suspect that any deal would be accretive to Vanguard's DCF.
One interesting tidbit about Vanguard's preferred units is that they would be monthly paying -- just like the common. Also, they would be paying distributions, and therefore would result in a K-1 come tax time. I would probably be a buyer if the yield for these preferred units is anything close to Vanguard's current yield.
Disclaimer: The opinions in this article are for informational purposes only and should not be construed as a recommendation to buy or sell the stocks mentioned. Please do your own due diligence before making any investment decision.
Disclosure: I am long VNR. I wrote this article myself, and it expresses my own opinions. I am not receiving compensation for it (other than from Seeking Alpha). I have no business relationship with any company whose stock is mentioned in this article.