We have a ton of economic news due out today, however much of it may be muted if it is not something that blows investors away due to the markets in Asia which have had investors around the world worried all morning. The fears were quickly exported to Europe this morning and there is a bunch of red across our screen, so we expect little good to come of today in regards to our portfolio. We do expect to see small improvements in the employment data, but nothing surprising.
Chart of the Day:
It was ugly last night as Japan fell and fell precipitously. Rallies were attempted, but three times the index approached its lows, and the third time it finished there. Very ugly day indeed.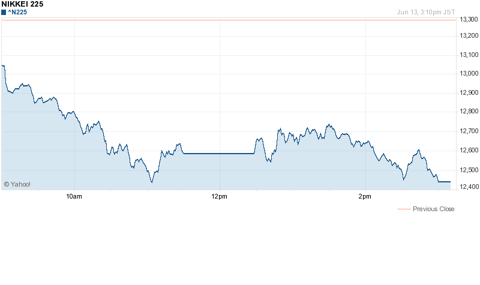 Chart courtesy of Yahoo Finance.
We have economic news due out today, and it is as follows:
Initial Claims (8:30 a.m. ET): 345k
Continuing Claims (8:30 a.m. ET): 2973k
Retail Sales (8:30 a.m. ET): 0.3%
Retail Sales - Ex Auto (8:30 a.m. ET): 0.3%
Export Prices - Ex Ag (8:30 a.m. ET): N/A
Import Prices - Ex Oil (8:30 a.m. ET): N/A
Business Inventories (10:00 a.m. ET): 0.2%
Natural Gas Inventories (10:30 a.m. ET): N/A
Asian markets finished lower today:
All Ordinaries -- down 0.66%
Shanghai Composite -- down 2.83%
Nikkei 225 -- down 6.35%
NZSE 50 -- down 0.91%
Seoul Composite -- down 1.42%
In Europe, markets are lower this morning:
CAC 40 -- down 0.79%
DAX -- down 1.41%
FTSE 100 -- down 0.99%
OSE -- down 0.77%
Telecom
These are most certainly interesting times we live in, especially as it pertains to the world of telecom right now. The tie up between Sprint (NYSE:S) and Clearwire (CLWR) has long been a certainty, not a question of if but rather when. The same can be said of Verizon (NYSE:VZ) and Vodafone (NASDAQ:VOD) and their joint venture Verizon Wireless, which we will get to later.
First we want to look at Sprint, Clearwire and Dish (NASDAQ:DISH) which are entangled in a lovers' triangle. Sprint has agreed to be bought by Japan's Softbank and then consolidate Clearwire into the main business to increase their spectrum holdings and provide the lifeblood of future networks and capacity to grow further. Charlie Ergen has stepped in however and seriously upset the balance of power here driving up the price in a bidding war and assembling a large holding of Clearwire's debt.
It seems that he truly wants the assets, but at the same time it appears that he is also driving up the price to either weaken a future competitor, buy himself time to launch his own network or get invited to the table to divvy up some operating assets. We say this simply because he cannot hope to accumulate all of Clearwire, because it seems a long shot that Sprint agrees to sell their shares to him. And his purchase of the debt ensured that Sprint was not able to simply force a quick sale by forcing equity investors to decide whether they wanted Clearwire to default on a large debt payment which was due or sell to them...again, buying time.
Is it safe to say that Clearwire has been rising on the Charlie Ergen bid? Easy to spot the new bids coming in on the auction from this chart...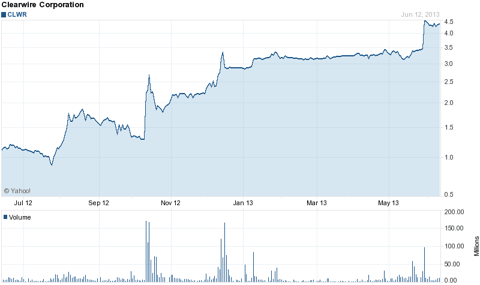 Chart courtesy of Yahoo Finance.
It is always cheaper to buy assembled assets than try to start from scratch and build a business from the ground up. Our bet is that Dish does walk away with something, but it is hard to say exactly what at this time. With the moves the company has made though, it does appear that it will be a package which makes it worth it.
News yesterday was that Vodafone was looking to beef up in Europe, which removes from consideration a complete sale of the company to Verizon and calls into question whether a deal is still even in the works. With a possible deal to acquire Kabel Deutschland, a German cable operator, Vodafone would have a nearly $10 billion acquisition to close and a lot on its plate. Selling the Verizon Wireless stake would not be a priority, especially as they would likely use that income stream to obtain financing.
With the recent downward price action, the stock is actually getting into an interesting area. Should it fall into the $26-27/share area we would look to be buyers.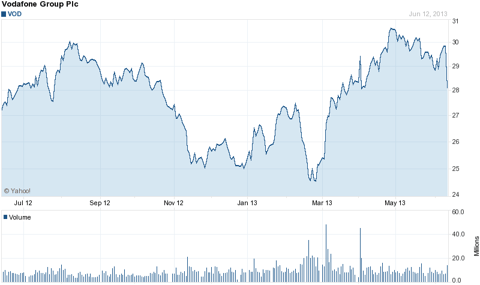 Chart courtesy of Yahoo Finance.
Essentially this torpedoes any chance of a deal getting done as the cash from a wireless sale would allow for the closing of the German deal but hinder the company's ability to leverage up their balance sheet in order to increase dividends or purchase further assets. It could also lead to a downgrade on the company's debt. Watch the news surrounding any German deal, knowing that if it is announced that the company's shares will decrease as investors flee due to a failure to close a wireless sale.
Retail
We wanted to provide an update this morning for our long-time readers on Ulta Salon, Cosmetics & Fragrance (NASDAQ:ULTA) which saw shares rise nearly 15% yesterday on the back of solid quarterly results. The company beat on the top and bottom lines and announced that they would be opening up 125 new stores. Ulta is looking to provide 20% growth in square footage moving forward as they work towards their goal of 1200 stores fronts. Currently the company is just under half of that number, so there is plenty of room to grow if their market research is correct. The company looked like it was in a bad place after the CEO left and the results they released shortly after that, but this goes a long way towards easing investor fears. We had previously taken this one off of our list to hold, but with this news might add some exposure on a pullback towards the $90 and below area.
Perking up once again...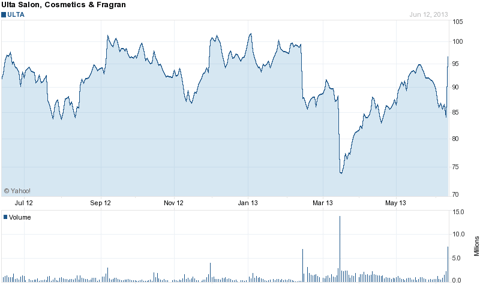 Chart courtesy of Yahoo Finance.
Disclosure: I have no positions in any stocks mentioned, and no plans to initiate any positions within the next 72 hours. I wrote this article myself, and it expresses my own opinions. I am not receiving compensation for it (other than from Seeking Alpha). I have no business relationship with any company whose stock is mentioned in this article.