The Asian markets are looking a bit scary this morning, but one must realize that China has been closed for holiday and this is their first day to react to the latest bit of news. This explains the fact that they are the second most down market there.
We are moving to a more conservative posture now as the price action in some of our indicators is in an area we would describe as 'no man's land'. Our tennis coach always told us to stay out of there on the court, and that lesson has proven to be true in the markets as well. When in 'no man's land' one does not add to positions or sell them off, but waits until you find your way out of there one way or another...it is then that you act. We are in a cash accumulation phase now with only the dividend reinvestment plays having any money added to them at this time.
Chart of the Day:
If gold has found its footing and we are going to see issues in Japan, might we see another mini rally here? It is something we are watching.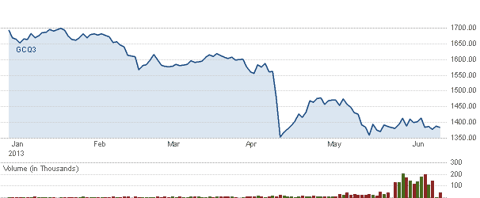 Chart courtesy of CNBC.com
Commodity prices this morning are as follows:
Gold: $1386.40/ounce, down by $5.60/ounce
Silver: $21.75/ounce, down by $0.046/ounce
Oil: $95.58/barrel, down by $0.30/barrel
RBOB Gas: $2.8101/gallon, up by $0.0008/gallon
Natural Gas: $3.740/MMbtu, down by $0.037/MMbtu
Oil & Natural Gas
Sempra Energy (NYSE:SE) saw shares rally over 11% yesterday after the company announced plans for another drop down to the MLP it set up for its pipeline and storage business. The move propelled shares to a new 52-week high after analysts cheered the move and issued fresh upgrades. All of this has to have Devon (NYSE:DVN) shareholders scratching their heads at this point as it is the exact opposite reaction the company received upon their announcement. The plan here is to drop down the remaining pipeline and storage business assets Sempra still has to the MLP and create two well defined and focused plays for investors to choose from.
Yesterday's news excited investors as it could bring in over $1 billion to the company.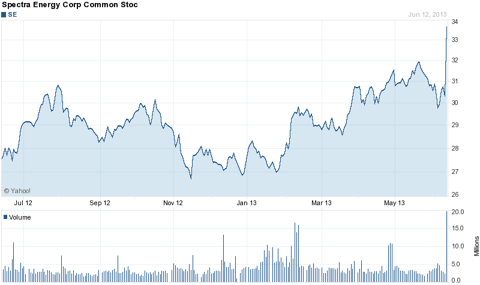 Chart courtesy of Yahoo Finance.
We talk a lot about our indicators and today we want to point out that Cheniere Energy (NYSEMKT:LNG) is now trading at $27.38/share and looking a bit worrisome to us. It has pulled back and not recovered and could be indicating to us a general pullback as it pertains to oil and natural gas. We are moving neutral on the sector and holding our current positions but not adding to any positions unless they have the automatic dividend reinvestment already set up in our portfolios.
Yes the shares have been big winners, however breaking below $28/share was not 'a good thing' to put a twist on what Martha Stewart would say.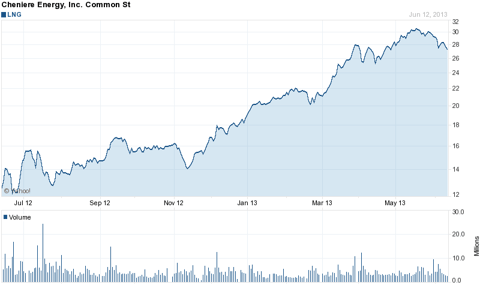 Chart courtesy of Yahoo Finance.
Talking about 'toppy' markets, First Solar (NASDAQ:FSLR) sure appears set for a correction and yesterday may have been the beginning of that pullback. Shares saw volume spike to 13.9 million shares as they declined nearly 11% to close at $46.66/share. Investors were not spooked by any business issues, but they were disappointed with the secondary the company announced whereby they will offer 8.5 million shares at $46/share. Another 1.275 million shares could be issued depending upon demand. This is yet another typical move for the industry and something we find hardly surprising...but this is coming from one who is not a believer in solar versus the rest of the energy field.
As much as we dislike solar, it appears the market dislikes coal even more. The one things that had been a constant in this coal correction that has taken place over the past few years was that the lesser players such as Alpha Natural Resources (ANR) were hitting the new 52-week lows constantly while Peabody Energy (NYSE:BTU) was less volatile. It seems we have seen a role reversal in recent weeks with the stock looking weak overall. Shares broke below $20/share, yes again, and have continued lower. We said that Peabody would be heading lower to sub-$20/share levels but this was even beyond our perceived low, and we were some of the more pessimistic out there. With the latest moves investors are presented with two scenarios. Either this is the final flush out before heading higher, or the entire industry shall follow Peabody lower (which if looking at others like Alpha may be already taking place). Before acting upon this, we would recommend waiting for Japan to calm down over the next week.
This two year chart really hits home as to how severe this latest correction has been. These fresh lows are new territory in an area no one thought we were going to be visiting.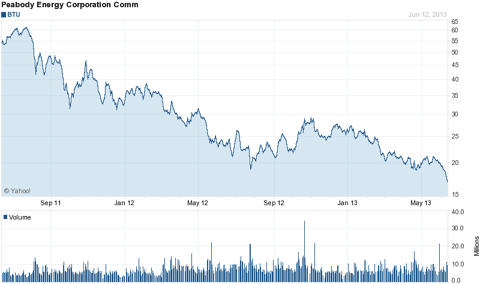 Chart courtesy of Yahoo Finance.
Disclosure: I have no positions in any stocks mentioned, and no plans to initiate any positions within the next 72 hours. I wrote this article myself, and it expresses my own opinions. I am not receiving compensation for it (other than from Seeking Alpha). I have no business relationship with any company whose stock is mentioned in this article.