Back in January, I published a brief article profiling Zix Corporation (NASDAQ:ZIXI). At the time, my primary thesis was based on several firm-specific catalysts and ZIXI's favorable valuation metrics. Overall, I initiated a buy recommendation at $3 per share and concluded that investors consider the potential growth ZIXI has to offer. Let's take a look at how ZIXI performed YTD: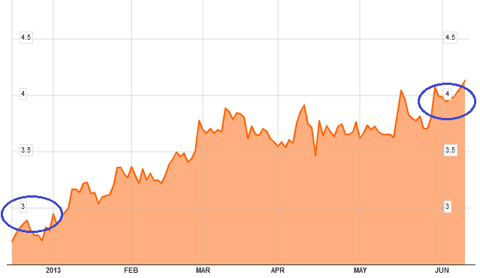 Over the last five months, its security price has increased nearly 33%. It recently established a 52-week high at $4.20 and is now trading below that right around $4 per share. With 61.87 mm shares outstanding, its market capitalization is roughly $250.04 mm. Overall, ZIXI has experienced positive long-term growth in its earnings per share over the past five years. Given it's a small capitalization company, there is plenty of growth options available for ZIXI to continue expanding its operations. Therefore, investors should expect this growth to continue in the long-run. Analysts estimates remain favorable with an earnings per share estimate suggesting roughly 26% growth just within the next year. It's now time to determine whether investors should realize short-term profits or continue to hold for further upside. For starters, let's revisit ZIXI's business model.
The Business
The primary focus of ZIXI's business is centered around designing as well as implementing high quality security for different means of electronic communication. As mentioned in my previous article, its business can easily be analyzed by dividing it between two segments, including its email encryption services and its e-Prescribing service. It's important to note ZIXI's services are highly specialized and distinctively different from those provided by its competitors. I will address the importance of these two factors shortly. First, let's understand why these services are unique.
#1 ZixCorp® Email Encryption Service's are designed for regulatory compliance and for protecting sensitive communication for clients. ZIXI's management states, "No competing solution can offer these fundamental components." The fundamental components of its Email Encryption system include:
#2 ZixDLP™ Email Data Loss Prevention services comprise the e-Prescribing segment of its business. This service is unique because it provides clients with real-time access to critical information on demand, which aids in enhancing electronic transmission of prescriptions directly to pharmacies. In addition, this service provides clients with a tool to mitigate risk by monitoring and measuring efficiency. Additionally, customers are attracted to this service for its cost advantages. In addition to the positive results it provides clients, many clients view it as a highly cost-effective approach for managing business risk.
As you can see, ZIXI's business models hrive off its ability to effectively address its clients needs. Its services incorporate a high degree of specialization and its service offering is distinctively different than its competitors. For this market in particular, the barriers to entry are moderately high, which is reflected by relatively few competing firms within the industry. The combination of these factors suggest ZIXI operates in a monopolistic competitive market. The fundamental characteristics of this market are highly advantageous for firms who wish to exert a large degree of pricing power. And given the high level of differentiation achieved from ZIXI's specialized services, ZIXI is perfectly positioned to utilize pricing power to its advantage. In the long run, control over pricing power will allow room for margin expansion, help maintain an adequate level of solvency to fund capital expenditures, and ultimately it will increase its market share allowing it to sustain a solid position within the industry.
Operating Performance
Over the last five year, ZIXI has produced stable increases in its revenue year over year. However, based on the changes in net income, it is evident ZIXI has experienced issues with earnings variability in the past. The variation in its net income can be attribute to changes in the pricing structure of its services and additional capital expenditures to expand its operations. Going forward, management anticipates these factors will have less of an influence as ZIXI focuses on its cost structure and adjusting its pricing policy for services.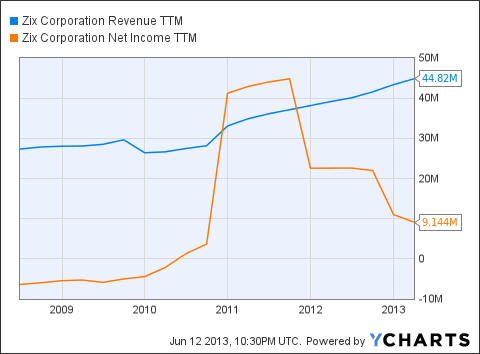 ZIXI Revenue TTM data by YCharts
Clearly, ZIXI's unique service offering is sufficient for sustaining its operations as a firm. But in order to ensure its margins are substantial enough to maintain an adequate level of solvency and increase the firm's intrinsic value, we must take a look at its ability to generate cash flow. While looking at revenue and net income is important, analyzing cash flow from operations allows us to distinguish whether a firm is generating real earnings or using accounting gimmicks to distort net income. Let's take a look: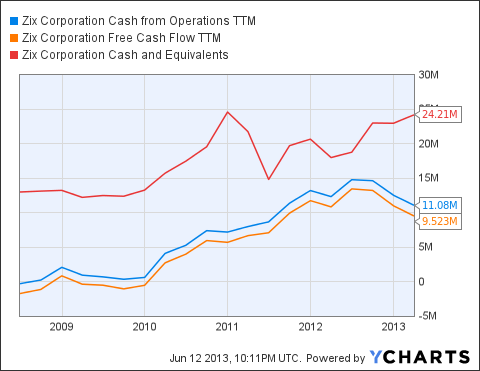 ZIXI Cash from Operations TTM data by YCharts
Above, you will see ZIXI's cash flows have increased tremendously within the last five years. Its operating cash flow is strong, which indicates the company is producing solid earnings for investors. Additionally, this is expressed through the relatively comparably high level of free cash flow to the firm. One more thing I would like to point out is that, historically, ZIXI has maintained a strong level of cash on its balance sheet. The current cash on its balance sheet of $24.21 mm is roughly 10% of its total market capitalization, which equates to slightly less than $0.50 per share. Overall, ZIXI's profitability is superb for a company in its growth stage. In the future, as ZIXI establishes a solid pricing policy that utilizes the pricing power generated from its market structure, its real earnings produced from operations have the potential to be stronger than ever.
What Should You Expect Next
Even with steady appreciation in its security price from YTD, its technicals continue to support further growth. Its 30-day relative strength index (RSI) indication does not suggest the stock has been over bought. In the short-run, this is positive for investors because it suggests there is not a high probability of a downward trend in its security price. In addition, analysts remain optimistic. Currently, the six analysts that cover the stock have a median price target of $5.75 per share. While this implies a high upside of nearly 44%, this price per share would not stretch ZIXI's valuation beyond reason. Overall, ZIXI is a company in its growth stage. A highly specialized product exhibiting a strong demand is precisely what is needed for ZIXI to make the transition from operating in a growth stage to sustaining its operations in a mature market. Patient investors have a high probability of being rewarded with abnormal returns as ZIXI continues to grow as a company.
Sources: Google Finance, Yahoo Finance, TD Ameritrade, sec.gov, Zix Corporation's Company Website, Bloomberg Market Data, and YCharts.
Disclosure: I am long ZIXI. I wrote this article myself, and it expresses my own opinions. I am not receiving compensation for it (other than from Seeking Alpha). I have no business relationship with any company whose stock is mentioned in this article.