On Tuesday, photovoltaic solar power systems manufacturer First Solar (FSLR) announced a secondary offering that would sell 8.5 million shares of common stock. The offering, which included a 30-day option to purchase an additional 1,275,000 shares was being conducted in order to raise cash for general corporate purposes, the potential of future acquisitions, investments, and for possibly paying business development expenses. At Wednesday's closing price of $46.66, this offering could raise up to $456 million for the solar company that currently carries a $4.1 billion market capitalization. By the end of the day's trading session, the company had shed 10.63% off of its share price over the announcement.
For the rest of the peer group, the move carries a rather ominous feeling. If the leader in pure-play solar with the most robust cash pile on its balance sheet is now raising funds after a large run up in the company's stock, what does this say about the rest of the industry? As seen in the chart below, the news appears to have spooked investors in these other leading solar companies as well.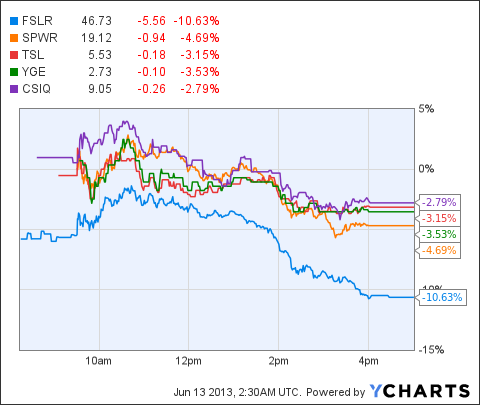 FSLR data by YCharts
Cash is king in this industry. As seen below, First Solar continues to maintain the healthiest balance sheet amongst its peers. Even as the solar economy recovers, most of First Solar's competitors operate at a loss in the present. First Solar, on the other hand, has largely been fortunate to surpass this problem as the company makes thin-film cadmium telluride panels.
This niche had previously given First Solar the unique advantage of being the low-cost producer in the industry. In doing so, it helped fortify the company's balance sheet prior to the industry collapse in 2012 in light of a market oversupply and tightened demand. Yet it was during this time that First Solar's comparative cost advantage shrunk as the competition's input costs fell drastically. As a result, the company was forced into the utility sector in order to remain competitive.
| Name | Mkt Cap. | Tot. Cash | Current Ratio | Operating Margin | Price/Book Ratio |
| --- | --- | --- | --- | --- | --- |
| First Solar | $4.1 Billion | $1.01 Billion | 2.03 | 15.17% | 1.25 |
| SunPower (SPWR) | $2.31 Billion | $506 Million | 1.68 | -2.18% | 2.58 |
| Trina Solar (TSL) | $391 Million | $704 Million | 1.16 | -21.96% | 0.49 |
| Yingli Green Energy (YGE) | $429 Million | $450 Million | 0.84 | -23.01% | 1.56 |
| Canadian Solar (CSIQ) | $329 Million | $163 Million | 0.90 | -6.55% | 1.41 |
First Solar now struggles in a race for improving its efficiency. Many other silicon-based manufacturers with higher conversion efficiencies continue to gain more large-scale projects that rival those of First Solar. For instance, MidAmerican Solar and Sunpower Corp. recently announced the start of a 579-megawatt project, which amounts to the world's largest solar-power development. Even the much smaller Canadian Solar recently announced its contract for a 130-megawatt project in Ontario. These large project wins suggest that First Solar might have a difficult time in bidding for projects in the future if it is unable to significantly improve its efficiency competitiveness.
Due to its healthy balance sheet, First Solar was among the first to recover out of the industry collapse of 2012. This can be seen in the chart below. Its most recent cash raise appears to be opportunistic in order to exploit the rapid rise in share price over the past year. By strengthening its balance sheet, the company is afforded additional flexibility to further consolidate the industry and fight to retain its market-leading position. Yet the company is not alone in having a rapidly appreciating share price. There is the possibility of additional capital raises across the industry as these companies also attempt to strengthen their balance sheets as well. If so, this would also raise the risk of increased sector volatility.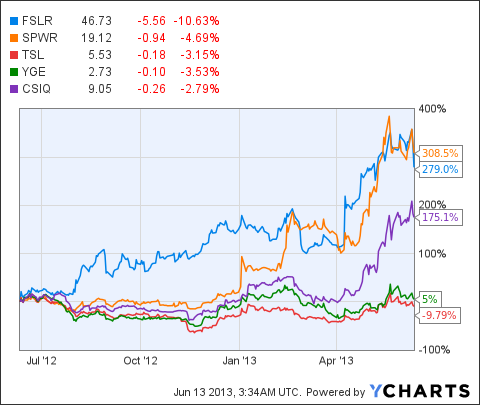 FSLR data by YCharts
Conclusion
Altogether, now may not be the best time to be watching the solar industry. First Solar's recent offering could suggest that the industry is ripe for further consolidation. Yet it could also suggest that the outlook is far from clear. More importantly, the implication could mean that other companies that are able to utilize their rising share prices may jump at the opportunity to shore up their balance sheets as well. In doing so, these companies increase their likeliness for long-term sustainability at the risk of further diluting shareholder value in the present.
With the rapid rise of stocks in recent months and the possibility for further offerings by other companies within the industry, this vulnerability to investors prompts a more cautious attitude for the sector. Yes, the solar industry is in a much safer place than where it was in 2012. But the industry still remains very competitive and the long-term winners are far from decided. Considering the recent gains, an industry-wide pullback is not far from impossible. It can even lead to better entry opportunities at a later time.
Disclosure: I am long SPWR. I wrote this article myself, and it expresses my own opinions. I am not receiving compensation for it (other than from Seeking Alpha). I have no business relationship with any company whose stock is mentioned in this article.
Additional disclosure: While I am long SPWR, I also have options in the company that are both bullish and bearish.