I am an active investor and follower of the intellectual property space. I have an excellent record forecasting different IP events, accurately valuing IP-centric investments, planning for a wide range of scenarios, and most importantly - profiting from both short-term trading and longer-term investment management of IP-centric companies. The 2nd half of 2013 presents some unique opportunities for a crafty investor to take advantage of. For my first article in hopefully a series of articles I will discuss Virnetx (NYSEMKT:VHC), Vringo (VRNG), and MarathonPG (NASDAQ:MARA).
Virnetx investors are waiting for three important catalysts over the next 6 months.
1) Running royalty rate to be decided by HJD. Investors are expecting a 1% royalty rate for continued sale of products determined to be infringing back in the November trial. I personally view anything north of .5% as an excellent result. Based on the viewable post judgment filings, Virnetx is asking HJD to include products that are not colorably different in the running royalty opinion. This is important for VHC, as they would be collecting revenues from more recent Apple (NASDAQ:AAPL) products, such as the iPhone5 and iPad4, instead of waiting for the 2nd trial scheduled for Q3 2015. All of the applicable briefs have been filed and investors are waiting for HJD to write his final opinion. While it can be filed any day at this point, my personal timeline is within 4-8 weeks.
2) An Apple appeal of the November jury verdict. Many investors feel the appeal presents an enormous amount of headline risk and are waiting for Apple to file the appeal before adding to their positions. I am personally waiting for the appeal before I add any more stock to my long position. I have been advising selling weekly / front month out of the money covered calls against a portion of a long position to capitalize on the premium in the options. I typically advise 2-4% as the portion. I believe that an Apple appeal is priced into the investment, but IP investments can be extremely volatile, especially when confronted with news that can be perceived or spun as an apocalyptic situation. I expect a period of volatility shortly after the appeal is filed and have cash available to capitalize on any weakness. The final motion was ruled on last night and the 30 day clock has been started. An appeal by Apple will be filed in the first week of July.
3) Non-defendant licensing might be the most important catalyst. LTE-Advanced is scheduled to begin rolling out in the 2nd half of 2013. T-Mobile will be the first provider offering devices that work on the new network. Android devices will likely be the first handsets offered to utilize LTE-Advanced, which presents Virnetx with a large licensing target. Virnetx has declared their patent portfolio as essential to 18 3GPP standards. All providers and vendors are likely on notice that utilizing the 18 standards will induce willful infringement and a likely lawsuit. In the 4 years since Virnetx first filed a declaration, I expect major inroads to have been made with everyone involved implementing and selling LTE-Advanced products. An agreement with an Android OEM or combination of Android OEM's will significantly alter the Virnetx investment to the upside.
With these 3 catalysts expected in the 2nd half of 2013 it will be an exciting time for Virnetx investors. I would advise anyone interested in Virnetx to wait for the Apple appeal and to see how the stock price reacts. I recommend current investors to grade the investment as a hold. The option savvy investor should be selling covered calls outlined above. As the other two developments occur, investors have a good risk reward opportunity for large gains over the rest of 2013.
Next is Vringo . There are a numerous amount of different contributors on various blogs and websites with an equal amount of opinions. My personal opinion of the investment since the Fall 2012 trial was to stay away completely from VRNG. I felt there was a substantial amount of risk pertaining to how much time it would take for the post verdict motions to be ruled on, along with HJJ's final opinion. I was of the opinion that just about any other investment would be better than to hold VRNG through the post verdict motions and the yet to be ruled on running royalty. I recommended the SPY as my investment of choice, which at the time was $139.50 and selling VRNG at $3.75. The results speak for themselves: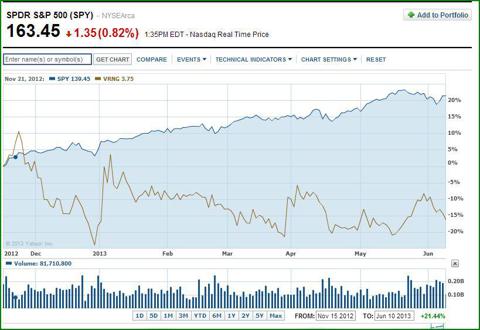 With the first half of 2013 almost over it is time to focus on the 2nd half of 2013. I am still on the sidelines with the opinion that too much emphasis is being placed on the IP Engine v Google outcome. Vringo has a much more lucrative opportunity with the Nokia portfolio targeting ZTE in a global campaign. Unfortunately, most VRNG investors are first time IP investors and they fail to understand the basic concepts surrounding an IP investment. They are captured by every minute detail of the IP Engine v Google case and they fail to recognize significant value sitting right under their noses.
The following two catalysts are set to play out over the 2nd half of 2013, which will be able to provide trading and long term opportunities for current investors and/or investors on the sideline:
1) The obvious to start, IP Engine v Google. Investors have placed the fully diluted value of VRNG ($300M+) on the pending running royalty rate motions. I am expecting a ruling in the coming days/weeks. HJJ has been very unpredictable and untimely with his rulings. My gut instinct says its longer than anyone expects or wants. I believe that investors on the sidelines should avoid this catalyst. Current investors should consider a hedging strategy such as September $3.00 Puts. Everyone should avoid buying shorted dated out of the money calls. I would advise experienced option investors to sell calls on any extreme valuation increase if the investment gets to $4.35, where insiders have 10b5 planned sales. The less experienced investor should consider trading a portion of their core holdings on any extreme valuation increase. There will be a continued long period as the appeals process starts and is decided upon, likely in 2014, which will lead to profit taking by investors. A Google settlement I view as unlikely at this stage in the process but I have learned anything can happen with patent litigation investments.
2) The VRNG v ZTE litigation is set to really get rolling with the Mannheim consolidated trial scheduled for October 15, 2013. There are pending cases in the UK, France, and just filed Australia. Vringo management have hosted some of the key documents concerning the ZTE litigation which is fresh of breath air in the IP space. They have also been updating investors of developments through their quarterly filings. The level of transparency and detail is very exciting to observe compared to other IP investments who basically discuss nothing and force investors to locate the information for themselves on various databases. It is a time consuming and can be an expensive process as some of the websites (PACER) charge you on a per page basis. I believe the Nokia portfolio and ZTE case represents a lucrative opportunity for investors and the Mannheim case will be the one to watch. Nokia has been a contributing member to the Standard Setting Organizations (SSO) for three decades plus. Their patents are typically of very high quality, which leads me to believe that validity will not be a substantial obstacle and infringement has a very good chance to be proven. The biggest question marks will be damages, future royalties, and a possible injunction. I would advise all investors to not get caught in the speculation trap in regards to these three topics. This case will likely benchmark the portfolio for the other ZTE cases and an eventual worldwide license. VRNG will further use the ZTE case as a playbook to land more and hopefully larger licensees over the coming years.
My advice is to wait to see how the IP Engine case resolves and reevaluate further as we get closer to the October Mannheim trial. I am hoping by September an opportunity opens where substantial returns can be generated for a trade or long term investment. I admire the VRNG investors passion and I hope that I do not upset the masses. I think the first time VRNG IP investors have much to learn and hopefully the above portion helps with their investment portfolio. I am bullish on the company's prospects, bullish on how management has executed, but bearish on the extreme viewpoints and expectations that VRNG investors have. I cautioned investors to not expect hundreds of millions out of MSFT, stated the reexaminations would not have an impact on anything in the present time, and I will continue to state that the firestorm in Washington will have almost zero impact on any current IP investment. The White House Proposals have little to do with any publicly traded IP investment and are targeted at private patent holders suing end users, IE suing a hotel over infringement from their copier.
Last we arrive at Marathon Patent group . The company reorganized from a mineral operation into a patent licensing operation in late 2012. The company has partnered with IP-Navigation Group to identify and monetize IP assets. After a series of patent acquisitions and investment from IP-Nav they are now the largest shareholder of MARA.OB and will almost double their stake when the TQP patent acquisition closes over the next two months. IP-Nav's stake will grow from 8.6M shares to 15.6M shares. On a fully diluted basis, I believe there are roughly 77M shares outstanding if all warrants and options are exercised. The company now owns five different portfolios with two of them having a long history of licensing with $54.5M in revenues across 129 settlements. The company is currently in suit against another 100+ defendants across the five portfolios. Within the past two months the company has entered into settlements with Siemens and Denon Electronics.
The 2nd half of 2013 should present a very good opportunity for IP investors to realize gains in MARA.OB. I am hoping that we see at least one more settlement before Q2 closes. We should see the 2nd Quarter 10Q, which will disclose the two settlements discussed above in the middle of August. I am expecting revenues in the 200K-400K range, but would not be surprised to see at least double those numbers. I am also under the belief that the company is near cash flow positive, which is a vastly different dynamic from the other micro-cap IP investments such as WDDD.OB, MGT, BCYP.OB, and DSS.
The catalysts that I am expecting are the following:
1) Continued monetization of the five portfolios. If management and IP-Nav can execute an additional 5-10 settlements in 2nd half 2013 it would be fantastic progress and provide substantial value for shareholders. A predictable financial model could start to be established, which would yield a significantly higher valuation.
2) Acquiring additional patent portfolios. I personally believe the five current portfolios should yield fantastic results, but management might be able to identify unique opportunities, which they are unable to pass up. If a portfolio is identified and can be transacted, I trust management to pull the trigger on further acquisitions.
3) I expect the company to conduct a reverse split in conjunction with a simultaneous up-listing to a senior exchange. The company has approval through April 2014 based on the June 3rd, 2013 8K filing. Many investors view the reverse split as a major negative but it is the furthest from the truth. The bulletin board listing and .40 stock price is a barrier to entry for most investors who are restricted from these types of investments. A door for a new class of potential investors will be opened. I welcome the reverse split as it will provide additional exposure and liquidity to investors.
I am currently holding a core position with no plans to trade around the position as I often do with a percentage of my holdings. As the stock is listed on the bulletin board there are no options to buy or sell. If/when the company is up-listed to a senior exchange I anticipate options to be added at a later date. A strategy will later be developed to capture additional profits. I see significant value in the common stock and will not be surprised if shares double from the .40 level as the company executes their plans. There has been a consistent seller from the legacy operations. Once the seller is cleaned out, I expect shares to realize their potential in short order.
The 2nd half of 2013 will definitely be an interesting time for IP investments as the events identified resolve. Investors should be planning a variety of strategies to profit from the investments.
Disclosure: I am long VHC, MARA. I wrote this article myself, and it expresses my own opinions. I am not receiving compensation for it. I have no business relationship with any company whose stock is mentioned in this article.
Additional disclosure: This article covers a micro-cap stock. Please be aware of the risks associated with these stocks.