Publicly traded oil and gas E&P companies (NYSEARCA:XOP) are known for a number of things. Historically, they have been excellent performing stocks, having way outperformed the indices in the past 10 years, albeit with higher volatility. The below chart shows this outperformance, and the performance is even more pronounced in the prior 5-year period, during which oil prices more than doubled.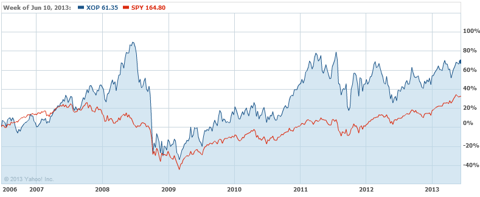 However, E&P businesses are very capital intensive. On the exploration front, capital is deployed acquiring leases, shooting 3D seismic, and then finally drilling exploration wells. And on the development side, drilling development wells requires significant development capital. Often these projects are equity and debt financed, rather than supported by internal cash flows.
Given the capital needs of the businesses, it is rare to see them buy back stock, particularly large quantities of stock. And when they do so, it is usually at or above the prevailing market price. For example, Energy XXI (EXXI) recently announced a share buyback, which may have been a major factor in driving the share price up quickly from $22 to $25.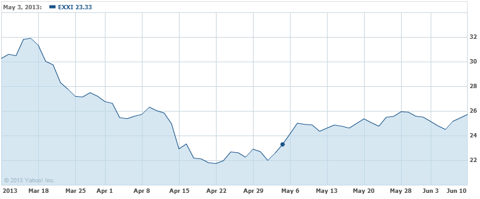 Gastar Exploration (NYSEMKT:GST) announced a few months ago that they were buying back ~10% of their outstanding shares, and were doing so at a discount to the prevailing share price at the time of less than $2 per share (Gastar paid $1.44/share). Since then, the stock has run up to its current level of ~$2.60 per share. The stock pulled back recently from over $3, despite a successful $200 million bond offering (the first the company has done since 2007), due to concern that various deals the company has announced might not close. However, on June 7th Gastar announced that the deal closed, and on June 11th documents were filed with the SEC and published indicating the share-repurchase had gone through.
Gastar bought its stock back from Chesapeake Energy (NYSE:CHK), along with interests in an oilfield that Gastar had recently hit a huge discovery well in. This was a home-run for Gastar and an apparent oversight by Chesapeake. The differential between the price Gastar paid to buy back its stock, $1.44, and the current share price, $2.60, may be a good indicator of how good a deal Gastar got in buying that field from Chesapeake. At a $75 million purchase price, the $1.44 to $2.60 differential implies the field might be worth $135 million. The $60 million value differential is meaningful to a company of Gastar's size - with only 60 million shares outstanding, just that difference could be worth over $1 per share. The success of this stock buyback and asset acquisition could drive Gastar stock to further outperformance as additional well results become available.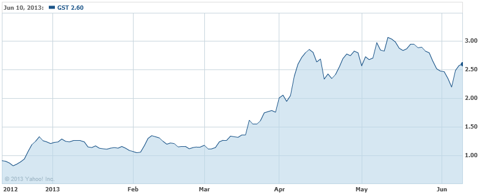 Some context regarding Gastar is probably helpful in understanding the situation better. Gastar is focused on two oil and gas fields, one in the Marcellus Shale in West Virginia and the other in the Hunton oil field in the Sooner Trend in Oklahoma. Gastar's consensus projected EBITDA for 2013 is $71 million, and its current enterprise value is approximately $450 million.
Doing the simple math, Gastar trades for approximately 6x 2013 EBITDA, which is much lower than comparable companies active in the Marcellus trade for. Comparables include Rex Energy (NASDAQ:REXX), which is growing at a similar pace and is a similar sized company and trades for ~8.1x consensus 2013 EBITDA. Since Gastar only has $150 million of equity out of its $450 million enterprise value, if Gastar were to trade to 8.1x 2013 EBITDA, that would imply a $575 million enterprise value, or a ~$4.59 share price versus the current $2.60 share price.
Other comparable Marcellus focused companies include EQT (NYSE:EQT), Range Resources (NYSE:RRC), Cabot (NYSE:COG) and others. Each of these companies trade at higher 2013 EBITDA multiples than Rex, which implies that the math on Gastar's potential stock price appreciation may be conservative. Also, none of these companies is growing as fast as Gastar is. The below two-year chart illustrates how Gastar stock has significantly lagged its Marcellus peers. As Gastar's production ramps and it becomes a larger and more mature company, Gastar stock could "catch up" with its peers. And it clearly has room to do so both from the chart below and from the EBITDA multiple analysis above.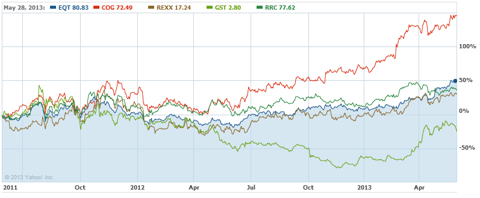 In conversations with sell side analysts and buy side analysts recently, many analysts seem to think Gastar could beat their 2013 EBITDA guidance / consensus projections. Particularly, after the recent acquisition of assets from Chesapeake, and if additional Hunton wells come onto production at the rate projected by Gastar, Gastar could potentially hit a higher EBITDA level and exit 2013 at a much higher run-rate EBITDA. The number that the most astute buyside analyst covering the name pointed me to is over $90 million in EBITDA for 2013. At an 8x multiple that implies an $11.50 share price, and that could be realized by early 2014 when the 2013 full year numbers are out. Consensus is obviously lower than that number, but the buyside analyst giving that estimate was pounding the table on Gastar when the stock was below $1 late last year, so he has been very correct on the stock in the recent past. An investor should not expect the stock to go that high that fast, but it is conceivable that it could do so if it does beat estimates that much. Particularly because EBITDA would have grown from under $30 million in 2012 to over $90 million in 2013, which is an impressive growth rate and would command a premium multiple.
From a downside perspective, Gastar has sufficient liquidity to execute its business plan, with a recently completed $200 million bond offering that is not due until 2018 and perpetual preferred which are never due unless the company is bought out and as long as the dividends continue to be paid. Gastar trades for approximately its estimated year end 2013 proved reserve value, which provides substantial downside protection and makes it likely the company will stay within its debt covenants. And Gastar is a beneficiary of rising natural gas prices, which gives it further downside protection and increases the likely liquidation value of its assets in a sale.
A review of Gastar's assets is also warranted. It is easy to think of a stock as just a piece of paper, but with an oil and gas company like Gastar it represents a proportionate ownership of proved reserves (oil and gas that a premier engineering firm has certified is in the ground) and production (barrels of oil and natural gas produced every day). Gastar has two main fields, the Marcellus and the Hunton.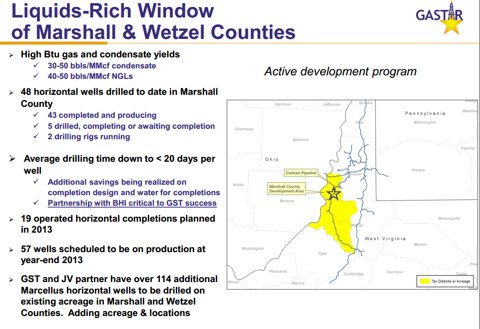 A map of Gastar's Marcellus field can be seen above. It has infrastructure in place and production is growing rapidly. And the economics are excellent, as can be seen here: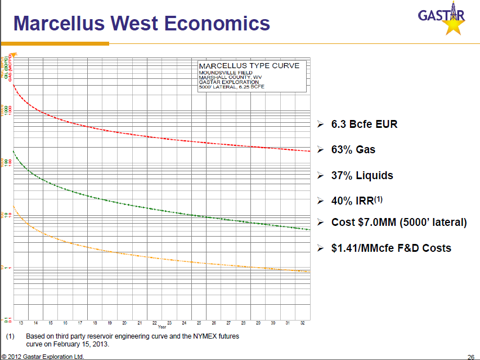 It is in the core of the play, in the liquids rich section highlighted by Antero Resources in the following map. Antero is backed by Warburg Pincus and will likely be going public later this year, driving additional attention to this area and potentially serving as a further catalyst for Gastar stock.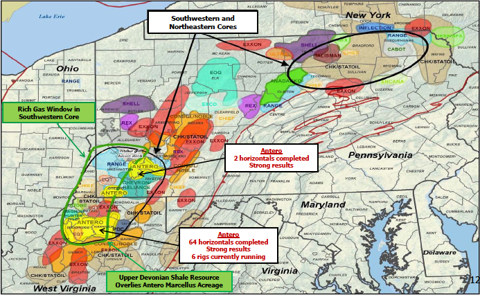 Gastar's other asset is the Hunton Oil play in the Sooner Trend. Gastar recently acquired substantial additional acreage in the Hunton and will be ramping up its program there this year. A map of the play can be seen here: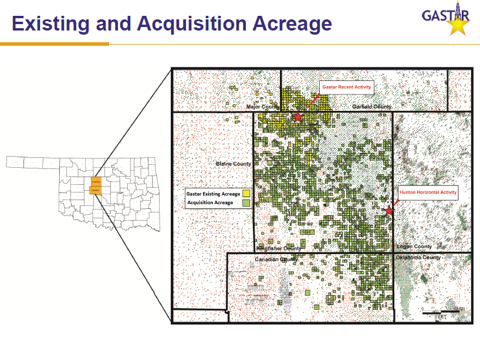 Gastar reviews the recent well results in the play in the following slide. The "Mid-Con 2H" well is one of the most economic wells drilled onshore in the US in the past year, peaking at over 1,100 barrels of oil equivalent per day (almost all oil) and producing over 900 barrels per day for over three months. In that time, Gastar's cost of drilling and completing the well was "paid back" by the revenue from the well, such that all further production is incremental profit net to Gastar.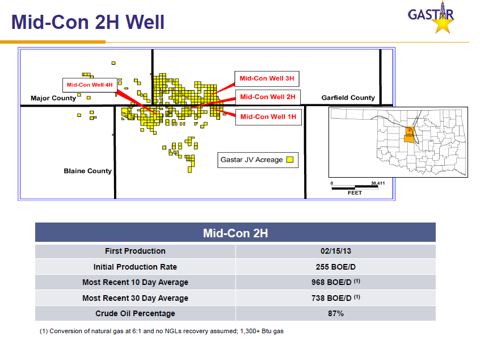 The economics of these Hunton wells can be seen in the following slide. If they come close to their type curve, Gastar could end up being worth far more than its current stock price. Obviously there is risk that additional wells could come in at lower than expected production rates, but it appears that the average well in the play so far has been highly economic, which is helpful in mitigating that risk.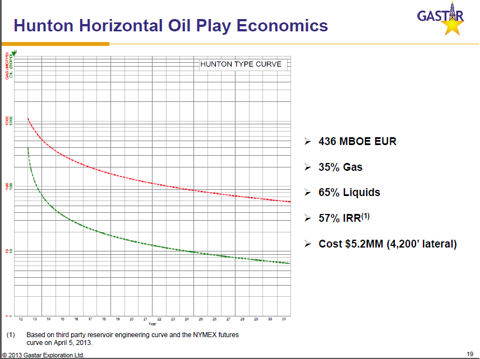 These Hunton economics, while excellent, were blown out of the water by Gastar's recent Mid-Con 2H well. With a ~3 month payback, the well will likely generate in excess of a 200% IRR. Net to Gastar's 50% ownership interest in the well, Gastar could generate over $6 million in EBITDA just from that one well just in 2013 ($50 netback, 400 net boepd, 300 producing days). If one of the other 6 wells in the Hunton Gastar is drilling this year are as productive at the Mid-Con 2H, it could help drive a "beat" in EBITDA that could help re-rate the stock. Considering Gastar's management has mentioned they will be drilling offset wells to the Mid-Con 2H, another monster well result could come out this year.
Beyond individual well-watching, higher than expected natural gas prices and higher than projected production in the Hunton could drive 2013 EBITDA closer to $90 million. Sell-side reports have heavily risked the Hunton play despite 20+ well results so far. In my asset level due diligence, I was able to connect with companies involved with the other wells in the play, who showed me that well results had been very consistent (only one had been substantially below the type curve). This is clearly not baked into analysts' models and is certainly not priced into Gastar's stock. If Gastar's wells all came in at the type-curve level, they would beat 2013 estimates by ~$10+ million (an incremental ~$1-2 million in 2013 EBITDA per Hunton well). And if Natural Gas prices stay in the $4 range (they have briefly pulled back to $3.80 but have spent much of the year over $4), that would drive Gastar's cash flow up further and help them beat more. Between the Hunton impact and natural gas prices, Gastar could potentially beat by ~$20 million, which would be a significant catalyst for the stock.
One other thing that has been overlooked in the analysis of many small cap E&P companies is price realizations. Gastar's properties in NW West Virginia generate excellent economics in current conditions, but those conditions are sub-optimal and were even worse historically. There had been tremendous infrastructure issues on the Williams (formerly Caiman) pipeline in the area, and there are still gas-processing issues that lead to ethane-rejection and significantly lower than "market" product pricing. Gastar has sold condensate (high quality oil) for below $50 per barrel in the midst of the worst of these issues, which will offer a great comparison point as the infrastructure issues resolve themselves and condensate prices revert to the WTI price (or higher) of $95+ per barrel. Pricing is already starting to correct itself, and more infrastructure is being built in the area, which should allow Gastar to generate incremental EBITDA without having to drill additional wells.
In short, Gastar got a great deal buying back its stock at a discount to its current price. It also got a great deal on its property acquisition from Chesapeake. Stock buybacks are generally beneficial to short-medium term stock prices, as can be seen from the recent Energy XXI example shown. Gastar trades at a substantial discount to its peers, and that discount may be reduced as EBITDA growth goes from consensus projections to being actualized by the company over the next few quarters. And Gastar may exceed consensus estimates, which could drive further re-valuation, with limited downside due to sufficient liquidity and liquidation value support.
Disclosure: I am long GST. I wrote this article myself, and it expresses my own opinions. I am not receiving compensation for it (other than from Seeking Alpha). I have no business relationship with any company whose stock is mentioned in this article.
Additional disclosure: I may buy or sell any stock mentioned with no further notice.