With markets quickly closing in on levels that many technicians will label "confirmed bull-market territory," we thought it would be helpful to compile a list of the essential components we will need to see to heighten our conviction that a new bull market has begun. Without confirmation by the majority of these indicators, it will be difficult to officially declare that a new bull market has begun. So, without further adieu, here are the 15 necessary components needed for the next leg higher.
1. HIGHER HIGHS: Bull markets are marked by a series of higher highs and higher lows. To register an official bull market confirmation, the indices need to make a series of higher highs over the coming months. This is where level monitoring becomes an essential part of our trading plan. Look for a close above the following levels on the major indices, particularly the Russell 2000 and the Dow Transports – two indices yet to make higher highs since the market bottomed in March:
Dow:

8878
NASDAQ: 1880

S&P 500:

956.25
Russell 2000:

536

DJ Transports:3440
2. VOLUME: Blame it on the summer doldrums or the aftermath of the devastating bear, it doesn't matter. If the indices are to rally higher, trading volume on all the exchanges needs to improve. It was very encouraging to see volume increase substantially to the upside last Wednesday. Such an increase indicates heavy-weight, institutional trading – the kind of buying that buoys the market and provides the fuel for significant moves higher.
3. ADVANCE-DECLINE LINE: Last week, the A/D Line moved to a new recovery high, reaching its best levels since mid-September, 2008. Additional progress will be needed by the A/D Line to indicate the market's breadth is continuing to improve as the indices move to breach their bull market confirmation levels. Without such market breadth, the resistance at these levels will be difficult o overcome.
4. EXPANSION IN NEW HIGHS: Bull market beginnings are usually characterized by a buying stampede, with scores of stocks and sectors moving to 52-week highs. Look for the Enterprise Software sector, the semiconductors and other technology groups to help lift the 52-week high readings on the NASDAQ to over 100 a day in the near future. The current readings have been anemic thus far. They will need to drastically increase in order to confirm the recent strength.
5. INTEL & THE SEMICONDUCTORS: The semiconductors have finally assumed the leadership mantle in the market, fresh on the heels of Intel Corp.'s (NASDAQ:INTC) strong earnings report and guidance. Look for scores of other names from this sector to move higher and lift the NASDAQ in the coming months. Candidates for new leadership include: BRCM, CY, SLAB, SWKS and TSRA.
6. MSFT: It's summertime and it just might be the season to get excited about Mr. Softee again. As the upbeat earnings report from Intel indicated, the PC market appears to have bottomed, and MSFT is well- positioned to benefit from the improvement in PC sales. Look for a positive reaction to earnings this week when MSFT reports on July 23rd. A move to $25-26 in the short term will bring continued money flows into technology sectors and entice new investment funds from the sidelines. As we saw with Intel this past week, when a major bellwether reports to the upside, new investors come out of hiding. Such action is vital to propel the indices up another leg higher.
7. BA/GE/AA: Boeing (NYSE:BA) and General Electric (NYSE:GE) have broken below their respective 50-day and 200-day simple moving averages (NYSE:SMA). Any push by the Dow to recovery highs will be impeded if these two blue-chips continue to move lower. Though Alcoa (NYSE:AA) has made a series of higher lows since bottoming in March, a new higher high is needed as well. These three Dow components are integral to the strength of the overall indices, particularly the S&P 500 and Dow Industrials. If BA, GE and AA do not improve, they will remain a drag on the indices' attempts to move higher.
8. NEW GUARD/OLD GUARD ROTATION: Happily, new guard stocks have been quietly displacing the old guard names already. To spur on a new bull market, more new exciting growth names need to break out of sound bases and consolidations. Here's a look at what has occurred in the market thus far:
9. NEW BLOOD: Along with the emergence of new growth stocks, an infusion of exciting new IPOs will help move the markets higher. It is encouraging to see the caliber of recent IPOs has improved with the likes of CYOU, DGW, MDSO and SWI. We need to see more like these.
10. BANKS: With second quarter earnings season now underway, banking behemoths JP Morgan (NYSE:JPM) and Bank of America (NYSE:BAC) reported respective earnings on Thursday/Friday of this past week. While both banks were able to beat The Street's estimates, they also reported continuing losses from failed loans. What we can take from these reports is that while the financial crisis is by no means over, the system overall seems to be slowly recovering – a very good sign. A devastating report from one of these institutions could have easily brought the market down.
Next up is Wells Fargo (NYSE:WFC) on Wednesday, July 22nd. Stay tuned!
11. MUTUAL FUND INFLOWS: In May, investors funneled $18.31 billion into stock mutual funds. This marks the third month out of five where stock mutual funds had positive in-flows. May's in-flows were the largest since February 2007. Such action is encouraging in that it points to a new-found willingness on the part of retail investors to take on risk again. Inflows to stock mutual funds typically come from bond funds and money market accounts, investments that are historically viewed as safe havens during economic downturns. We will need to see this trend continue.
12. EURO/YEN CROSS: The Euro/Yen Cross is another barometer for risk where global investors borrow "cheap" Japanese yen and invest it in other markets where they believe they will see a more appreciable return. A rising Euro/Yen Cross demonstrates an improved appetite for risk on the part of global investors. Since the March lows, the Euro/Yen Cross has seen a series of higher highs and higher lows but its bull market is currently in a precarious position. It will be necessary for the cross to make a higher high if the markets are going to enjoy another up-leg.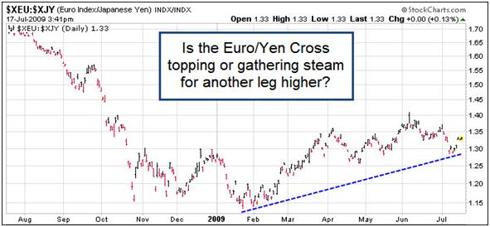 Source: eSignal
13. IBD 100 & 85/85: For Investor's Business Daily devotees, the Relative Strength (RS) of both the IBD 100 and 85/85 index will need to improve. So far during the rally, as the two indices have moved up, the RS lines have both moved down. This must change. The second leg of this upswing will need to see leadership from fundamentally sound stocks like those that are listed on the IBD 100 and 85/85 index. Without such leadership, a new up-leg will lack the thrust necessary for sustainable gains in the coming months.
14. SPIKE LOWER IN JOBLESS CLAIMS: The recent spike lower in Jobless Claims must continue to trend lower in the coming weeks or at least stabilize. Any move back above 600k would cast doubt on whether the recession is truly nearing an end. A look at the Jobless Claims chart below reveals the kind of topping action we typically look for in attractive short candidates – a very positive technical sign!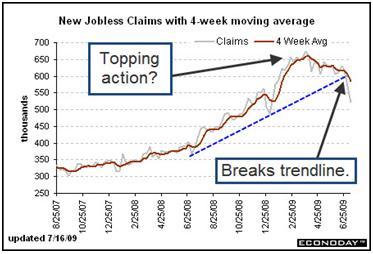 Source: Barrons.com
15. SECOND QUARTER EARNINGS: At the end of the day, its earnings that count the most in the stock market. Second quarter earnings will need to demonstrate that the economy is indeed recovering and not just declining at a slower pace than originally feared. The "less bad" trade has run its course. The Street has modeled for a 34.4% slide on the S&P 500 in 2Q09. If these numbers can be beaten and/or guidance from bellwether companies improves, investors will return in kind.
Conclusion
While these "15 components" are not absolute, we feel that they will help strategically position us for this new up-leg. We plan on getting aggressive on any and all pullbacks in the coming weeks, looking to get fully invested before markets break out and begin another up-leg.
With alt-A and option arms mortgages re-setting next year and another 5-7 years to go before this secular bear market is over, enjoy the rally while you can because we see it ending in tears some point in 2010. When we look back at this period in history, this imminent bull market may well turn out to be one of the quickest and crappiest bulls that we will ever see.
Disclosure: Of the names mentioned in this report, we are currently long: CYOU, SLAB, STEC, OTC:SVNT and VNDA.