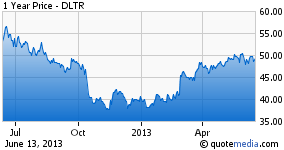 Retail sales figures for May of 2013 were released on today and showed a surprise bump in consumer spending that was beyond the expectations of most economists. The Specialty Retail category appeared flat, but the figures contained in the report don't represent shifts within that market category.
Discount retailers like Dollar Tree (NASDAQ:DLTR) are posting surprisingly strong results. Dollar Tree announced Q1 sales growth of 8.3%, with comparable store sales growing at a rate of 2.1%, operating margins had expanded 0.7% YOY to 11.6%, earnings per diluted share had increased 9 cents YOY to 0.59cents per share, the report also indicated falling administrative costs.
Consumers' habits have been altered by the recession, and retailers that fail to adjust to changing consumer habits will eventually disappear. Dollar Tree has managed to increase the number of name brand items it offers in small packages while maintaining their $1 price point for all products.
Dollar Tree's greatest threat is itself. The company is expanding rapidly and irrational exuberance on the part of management could easily lead to excessive real-estate obligations and market over-saturation. It's already quite common to see multiple Dollar Tree locations within a relatively short distance of each other within the same metro area.
In personal conversations with Dollar Tree sore managers I've been told the company has a high store-turnover rate, and some feel the pace of store openings and closings ("location bouncing" was a phrase I heard used) is becoming frenetic. These claims from Dollar Tree store managers are backed up by the company's own press release: "The Company continues to expand. During the first quarter, Dollar Tree opened 94 stores, closed 2 stores, and expanded or relocated 16 stores..."
Also, some popular items - especially top food and pharmacy items - have a tendency to sell out within a day or two of arriving in stores, and some customers become frustrated with having to wait for items to be restocked.
At the time this article was written DLTR was trading in the $48 to $49 per share range, off a 52-week high of $56.815 per share. Dollar Tree appears to be a solid long option at less than $49.50 per share, with the strength of the recommendation diminishing rapidly as it approaches the $56 per share level.
A fixed price point and a large number of existing locations limits the total upside potential of this stock. Given that the greatest potential threat to Dollar Tree's future is over-expansion and market saturation, those who wish to purchase this stock as a long term hold should keep a close eye on the "comparable store sales" figures rather than the total store sales figures.
If the Dollar Tree company starts to dial back on new store openings and focus on closing under-performing locations, along with focusing on improving availability of popular items, and becoming more aggressive about paring down offerings of items that are weak sellers, while also continuing to improve their operating margins and keeping a cap on administrative costs, this stock could easily see annual share valuation growth of 7 to 10%.
Two consecutive quarters of comparable store sales growth of less than 1 to 1.25% could be a sign that the company is approaching a market saturation tipping point, and could be trying to expand too rapidly, at which point investors will have to decide whether they want to lock in their gains, or hold out for a change in management strategy.
Disclosure: I have no positions in any stocks mentioned, and no plans to initiate any positions within the next 72 hours. I wrote this article myself, and it expresses my own opinions. I am not receiving compensation for it (other than from Seeking Alpha). I have no business relationship with any company whose stock is mentioned in this article.