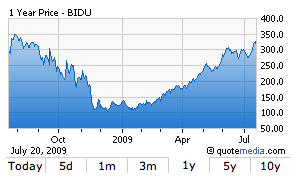 The last time Baidu (NASDAQ:BIDU) reached these levels, I pleaded my case for the need to short "at will" in a May 2008 article, titled "A Train Headed for Derailment" and yes, the train did skid off the tracks on its way down to the low $100's. Well, here we go again, because approximately 15 months later, BIDU is coincidently presenting nearly the identical scenario.
Going short now is like shooting fish in a barrel because it is so overvalued and overhyped. The stock has more than tripled since the beginning of the year and now trades at a staggering 58 times 2009 earnings estimates. It has simply gone up too far in too short of a time frame and is quite vulnerable to a nasty selloff of more than 20%, especially with earnings expectations ratcheted up to such sky-high levels.
Don't get me wrong, BIDU is a great company, its price however has gotten way ahead of itself. The company is expected to earn $8.20 per share in 2010, up 42% from 2009 estimates of $5.78. That represents impressive growth, but are the analysts considering any Chinese search market share improvement by GOOG and YHOO? Credit Suisse estimates that competitors will erode away at BIDU's market dominance in the next three years, clipping it a powerful 1300 basis points from 59% to 46%.
If you compare the price multiples of GOOG and BIDU you will detect a disconnect. BIDU is selling at 41 times 2010 estimates while GOOG is selling at only 17 times its estimates. BIDU's cash position represents only 3% of its $11.7 billion market cap while GOOG's $61 billion cash hoard equates to a much more respectable 14% of its $136 billion market cap. Don't get me wrong, BIDU deserves a higher multiple because of its superior growth rate, but three times the valuation is sheer insanity.
Extreme high risk: Buying BIDU at these nose bleed levels is similar to playing high dollar slots in Las Vegas. It is high risk, but without the high reward, as most slot players always end up poorer than when they started. This Thursday, BIDU is reporting second quarter earnings and the "street" is expecting an awful lot. Sales are forecasted to come in near the $158 million mark, while earnings are slated to top the $1.43 mark. BIDU should have no trouble surpassing these expectations, as they are proficient at under promising in order to over deliver.
The problem is, even a blowout (such as sales of $170 million and earnings of $1.89) will not keep the share price from collapsing as most traders have already bought the rumor and will be selling the news. The main risk is the "street" will not take kindly to tepid guidance - remember how bad GOOG got hit just last week on a more than "decent" report.
Analyst opinions: Although Credit Suisse downgraded its opinion from neutral to underperform on Monday, it strangely raised its one year target price on BIDU by $50 at the same time. This type of Broker action just exemplifies some of the silly antics of Wall Street.
Overall, the 16 analysts that provide research coverage on the company have a median $262 price target, indicating the stock has gotten ahead of itself as momentum traders and panicked shorts probably provided a good portion of the stock's upward fuel. But when these sources burnout, look out below.
Bottom line: The stock is too expensive. Chasing it at these levels is similar to getting in on a pyramid scheme - you are okay if you are in the early stages, but if you are late to the party, watch out. You could be the one holding the bag when everybody tries to hit the exits at the same time. This is a $200 stock at the most. Short now and cover and go long in the low $200s, it's easier than shooting fish in a barrel.
Disclosure: Short GOOG and BIDU