Recent Updates
The International Energy Agency forecasts oil demand to grow by a mere 0.9% in 2013. This has long been a trend now that European demand and growth have been meager at best, while the mantle of global consumption is being carried forward by China and other developing countries. In the organization's latest global forecast, China's total oil demand is expected to grow by 3.8% - a value less than initially calculated. Invariably, this will provide expected rising prices for the remaining year due to the country's heavy import dependency on oil. In January, 56% of the oil used by the country was imported.
To define the juicy oil bargains, we recently compared the stocks of the leading oil/gas companies in the following selections:
Selection 1: Exxon Mobil (NYSE:XOM) - Chevron (NYSE:CVX) - Conoco Philips (NYSE:COP)
Selection 2: BP (NYSE:BP) - Royal Dutch Shell-Class A (NYSE:RDS.A)
Selection 3: Apache Corporation (NYSE:APA) - Anadarko Petroleum (NYSE:APC) - Conoco Philips - Marathon Oil Corporation (NYSE:MRO) - Occidental Petroleum(NYSE:OXY)
Selection 4: TOTAL (NYSE:TOT) - Exxon Mobil - Petrobras (NYSE:PBR)
Final selection of juicy oil stocks (for finding out the best bargain among the bests) - BP - Chevron - Shell (Class A) - Total - Exxon Mobil.
Amidst an overall weak forecast for the remaining year, what incentives can oil and gas services stocks offer to investors? In this article, I will assess the performances of Halliburton (NYSE:HAL), Schlumberger (NYSE:SLB) and National Oilwell Varco (NYSE:NOV).
Tracking Financials
Schlumberger's $94.7 billion market capitalization is enhanced by the company's global presence in providing oil and gas services. The number one provider of services to the oil and gas sector has geographically diverse operations, a luxury that Halliburton and National Oilwell Varco do not share.
| | | | |
| --- | --- | --- | --- |
| Indicator | | | |
| Market Cap | $94.7 bil | $39.1 bil | $29.5 bil |
| Price/Earnings ttm | 17.6 | 20.2 | 12.4 |
| Price/Book | 2.7 | 2.5 | 1.4 |
| Net Income Growth (3 Yr Avg.) | 20.6 | 32.0 | 19.3 |
| Revenue Growth (3 Yr Avg.) | 22.6 | 24.8 | 16.4 |
| Dividend Yield, % | 1.64% | 1.02% | 0.72% |
| Debt/Equity | 0.2 | 0.3 | 0.2 |
| Operating Margin % TTM | 12.7 | 10.6 | 16.3 |
| Return on Equity | 16.0 | 13.5 | 12.3 |
| Current Price | $72.14 | $42.37 | $69.65 |
Data from Morningstar on 13 June, 2013
Starting with the most inexpensive stock being offered, we see that Halliburton has had solid growth in the past while consistently being an investor favorite. The company's strength lies in deriving a high net income by minimizing costs and making smart investment decisions. Its revenue growth over the last three years has been 24.8%, while its net income has grown by 32.0%. In contrast, Schlumberger and National Oilwell Varco both struggled to keep up in revenue growth and even more so in the net income growth category.
Interestingly, though, National Oilwell Varco beats both Schlumberger and Halliburton in the operating margin category, making $0.163 on each and every $1.00 sale, which is much higher than its competitors. Furthermore, National Oilwell Varco, along with its competitors, does not have a monumental amount of debt load that needs to be serviced. This makes a strong case for the reinvestment of its operating margins. On the flipside, Schlumberger returns the highest amount of net income as a percentage of shareholder's equity, making it an outright winner for investors. Even more worrying for Halliburton is the inconsistency being shown in the ROE metric for the last 10 years.
Stock Performance
Over the past one year, Halliburton has outperformed market estimates and its competitors as well. In a straight comparison with the S&P 500 and the other two companies, Halliburton has managed to make the most of its resources. Since September 2012, the share price has appreciated almost 50%, showing a potential for a tremendous upside in the oil and gas industry. On the other hand, Schlumberger and National Oilwell Varco have seen their prices appreciate from a year ago, but this percentage has been well below the moving average of the market.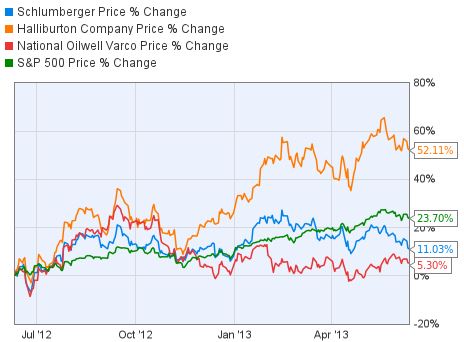 On the other hand, a performance review over a longer period of five years tells a different story. With the drop in global demand being documented, its easy to comprehend the fall in share prices in 2009, but since then, none of the three companies has been able to outperform the market average. In 2011, Halliburton and National Oilwell Varco matched the market pace but could not manage to keep up as time went by. Today, relative to the prices of five years ago, Schlumberger is the biggest loser with a 29.73% loss in share price. National Oilwell Varco comes second with a 17.08% loss in price and Halliburton third with 15.25% loss in price.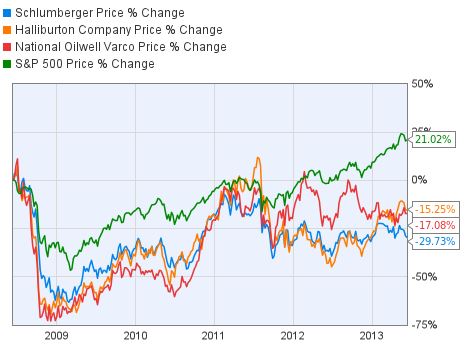 What does the Future Hold?
The current trend in oil prices and consumption does not bode well for the remaining year. Geographically, a lack of demand-driven growth is expected to hurt the sector badly. At this moment, companies can benefit from adopting a more efficient means of production to minimize costs and enhance margins. Halliburton, in particular, is pushing to utilize natural gas in its transportation vehicles and diesel engines. Two of its frack fleets are expected to be made up entirely of the Q-10 engines. Furthermore, the company is eyeing opportunities in China's shale gas industry. China has the world's largest recoverable shale gas resources - some 36 trillion cubic meters. At the same time, the BP oil spill of 2010 continues to affect Halliburton as Texas joins a growing list of states suing the company for damages from the oil spill.
Unfortunately, none of the three companies have geographically leading operations in China. Instead, their large North American presence overshadows operations elsewhere. Looking at the North American markets for the year so far shows sluggish growth. Looking at Schlumberger, its reported Q1 2013 financials showed a fall in net income and profits due to lower hydraulic fracturing prices. In 2012, the prices charged for hydraulic fracturing services dropped 15% and are expected to decrease a further 6% in 2013, painting a bleak picture for the company. Schlumberger continues to show growth prospects in Saudi Arabia, Iraq, China and Australia, but the outlook for North America remains uncertain.
In May, the second-wealthiest person in the United States, Warren Buffett, doubled his shares in National Oilwell Varco to $7.5 million shares. The company recently acquired Robbins and Myers, but the North American market continued to plague this company too, as volumes and pricing remain critical. On the flipside, NOV is moving into more opportunistic countries like Brazil, Angola, and Russia. It also increased its quarterly cash dividend payment by 100%, to 26 cents per share - up from 13 cents per share paid in the previous quarter. The new dividend will be paid on June 28, 2013, to shareholders of record as on June 14, 2013.
Make or Break for Investors
With the global economy having slowed down, it is inevitable that companies make the best of the resources available to them by capitalizing on resources and soaking up the last drop of profits from them. This is the key to staying ahead of the competition. Since Q3 2012, Halliburton has been able to do just that and its share price reflects the effort being put in by a company marred by courtroom and environmental troubles. Halliburton's efficiency can be seen from the fact that it has the highest asset turnover rate of all its competitors and its 13.4% five-year growth forecast also overshadows those of the competition.
Morningstar provides the following ratings for the three stocks: SLB - 6/7 buy, 1/7 hold; HAL - 7/8 buy, 1/8 outperform; NOV - 3/6 buy, 1/6 outperform, 2/6 hold
Bottom Line
Compared to Schlumberger and National Oilwell Varco, Halliburton has concrete growth prospects and efficiency advantages, making it an outright buy in my opinion.
Disclosure: I have no positions in any stocks mentioned, and no plans to initiate any positions within the next 72 hours. I wrote this article myself, and it expresses my own opinions. I am not receiving compensation for it (other than from Seeking Alpha). I have no business relationship with any company whose stock is mentioned in this article.