It's actually getting to be quite tiresome. That is, BlackBerry (NASDAQ:BBRY) getting upgraded every now and then and the stock not really going anywhere.
BlackBerry, if I may say so, received a pretty prestigious upgrade today, after Societe Generale's Andy Perkins raised his rating on the stock to a Buy from Sell, and raised his price target to $17 from $13 a share.
The main reason for his change of heart was that his "checks" suggest sales of the company's newer handsets, the Z10 and Q10, appear to have been selling better than expected and he also believes that BlackBerry 10 handsets could record sales in excess of 5 million units per quarter. He also notes that this is much better than the consensus of 3-4 million units per quarter. While he also thinks there is still demand for BlackBerry's older models, specifically the 9220, 9320 and 9900 units, he also thinks demand is falling rapidly.
For the record, while there are many smaller firms that have also upgraded and downgraded BlackBerry, I think the opinion of the big boys matters the most. So as a reminder, the big boys that have upgraded BlackBerry of late are the following:
Goldman Sachs currently has a $17 12-months target price and a rating of neutral.
Morgan Stanley currently has an overweight rating with a target price of $22.
Societe Generale (link above) has a target of $17 with a buy rating.
Wells Fargo has an outperform rating with a target price of $20 a share.
Finally, Jefferies has a buy rating on BlackBerry, with a 12-month target of $22 a share.
Actually, I beat all of them -- my 12-month target is around $30 a share.
Granted there are many other firms, also prestigious, that have a lower rating on BlackBerry, but I think they will turn in due time.
The question of the day, however, is why is the stock up by around 6%, just because Societe Generale upgraded BlackBerry? I mean this is not BlackBerry's first upgrade and the target price is not even that high. What gives?
My theory is, the case of the bid-button happy BlackBerry short seller. Let me explain..
The latest NASDAQ data shows that there are about 171 million BlackBerry shares sold short. In addition, please notice that the average number of days to cover has increased dramatically, due to the lower daily volume. In fact, days to cover has never been higher. This means that if you have sold short several million BlackBerry shares, and you want to cover on low volume, it will take you longer to do so.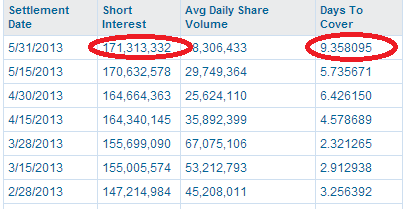 And when a short trade like BlackBerry is so crowded -- I would say that BlackBerry is the definition of a crowded trade -- and you want to exit that trade, chances are it will cost you all your profits, assuming you sold short all the way at the very top (something not likely for most).
So even an upgrade by a firm on the other side of the Atlantic will spark some short covering, or buying interest, and that buying interest will lift the stock, simply because all the stock that can be sold short has been sold short and volume is a lot lower. As a result, there is probably a lot of short seller anxiety.
On a final technical note, you have to admit, program traders are like an open book. Check out today's BlackBerry chart. If you want to front-run program traders, all you have to do is sell or buy just before a MACD cross over. Works like a charm every time.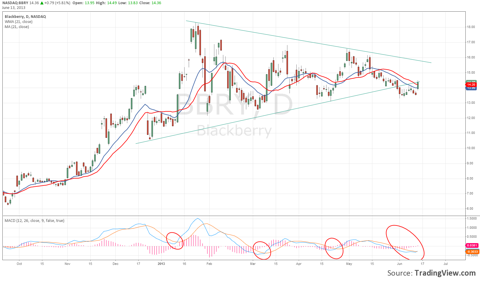 Disclosure: I have no positions in any stocks mentioned, and no plans to initiate any positions within the next 72 hours. I wrote this article myself, and it expresses my own opinions. I am not receiving compensation for it (other than from Seeking Alpha). I have no business relationship with any company whose stock is mentioned in this article.