By Jeff Bailey
The diverse and dynamic financial sector in the U.S. is one of the crucial factors behind our entrepreneurial economy, and without it, we'd be a slower-growth and less-exciting economy.
Like much of Europe is currently.
Stephen Fidler's smart article in The Wall Street Journal over the weekend pointed out that banks dominate the financial landscape in Europe, holding three quarters or more of total financial-sector assets in France (75%), Germany (78%), Italy (85%), Portugal (86%), Spain (87%) and Greece (96%). European banks are in bad shape, of course, weighed down by debt from European countries, and that's sapped their ability to lend. And that, in turn, is sapping growth in Europe, as there isn't a big non-bank financial sector to pick up the slack.
U.S. banks make up just 28% of the assets of the financial sector, by comparison, with investment funds, insurance companies and pension funds standing taller here than in other countries.
The U.S. remains the world's biggest economy and yet other countries' banks are larger, as measured by assets, and far larger relative to their national economies.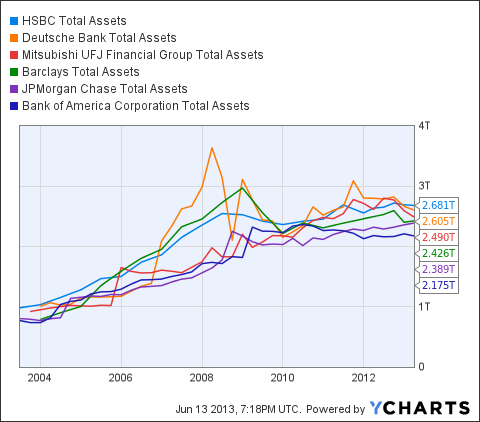 HBC Total Assets data by YCharts
Still, as we've written, the biggest U.S. banks -- JPMorgan (NYSE:JPM), Bank of America (NYSE:BAC), Citigroup (NYSE:C) and Wells Fargo (NYSE:WFC) -- generally got bigger during the recent financial crisis by buying failing and troubled competitors. And that leaves us with a handful of institutions holding a majority of deposits, deeply intertwined with each other and other major financial institutions, and altogether too big to fail.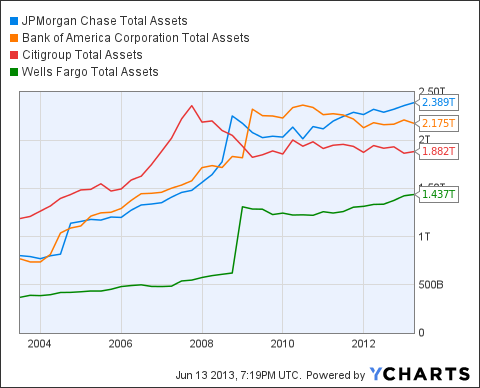 JPM Total Assets data by YCharts
Their size could make the next financial crisis even more unmanageable. They're, by some accounts, unmanageable companies due to their size and scope. And performance numbers show that bigger isn't better. Sadly, politicians and regulators have a harder time staying focused on these problems than do bankers, who're busy trying to weaken the package of reform known as Dodd-Frank.
Our financial system's structure is far better than those in Europe, but that doesn't mean it couldn't be made to be less risky to the economy.
Disclosure: I have no positions in any stocks mentioned, and no plans to initiate any positions within the next 72 hours. I wrote this article myself, and it expresses my own opinions. I am not receiving compensation for it. I have no business relationship with any company whose stock is mentioned in this article.