Coming to Yahoo: Better Search, Customizable Content
Yahoo (YHOO)showed off a couple of new upcoming features during my briefing Monday on the new home page to launch tomorrow.
The first is a tool, called Customizable Content for now, to dial how "fun" or "serious" you like your news. Want hard core serious stuff? Pull the slider to the right. Fluffy fun stuff to the left. Leave it in the middle for a mix. User testing for this product begins in August, says Yahoo: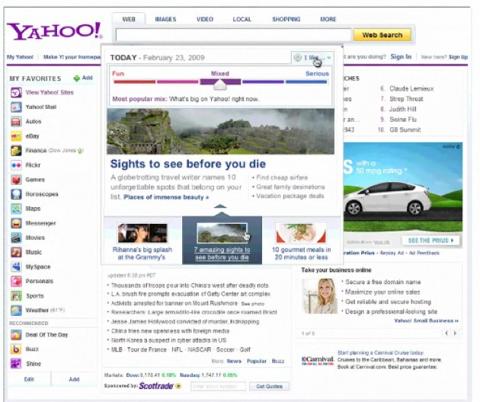 Yahoo will also begin integrating the new home page experience into Yahoo search. Users will be able to filter searches by type (via third parties like eHow) by clicking on apps in the left sidebar. Users can also change search type (video, etc.) via links on the left sidebar. Compare a current search for "How To Kayak" to this: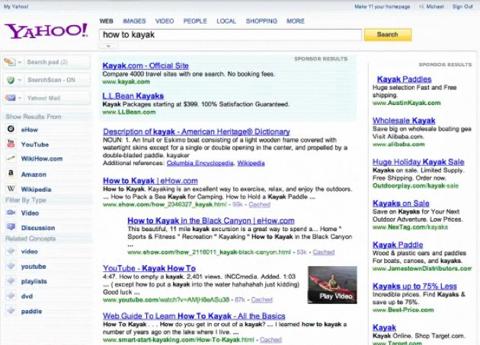 This article was written by
Michael Arrington is the founder of the Crunch Network and editor of TechCrunch (http://techcrunch.com), a highly influential Silicon Valley blog "dedicated to obsessively profiling and reviewing new Internet products and companies." He is on the board of Foldera, a web-based organizer, and is an investor in Daylife, a news startup. He has served as a corporate lawyer, been involved in sales and business development at RealNames and co-founded Achex, which was sold to First Data Corp. Arrington also founded two companies in Canada and was COO at Razorgator. His consulting stints have included SnapNames, Verisign and Spotback.