Global bond and currency markets sold-off sharply in May and selling pressure continues into June. Usual suspects include recent bullish sentiment towards the U.S. dollar and concerns of the Fed reducing or "tapering" its bond purchase program.
Extreme volatility in foreign bond and currency markets can be unsettling. This is particularly true for the average fixed-income investor trying to survive in a protracted low interest rate environment.
However, there are numerous clues suggesting the recent sell-off in global bonds and currencies may be overdone. In this article we will discuss non-macro events which may have exacerbated the selling pressure. We will also provide an update to our closed-end fund emerging market currency and bond exposure including changes/strategies being implemented or considered.
Overview: The recent back-up in 10-year Treasury rates are being blamed (in part) on fears that U.S. easy-money policies might be reigned-in. Presumably this would be a result of economic expansion. A stronger U.S. dollar is also likely to be fueled by "improving" economic data.
One problem however, is that the U.S. Treasury is not the only country in the world printing money. Central banks around the world have been printing money at a spectacular pace. Addiction to easy-money policy is a global condition.
As for interest rates, they will have to rise eventually. Yet, it is interesting to note that 10-year Treasury rates are closer to 0% than they were four years ago. More to the point, 10-year yields have declined -42.78% during the similar period of time.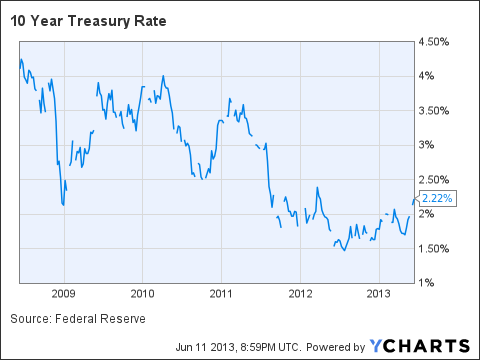 10 Year Treasury Rate data by YCharts
Weak dollar / strong dollar arguments are not a new phenomena, but the tide of market sentiment for non-dollar currencies and bonds has soured. However, despite the collapse in nominal 10-year yields, the AMEX Dollar Index Price rose only +1.90% in the past four years.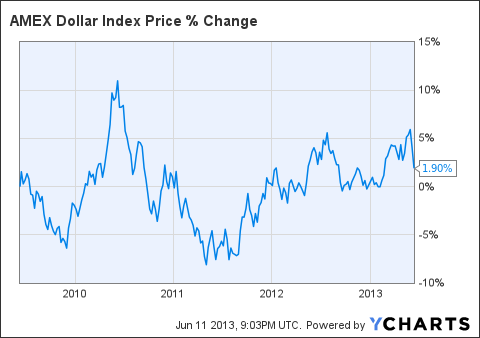 Abstract Correlation: Observing the divergence between what the bond market is signaling and what is being seen in foreign exchange markets suggest something more than a flight to safety or an easily defined macro event. For starters, the recent back-up in Treasury yields and a surge in the U.S. dollar appear to contrast one another. Rising Treasury yields translate into lower bond prices. Lower Treasury bond prices suggest an improving economy.
A stronger dollar too would be indicative of an improving economy, if the U.S labor force were to be near full employment. Absent inflation, a strong dollar increases the standard of living for U.S. workers. A strong dollar also means our currency can buy more products and services in foreign countries.
Unfortunately, a jobless recovery does not make a solid case for a strong dollar. While the May employment numbers released last Friday did beat consensus estimates, the unemployment rate remains unchanged at 7.6%.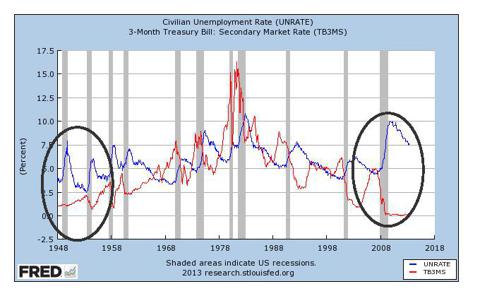 From a macroeconomic perspective, rising long-bond rates simultaneous with a surging greenback against a weak job picture does not make sense. The U.S. economy is showing signs of life, but what are we comparing this recovery to? The last time interest rates scraped near zero percent and unemployment was 7.5%, occurred following WW2.
And, considering that the U.S. has over $16 trillion of national debt and between $50 trillion and $100 trillion in unfunded liabilities, it is hard to see how people can be so bullish on the dollar long-term.
Other Factors May Have Exacerbated Global Bond and Currency Markets:
Bond and currency markets have experienced "shot-gun" volatility before. While a dearth of buyers for non-dollar bonds and currencies is obvious, how much of this distress might be a result of forced selling and/or leveraged traders getting caught with their knickers down?
While it is unclear to what extent arbitrage or carry-trade activity may have impacted recent events, there are some asymmetrical characteristics to the global bond and currency rout worth mentioning. One indication that developed nation currencies have been under pressure in recent months can be seen in the chart below. Notice the decline in G10 currency pairs since mid-April.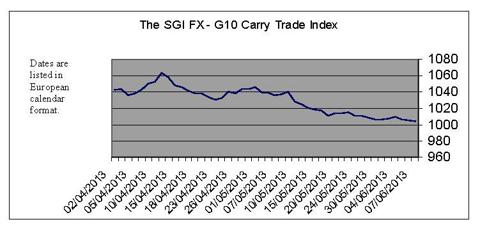 The SGI FX - G10 Carry Trade Index (the Index) began publishing on June 28, 2011 and seeks to extract yield from interest rate spreads between currencies, while controlling FX risk based on volatility measures. The Index provides a risk weighted allocation between 9 G10 currency pairs and provides leverage in order to limit the draw downs generated by cyclical FX crises. (Chart data and index objective profile was obtained from Societe Generale).
Other signs of distress in global currency markets can be seen in the comparison of WisdomTree Emerging Currency ETF (NYSEARCA:CEW) and iPath Optimized Currency Carry ETN (ICI) in the chart below.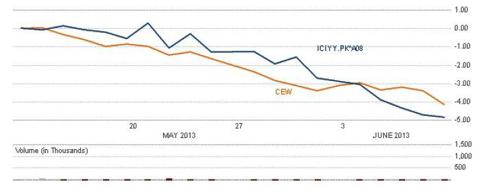 CEW seeks to achieve total returns reflective of both money market rates in selected emerging market countries available to foreign investors and changes to the value of these currencies relative to the U.S. dollar.
ICI seeks to capture the returns that are potentially available from a strategy of investing in high-yielding currencies with the exposure financed by borrowings in low-yielding currencies sometimes referred to as the "carry trade." The pool of currencies employed is commonly referred to as the "G10 currencies" and includes the U.S. dollar, the euro, the Japanese yen, the Canadian dollar, the Swiss franc, the British pound sterling, the Australian dollar, the New Zealand dollar, the Norwegian krone and the Swedish krona.
As you can see in the one month comparison, declines in emerging market and G10 currencies are eerily similar. Could this mimicking correlation be the result of currency "convexity" rather than a legitimate rally in the U.S. dollar?
Another indication of potential anomalous hedging was recently posted on barnejek's blog. We have been following the blog for several months and find the credit market and currency discussions quite insightful. In a piece published June 7, 2013 titled "This Time is Different. No really!" the author points out interesting observations about correlations between asset swaps and interest rate swaps and the potential implications to the current bond sell-off.
Although the discussion of asset swaps and interest rate swaps can be very complex to an average investor, the author does a wonderful job of presenting the information in a clear and concise manner.
The gist of the article suggests that in theory, the yields (prices) between cash bonds and swaps should be moving in a parallel fashion (because they are interest rate instruments). Unlike the outflows of funds investing in emerging market debt seen in September 2011 (which saw asset swaps explode), emerging market asset swaps in recent weeks have actually tightened.
The difference this time the author suggests, may be that asset managers have not been selling government bond markets outright, but perhaps selling some, positioning others more defensively while hedging their currency exposure. In short, asset managers are not dumping their government bonds indiscriminately.
At the same time, hedge funds may be exploiting the recent change in "global mood", thus pushing IRS higher. One consequence of higher interest rate swap prices is that it might "stop" out model-trade programs of accounts holding "receiver" positions in various yield curves.
The article offers an interesting possible explanation for the havoc being wreaked in global bond and currency markets. Assuming the likelihood that emerging market bonds are not being sold, rising interest rate swaps and tightening asset swaps are not a sustainable situation.
Indeed, damage to emerging market fixed-income and currencies this past month has been far more severe vs. equity declines. The author adds this reasonable conclusion:
And while I think I understand the reasons behind that this is not a sustainable situation, I strongly believe that something has to give - either the real money guys are in a denial or the hedge funds have jumped on the tapering bandwagon too early. Either way, the EM curves are pricing something that is almost impossible to come true, in my view.

- barnejek's blog June 7, 2013
Portfolio Update: We currently have positions in several closed-end funds with exposure to global bonds and currency. Each of the CEFs discussed (below) have experienced significant share price declines and widening discounts to their respective Net-Asset-Values during the last month.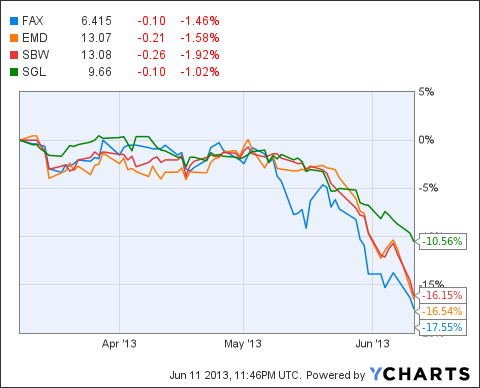 Aberdeen Asia Pacific Prime Income Fund (NYSEMKT:FAX): We trimmed half of our positions in FAX several weeks ago. Although we booked solid long-term profits, the precipitous price decline since early May snapped us out of complacency. While credit quality of the fund's holdings remain quite good, fears of a China slow-down and falling commodity prices have impacted the Australian dollar and its export driven economy.
The Australian dollar had been widely used as a tool for central banks to diversify their currency reserves. Bullish press on the Australian economy is scarce these days, but we consider RBA monetary policy to be historically "pragmatic".
That said, FAX's current 6% yield is still attractive and remaining positions will be held to harvest the income stream. One caveat to FAX is that return-of-capital has been a minor component of distributions in recent months. More information on FAX can be found here.
Western Assets Emerging Market Income (NYSE:EMD): Despite taking a -8.39% haircut the past month, we plan to add to positions in EMD. We like the fund's allocation between emerging market debt (97.7%) and sovereign/corporate debt linked to external currency (85.7%).
In particular we favor the fund's 17.9% exposure to Mexico. Recent weakness in the Mexican peso may be the result of global market developments, but we remain bullish on Mexico. We view the strengthening political base of the PRI party as constructive to the country's economic growth going forward.
Credit quality of EMD´s holdings is firmly planted in investment grade territory. Currency allocation to the US dollar is 88.4%. As such, we view the recent sell-off as overdone and the current 7.80% yield tempting. Current discount to NAV is -10.64%. Distributions are paid quarterly. More information on EMD can be viewed here.
Western Assets Worldwide Income Fund (NYSE:SBW): Weightings and allocations largely mimic those of EMD, although top holdings in SBW (as a % of investments) are laddered slightly different. SBW trades at a -11.14% discount to NAV. Distributions are monthly and current rate is 7.68%.
While SBW´s discount to NAV would appear to be the better value (when compared to EMD), the fund´s total net assets are half that of EMD´s ($198.3M vs. $430.8M). Given the recent volatility in emerging market debt, we prefer the larger asset base of EMD.
We will likely sell all positions in SBW in the near future. More information on SBW can be viewed here. Of note, both EMD and SBW have significant country allocations weighted to Turkey.
Strategic Global Income (NYSE:SGL): Although SGL is in the category of Non-US/ Other-Global Income, the fund does have exposure to emerging market debt. Exposure to Argentina is 4.2% of net assets, while combined holdings in Brazil, India and South Africa account for approximately 10.2% of all sovereign bond holdings.
However, we like the fund´s diversified currency exposure with the top five (as a % of assets) being: US dollar (69%); euro (16.8%); Canadian dollar (8.1%); British pound (5.8%); Japanese yen (3.6%).
Also appealing is the fund's diversified sector weightings to corporate, government, mortgage (agency and CMB) and municipal debt. Distributions are monthly and current rate is 7.1%. SGL´s discount to NAV is a tantalizing -11.6%. Tempering our enthusiasm to SGL's deep discount is the fund´s rising weighted average maturity and duration levels (in years).
Shares of SGL are down -10.5% in the past three months, accounting for most of declines Y-T-D. Given SGL's diversified portfolio characteristics, we will be watching this fund closely in the coming days as a quasi-indicator to the overall credit and currency market developments.
If volatility continues to pressure share prices, we will liquidate all positions in SGL. Should prices stabilize, we will hold SGL. More information about SGL can be viewed here.
Closing Thoughts: We consider the correlation of a stronger U.S. dollar simultaneous with a back-up in Treasury yields as suspicious. If Treasury yields are indicative of a less than sanguine view of the economy, then a strong dollar appears to contradict that view. Anemic PMI data released last week also does not bolster the economic growth story.
The U.S. dollar has been a complete fiat currency ever since president Richard M. Nixon declared the U.S. would no longer convert gold into dollars, thus abandoning the gold standard altogether. Fiat currencies are debased when governments print excessive amounts of money. Does this make the U.S. dollar (both a fiat and debased currency) the best game in town?
Somehow, we do not think so and it is our hope that average investors will not be chased out of global yield opportunities just because of potential failed arbitrage and possible carry-trades gone awry. Obviously, carnage in global debt and currency markets has been brutal and costly to total returns. All currencies cannot rise at the same time, but that does not deify the greenback.
We continue to believe that any dollar strength (near-term) may be a technical condition rather than a fundamental endorsement of the U.S. economy or monetary policy.
We still think broad diversification into non-dollar and emerging market securities makes perfect sense for any income oriented investor. Closed-end funds are an excellent vehicle to do this and bargains are fairly obvious.
Although portfolio re-balancing is the primary reason some of the CEFs mentioned are being liquidated and/or reduced, each closed-end fund offers steady income streams and diversified exposure to global debt securities.
Disclosure: I am long EMD, FAX, SBW, SGL. I wrote this article myself, and it expresses my own opinions. I am not receiving compensation for it (other than from Seeking Alpha). I have no business relationship with any company whose stock is mentioned in this article.