Sixteen years after the debut of the Toyota (NYSE:TM) Prius heralded the end of the conventional automobile, it's time for a sober assessment of the Electric Vehicle (EV) revolution. Despite the price of gas rising from a little over $1/gallon to around $3.50/gallon today, the internal combustion engine (ICE) remains "bloodied but unbowed." There is, however, some very good news for the EV industry. The EV revolution is about to happen. Surprisingly, it won't be led by a million man march on Washington, but by a better car.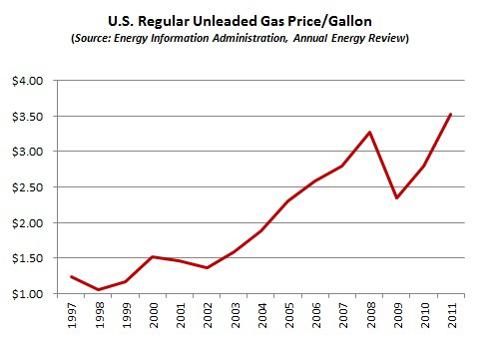 Unlocking the Mass Market
Most investors know that the path to mass market penetration is paved by exponential growth as early adopters pass the torch to the mass market. What few realize is that early adopters tend to have little in common with the mass market. Such is the case with the EV. Early adopters of the EV can be described as the "mobile environmentally-conscious." Fuel efficiency and low emissions are what they value most. Zero-to-sixty times, top-speeds, and handling do not concern them. So far, the leading hybrid and EV manufacturers have dutifully complied, offering dowdy but green options like the Toyota Prius, General Motors' (NYSE:GM) Chevrolet Volt, and the Nissan (OTCPK:NSANY) Leaf.
In sixteen years, the environment-first message has propelled the EV to a paltry 4% market share. This is problematic considering that the vast majority of motorists have passed on the opportunity to buy an EV two or three times since then. From here on, the EV industry has a choice: either pound its head against the wall trying to make the rest of the world join the green party or build an EV with mass market appeal.
The "Genius of the AND"
Jim Collins' modern business classic Built to Last introduced the concept of the "Genius of the AND." It describes the entrepreneur who rejects limiting dualities to produce breakthrough products.
Enter Elon Musk of Tesla Motors (NASDAQ:TSLA). He says his goal wasn't to build the world's best electric car, but to build the world's best car that just happens to be electric. Rejecting the notion that one must sacrifice performance and style to achieve zero emissions, he created the stunning Tesla Model S. Lavished with awards including 2013 Motor Trend Car of the Year, The Model S has reinvigorated EV sales, coming out of nowhere to steal the lead from uninspiring econoboxes so far this year. More importantly, it has brought an entirely new customer segment into the EV market: the rest of us.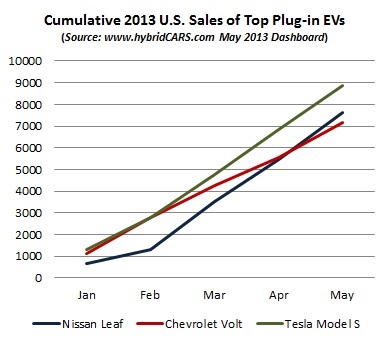 The Other Half of the Equation
Unlike the mobile environmentally-conscious, pragmatic car buyers will not sacrifice the convenience of an ICE to make a political statement. Their fear of being stranded without power far outweighs their fear of global warming. Henry Ford had the same problem. He let companies like Standard Oil do the grunt work of building-out an infrastructure of gas stations to relieve range anxiety.
The Standard Oils of today come in a variety of shapes and sizes. At one end of the spectrum is that rarity of rarities, the innovative public utility. NRG Energy (NYSE:NRG) is an $8.7 billion Nasdaq-listed wholesale power generation company. It has entered the EV charging infrastructure fray through its subsidiary eVgo, which as of the end of last year operates a small network (see page 23) of 37 Freedom Station-branded EV charging stations in the Dallas/Fort Worth and Houston metropolitan areas and has entered into an agreement to build at least 200 more in California. As an EV investment, NRG gets a big plus for stability and capitalization, but a minus for being far from a pure play in EV charging infrastructure.
With a market capitalization of $50.5 million, ECOtality (ECTY) is attacking the range anxiety problem from both ends of the spectrum, offering home and public charging solutions. Though relatively small, ECOtality farms-out very little. It has extensive in-house R&D capabilities, manufacturers and markets its own EV charging equipment, and operates its own network of over 1,400 Blink-branded charging stations. ECOtality's success in selling and/or placing its Blink brand EV chargers at select name-brand locations (see page 9) across the U.S. including McDonald's, Wal-Mart, Macy's, Sears, Cracker Barrel, Kohl's, and Ikea has served to augment its impressive network of public charging stations.
ECOtality leveraged its research prowess to win the role of project manager for the US government's EV Project, which accounted for nearly three-quarters of ECOtality's 2012 revenues (see page 26). Primarily focused on building-out residential infrastructure in order to study the use patterns of EV owners, the program offered free residential Blink chargers to 8,300 Chevrolet Volt and Nissan Leaf owners nationwide.
Flying under the radar is the microcap Car Charging Group (OTCPK:CCGI) Car Charging focuses on providing a public EV charging infrastructure through a low capital intensity, technology agnostic business model. Rather than manufacture its own brand of EV charger, the company enters into long-term service contracts and revenue sharing agreements with shopping malls, REITs, retail establishments, parking garage operators, and government entities to strategically place EV charging units made by a variety of manufacturers in public places. Its success in obtaining such agreements with over 85 strategic partners (see page 2) including Walgreens, Sears, Simon Property, USA Parking, and the City of Miami Beach (NYSE:FL) can be attributed to the low-risk, scalable value proposition it offers. Partners do not have to purchase the EV charging units and can start with as few chargers as they like, expanding the number based on success. This makes the decision to offer EV charging (along with the promise of regular EV-driving customer visits) relatively easy.
The most intriguing thing about Car Charging is how quickly and cheaply it has gone about cobbling together a competitive network of EV charging stations. In just the first five months of 2013, Car Charging has acquired Synapse, 350Green, and Beam Charging (see pages 6 and F-10) through inexpensive equity exchange agreements. Altogether, Car Charging now owns a network of EV charging stations large enough to rival that of their better capitalized competitor ECOtality.
As EV adoption moves from more affluent to less affluent customers, the importance of home charging (which implies home ownership) will decrease while the importance of public charging will increase. In this sense, Car Charging has been savvy in positioning itself to reap the benefits of mass market EV adoption. The risks of investing in Car Charging are of course the vulnerability that comes from waiting for revenues to take-off while sitting on a modest capital base, and the low liquidity of its OTC-traded stock.
Strange Bedfellows
If the EV is to succeed, it must find acceptance in the big tent of mass market pragmatism at the crossroads of performance, style, and convenience. Auto manufactures willing to build a better car that just happens to be electric and EV charging companies willing to democratize range through public availability will take us there. Quiet roadways and cleaner air - all courtesy of self-interested, pragmatic consumers and the companies savvy enough to recognize where their true loyalties lie. Soon, the mobile environmentally-conscious may achieve victory in the EV revolution without having to make a single convert.
Disclosure: I have no positions in any stocks mentioned, and no plans to initiate any positions within the next 72 hours.
Business relationship disclosure: Market Exclusive is a team of analysts and writers. This article was written by Carlos Uribe, one of our Group contributors. We did not receive compensation for this article (other than from Seeking Alpha), and we have no business relationship with any company whose stock is mentioned in this article.