It is not too often that a firm in our coverage universe finds itself on both the Top 25 Most Overvalued Stocks list and Dividend Yields to Avoid list, but that is exactly where Iron Mountain (NYSE:IRM) has been for a while now. However, it wasn't until the IRS issued a tentatively adverse ruling to the company's REIT (real-estate investment trust) conversion request that a catalyst emerged to send the stock tumbling back toward our fair value estimate.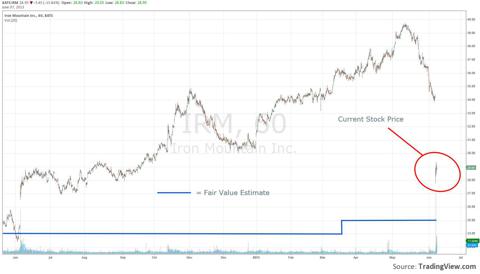 Why Did the IRS Delay the Ruling?
During the past few years, we've seen a large number of companies rush to become REITs in order to capitalize on more-efficient tax policy, as well as to satisfy the desire for yield from investors. REIT conversions have been one of the "go-to" ways to unlock value for shareholders, and big companies such as Target (NYSE:TGT) have had activist shareholders attempt to enact such change. This large trend appears to have caught the attention of regulators, and in fact, appears to be the primary reason why the IRS issued this warning. From Iron Mountain's SEC filing:
"The Company has recently been informed by the IRS that the IRS formed a new internal working group (the "Working Group") to study the current legal standards the IRS uses to define "real estate" for purposes of the REIT provisions of the Code and what changes or refinements, if any, should be made to those current legal standards."
In other words, the IRS wants to prevent companies from capitalizing on loosely-defined policies to derive huge tax savings. Iron Mountain provided its own reasoning, saying:
"…the Company believes one or more of the following are the most likely explanations: (1) the IRS was simply undecided, under current legal standards, on whether the Company's racking structures are properly characterized as "real estate" for REIT purposes, (2) the IRS sought greater clarity of the underlying facts and additional input on technical points of law, and/or (3) the IRS did not want to issue a ruling, either favorable or adverse, on the Company's racking structures until the Working Group completed its study."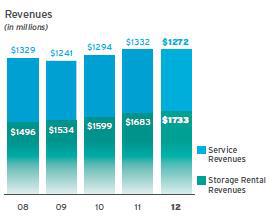 We gather that both the IRS and Iron Mountain are uncertain about the future outcome, but we think it is clear the IRS has flagged the company, meaning its assets are at the very least questionable for REIT eligibility. We think the uncertainty perhaps rests on the company's services/rental revenue mix, which was approximately 42%/58% in 2012 (Image Source: Iron Mountain). With such a large portion of its business service-related, we can see why regulators are questioning the firm's eligibility.
But while the firm isn't necessarily about traditional real estate (own buildings, tenants pay rent), we note that some of the largest personal storage firms such as Public Storage (NYSE:PSA) and Extra Space Storage (NYSE:EXR) are classified as REITs. In the cases of these personal storage firms, however, a much higher percentage of revenue is considered to be rental income (90%+) compared to the significantly lower percentage at Iron Mountain. In our view, Iron Mountain simply falls short of the threshold required by the IRS of 95% of income derived from mortgage, interest, and property income to become a REIT.
No REIT, No Problem?
So if REIT conversion fails, what about Iron Mountain's core business? The firm's latest quarterly results showed only modest revenue growth, but the company has a long-established, sticky client base that, in our view, grows even "stickier" with time. Iron Mountain has done a decent job adjusting to the digital age, but we believe its strength lies in its well-protected underground facilities (and the amount of trust the firm has established over the past several decades with clients). Cloud computing and greater confidence in the safe-keeping of digital information will put a dent in the trajectory of Iron Mountain's long-term growth rate, but we believe it can remain positive.
Valuentum's Take
At this point, we're not interested in shares of Iron Mountain (now that it has converged nicely to our fair value range). We believe a full rejection of the REIT conversion could lead to even a greater sell off (likely to the $25 area-our point fair value estimate), but it is hard to quantify the odds of approval or denial. In any event, we think shares are still too risky to be considered for the portfolio of our Dividend Growth Newsletter at this time.
Disclosure: I have no positions in any stocks mentioned, and no plans to initiate any positions within the next 72 hours. I wrote this article myself, and it expresses my own opinions. I am not receiving compensation for it (other than from Seeking Alpha). I have no business relationship with any company whose stock is mentioned in this article.