It's always very hard to take the opposite side against some of the most successful short investors. Thus we all know Jim Chanos is a great (short) investor. He made the right call to short Vale (NYSE:VALE) and Petrobras (NYSE:PBR). David Einhorn also recommended to short iron ore. Both were right, Vale has fallen over 20% and Petrobras over 11% since November 2012. Iron Ore corrected by over 30% since February 2013. This really looks like a big sell-off. Great call, Jim and David! I don't know if Jim Chanos or David Einhorn are still short but I feel that it is now time to close that trade and move to the long side. We all know that investors should buy when blood is on the street, but as always in these situations, it could be catching a falling knife. Nevertheless, I think that commodity related stocks are now priced too low. Vale's fall in USD terms also happened because of a very weak Brazilian Real.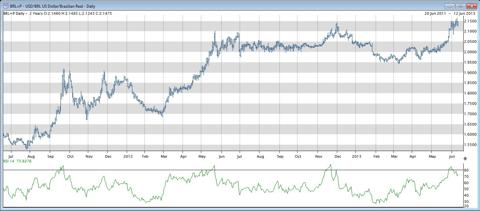 The USD looks increasingly overbought against the Brazilian Real. That is confirmed by the very oversold Brazilian stock market.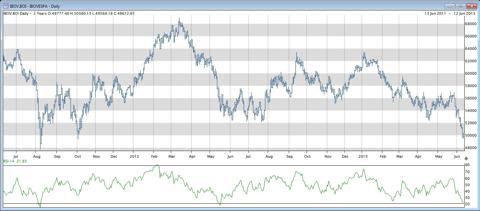 If we add up the negative trends for Vale: weak Brazilian Real triggered by foreign money outflows, oversold Brazilian stock market and oversold base commodities, it made sense to short the stock. But now, I feel the tide will turn. There are also bullish calls: On May 29th, Goldman Sachs recommended to buy BHP Billiton (NYSE:BHP). BofA-Merrill Lynch also raised BHP on June 10th to buy. J.P. Morgan also joined this league with a strong call on Rio Tinto (NYSE:RIO): the stock trades currently on a P/NPV ratio of 0.59 compared to an average ratio of 0.88 (last 15 years). Based on that conclusion Rio Tinto would have an upside of 49%. This morning Citi moved the sector to overweight with Rio Tinto as its top pick.
Are we now in the bottom fishing area? I think we are; from my perspective, markets have priced in worst-case scenarios and are oversold. Sure, China is slowing and Europe has not at all improved. On the other side, the USA is the green shot. If the USA is really close to a new industrial revolution thanks to low energy prices (nat gas), I would expect some pick up in labour markets and capital spending. It's an open secret that the USA has a rotten infrastructure and definitely needs a modernization. Could it be possible, that the USA will displace China as the biggest commodity consumer in the next few years? Maybe. But for sure, we are close to the next massive monetary stimulus round in China and Europe. Let's put aside Japan that is already running the print machines day and night. I think markets are much too focused on the slowing demand side and forget the massive impact of CAPEX reductions and much lower supply in the next years. BHP, Vale, and Rio Tinto are massively cutting CAPEX to increase free cash flows. BHP intends to reduce CAPEX from USD 22 billion to USD 18 billion in 2014 and then decline substantially thereafter. This will have a major bottom line impact and at least offset some of the lower commodity prices. I have never seen so many changes taking place on top management levels and statements regarding more focus on free cash flows, lower CAPEX and higher profit margins than in these days. In the past, miners only focused on growth that never played out. On the other hand, I remain skeptical for Caterpillar (NYSE:CAT). They will heavily feel much lower CAPEX in the next years and I'm not sure how they can compensate this impact. In a nutshell, I think Vale, BHP and Rio Tinto are ripe for a bounce and could easily rally between 10% to 15%. Simply because they have been sold down way too much. Particularly Vale looks ripe for a substantial rebound and would be my first choice followed by Rio Tinto and BHP.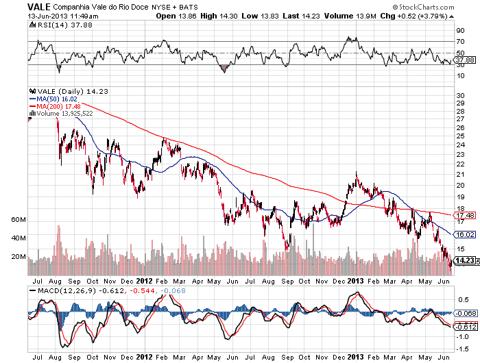 Disclosure: I am long VALE, BHP, RIO. I wrote this article myself, and it expresses my own opinions. I am not receiving compensation for it. I have no business relationship with any company whose stock is mentioned in this article.