We were quite impressed with yesterday's rally and it did stir up our inner bull. However we do feel that we are a bull in a china shop right now as this feels like a 'Goldilocks' economy and market rally. If the correction in Japan cannot be contained and tempered a bit then world markets as a whole could be upset as many have moved risk-on assets over there. We would not look forward to a Japanese led Asian Contagion. Thus our cautiousness at this time.
Let us see the Japanese show a bit more humbleness in the face of this correction and possibly have a Bernanke or Paulson moment where they say they will do whatever it takes to make their plan a success. Say it on a big stage, numerous times and keep saying it elsewhere until the market believes it...and should the market not buy it, step in with the full power of the balance sheet and punish those not marching to your beat.
Chart of the Day:
We recognize that we have highlighted this chart numerous times lately, but we cannot stress how important this movement downward is to commodity prices. If we can find our way down to the 79-80 level on the US Dollar Index then commodities would fair far better. Look at the move in oil thus far from this nearly 5% pullback.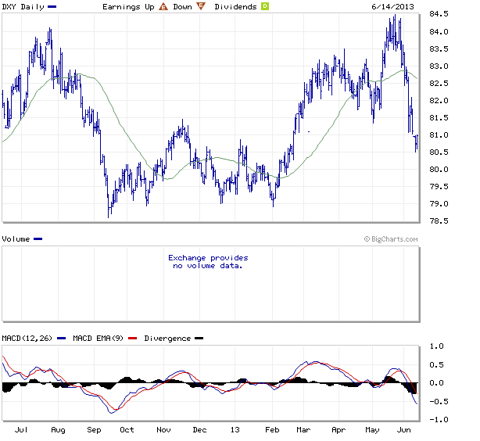 Chart courtesy of BigCharts.com
Commodity prices this morning are as follows:
Gold: $1379.70/ounce, up by $1.90/ounce
Silver: $21.67/ounce, up by $0.087/ounce
Oil: $97.05/barrel, up by $0.36/barrel
RBOB Gas: $2.8666/gallon, up by $0.00053/gallon
Natural Gas: $3.808/MMbtu, down by $0.006/MMbtu
Coal
Yesterday FBR Capital came out and said that met coal prices were essentially bottoming out as they were now falling below the cash cost of mining the resource for even the low cost producers. It was a bit of positive news for the industry, which as we said yesterday has come under considerable pressure and forced everyone's share price lower. It has been a rough ride for investors who have held through the downturn hoping for a turnaround, but if FBR is correct in their analysis this means that better days are ahead.
Over the past few months we have seen those names which were strongest in the coal sector (or rather those which were less weak than others!) get taken out to the doghouse and come more in line with the rest of the industry. Is this like FBR thinks and a potential bottom? Maybe overall for the industry?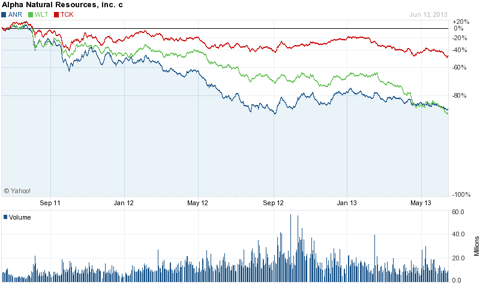 Chart courtesy of Yahoo Finance.
Alpha Natural Resources (ANR) is a company which they have an 'Outperform' rating on right now and is one name which would surely benefit from a turnaround in the pricing of coal, however yesterday it was muted on its move higher, never getting much above a rise of 2% in the share price. Two names which faired better were Walter Energy (NYSE:WLT) and Teck Resources (TCK) which the firm rates as 'Market Perform' but rose 4.7% and 3.22% on the day respectively. This is a story which we continue to watch with interest.
Steel
As the coal names have performed poorly, so too have the steel makers and none more so than AK Steel (NYSE:AKS) which we have consistently warned readers from buying. That has been great advice until recently as the shares have rebounded off of their lows. Our advice was always to buy US Steel (NYSE:X) if one had to be in the industry but now we are torn. Now the industry is faced with the prospect that met coal prices could be increasing and there are very few catalysts out there which could increase the demand for steel and steel products which leads one to almost have to arrive at the conclusion that the steel makers will get stuck with the bill.
Whereas US Steel has held its ground and par, AK Steel has done no such thing, instead headed lower as poor earnings were announced along with secondaries - never a potent mix. But could we have reached a bottom?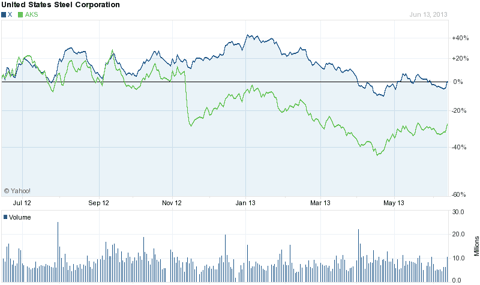 Chart courtesy of Yahoo Finance.
That is the worst case scenario, but if there is one thing we have learned in the commodity business over the years it is that a commodity simply cannot trade below the cash cost of mining it and prices must rise. The same can be said of the products that those commodities are used to make, they must rise in value too in order to reflect the higher input cost. So if met coal producers are set to rise now, maybe it is time to also look at the steel producers as well.
Disclosure: I have no positions in any stocks mentioned, and no plans to initiate any positions within the next 72 hours. I wrote this article myself, and it expresses my own opinions. I am not receiving compensation for it (other than from Seeking Alpha). I have no business relationship with any company whose stock is mentioned in this article.