Is Diamond Foods, Inc. (DMND) finally on the road to recovery? As the parent company of popular packaged food brands such as Emerald, Pop Secret, and Kettle Brand, Diamond Foods once enjoyed the success of its growing product lines for several years. Yet all of this came to a grinding halt in 2011-2012 as an accounting scandal within the company sent the stock price falling as seen in the graph below.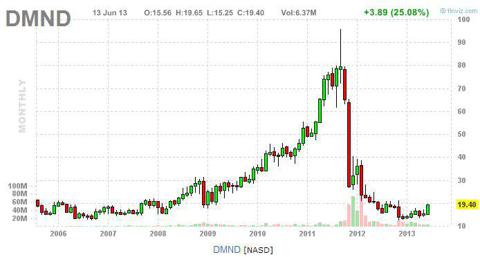 In April 2011, Diamond even had plans to purchase the Pringles chip brand from Proctor & Gamble (PG) for $1.5 billion in stock. By August 2011, the deal had received anti-trust clearance on its proposed acquisition. Yet with raised questions over the company's accounting practices in the following months, the deal was on shaky ground. Diamond launched an internal investigation in November 2011. By February 2012, Diamond had placed several of its top officers on administrative leave while Kellogg Company (K) swooped in with $2.7 billion to ultimately win over the crumbling Pringles acquisition.
The fallout from the ordeal of a scandal and failed acquisition hurt Diamonds Food not only in terms of its investor confidence but also in terms of its operations. In one way, Diamond Foods had been offsetting part of its slim margins in its snack divisions by utilizing the wider profits from the walnut business. Yet these margins were in part accomplished by paying walnut growers below-market rates and by delaying payments. Ultimately, it was through these practices that the company was brought into the devastating scandal.
Looking For A Turnaround
As the company moves forward, it faces the challenge of raising its margins back to sustainable levels. Much of its reputation has been severely damaged, and smoothing over relationship with walnut growers hasn't been easy. Payables to growers as of January 31, were only $98 million compared with $141 million in the year prior. The loss of several walnut growers has restrained Diamond's supply. Likewise, the company faces this recovery with a severely restricted balance sheet. As of April 30, the company carried total current assets of $251.3 million while facing $931.6 million in liabilities.
Yet several positive points can be taken away from the company's most recent earnings call. In the transcript for the Q3 2013 earnings call found here, we see two additional positives:
Improving Margins. Gross margins for snacks increased by 780-basis points. The company's gross profits for snacks now stands at 35.2% compared with 27.4% in the year prior. Likewise, gross margins for nuts also increased from 5.8% in the prior year to 8.3% this year.
New Management. By finding a new and permanent CFO in Ray Silcock, the company turns a new page away from its prior woes. This helps to raise investor confidence and ideally provides more stable leadership behind the company. The interim CFO Mike Murphy has been serving the company since February 2012, when he replaced ousted CFO Steven Neil.
Seen below, it appears that Diamond Foods is gaining back lost ground in recent months when it comes to the margin line that ultimately counts. Yet the company continues to see revenues fall as it focuses on recapturing its profitability. The focus on cost reduction and improved net price realization remains a priority for the company. By scaling back its operations in order to refine its profitability, the company appears to be on the right course.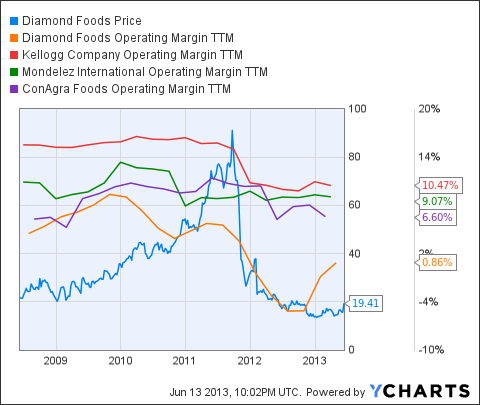 DMND data by YCharts
Conclusion
The verdict is still out on whether Diamond Foods is capable of turning itself around completely. Diamond's balance sheet remains far from attractive in a time in which more capital is ideal in rejuvenating the company. Yet the direction remains positive. New leadership and growing margins remain promising indicators looking forward. Nevertheless, investors aren't likely to lose much sleep over these price levels if they decide to just sit on the sidelines and not take a position in the company.
Disclosure: I have no positions in any stocks mentioned, and no plans to initiate any positions within the next 72 hours. I wrote this article myself, and it expresses my own opinions. I am not receiving compensation for it (other than from Seeking Alpha). I have no business relationship with any company whose stock is mentioned in this article.