Universal American Corp. (NYSE:UAM), the New York based life and health insurance company, appears to be well positioned to further its growth - especially in the area of managed care products, thanks in large part to the growing Medicare population in the U.S.
In the overall health insurance industry, Universal American may be considered on the smaller side - especially in comparison to competitors such as UnitedHealth Group (NYSE:UNH). The company reports a market cap of just above $780 million and an enterprise value of nearly $900 million as of mid-2013.
The company's Senior Managed Care Medicare Advantage component provides health insurance plans that coordinate with Medicare, such as HMOs (Health Maintenance Organizations) and PPOs (Preferred Provider Organizations). This growing segment of the firm also offers Medicare-covered benefits, network based private fee for service plans - or PFFS - and additional supplemental benefits such as a defined prescription drug plan.
All of these offerings - as well as Universal American's traditional insurance products - are distributed through a network of independent general insurance agencies, most of which have a key focus on serving the growing senior and Baby Boomer population. And, as this population segment continues to grow, Universal American's sales should be poised to grow along with it.
Growth Is Just the Tip of the Iceberg
Over the past few years, both the Medicare and Medicaid markets have been the fastest growing population segments in the United States, with the prospect of continuing this exponential expansion throughout at least the next decade. This essentially means that right now could quite possibly represent just the beginning of a substantial phase of growth.
As the demographic population continues to age - giving the U.S. a longer life expectancy on average - consumers will likely rely more and more on such programs for their increased need for healthcare services, and the required subsequent payments for such care. The companies that are in a position to capitalize on this massive growth will likely see a nice amount of their own growth and likewise, profits.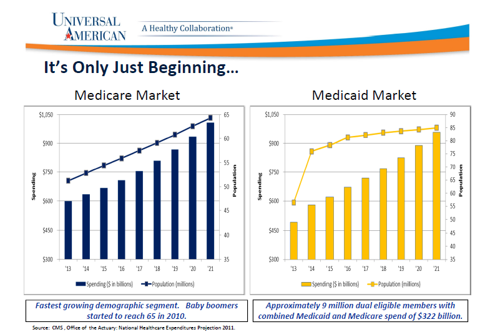 Since 2010, the Medicare market has in fact represented the fastest growing demographic segment in the country - due in large part to the vast number of Baby Boomers who began turning age 65 at that time. Currently, the Medicaid market represents roughly 9 million dual eligible members - meaning that these individuals qualify for benefits from both Medicare and Medicaid - with a combined spend of approximately $350 billion. The growth of both of these key markets should fare well with Universal American's forward looking plans.
Looking at the Key Statistics
In Universal American's first-quarter 2013 financial report, the company earned just over $560 million in pre-tax total revenue. This came primarily from $521.2 in net premium from the company's insurance products. The bulk of the company's remaining $39.6 million in total revenue came from net investment income. The company earned a gross profit of just under $144 million in the first-quarter. The pro forma net income came in at $17.2 million or $0.2 in EPS, easily beating analysts' average estimate of $0.17.
Universal American has done a good job of keeping an adequate amount of cash and liquidity - although the firm's current $1,237.4 million in cash and investments is down slightly from its year-end 2012 figure of $1,294.6 million. Still, the company currently has $640 million in unregulated cash of which ~$360 million is an excess of its risk-based capital ratio or RBC of 350%.
Also throughout 2013, Universal American plans to continue its growth in the Medicare arena - primarily in its core markets - to more than 134,100 total members, resulting in more than $1.6 billion in annualized revenue. In doing so, the company also plans to place a focus on lower attrition in its core customer markets, as well as to build physician engagement in its HMO and PPO markets.
In its Medicaid component, Universal American is striving to partner with more provider-based organizations as well as to grow its direct to state fee-for-service plans, and its direct to health-plans fee-for-service area.
By investing in the growth of the business, Universal American is also focusing on providing more return to its shareholders. The company reports that it currently has approximately $59 million of ordinary dividends available for the current fiscal year.
Although Universal American does not typically pay out regular dividends to its shareholders, in 2012, the company did offer a one-time special dividend of $1 per share. And, while this move may very well have been prompted by the fear of dividend tax rates increasing in 2013, the good news is that Universal American had plenty of cash available to make that dividend distribution. The no regular dividend payout policy by Universal American, however, may soon change in the future - and if so, this company's shareholders will likely be well rewarded with a nice stream of income.
Forging Ahead With the New HealthCare Landscape
In looking ahead, Universal American has itself well positioned to take advantage of the upcoming changes that will soon be in effect per the Affordable Care Act. For example, the implementation of this new legislation will accelerate the introduction of health insurance benefit exchanges, as well as the expansion of Medicaid benefits.
However, the real and immediate driver of the upcoming change is that all of the ultimate payers of both government and individual benefits - including federal, state, municipalities and companies - will soon be seeking to reduce their costs.
This will likely affect the benefits that are received from both Medicare and Medicaid in the following ways - first, more "savings" will be expected from Medicare, especially in the areas of deductibles due from enrollees and inflation adjustments that are affiliated with one's annual benefits.
Regarding Medicaid - all of the U.S. states are now focused on reducing the cost of providing Medicaid services - and many states have even requested block grants and waivers in order to manage their own Medicaid systems with less control by the federal government.
In addition, the Affordable Care Act also established the Medicare Shared Savings Program as a means to improve quality and lower costs via increased care coordination in the Medicare fee for service program. Here, Universal American could quite possibly have a 36 million traditional fee-for-service Medicare member opportunity.
On top of that, with Universal American's more than 30 partnerships - inclusive of more than 3,000 providers and 328,000 members throughout the U.S. - the company is also poised to capitalize on more than 12 years of risk sharing arrangements in which providers and beneficiaries will benefit from quality and efficient healthcare.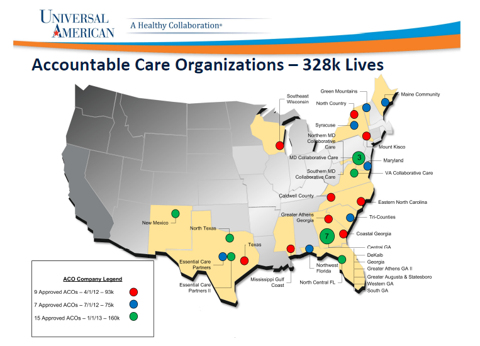 Universal American's Health Collaboration Model
So overall, what does all of the new legislation and resulting changes mean for Universal American and its shareholders? The key benefit here is that those companies - specifically insurers - that know how to control costs, improve quality of healthcare and deliver value will tend to thrive in this environment. In all, Universal American is positioned to participate in a number of high growth areas in the healthcare sector. These include: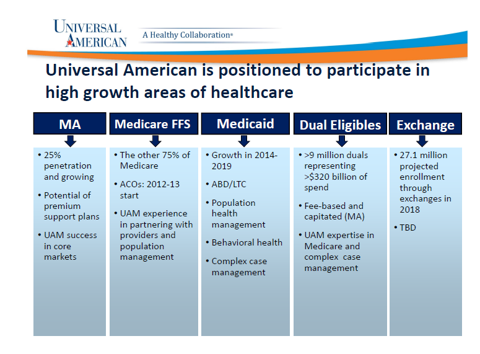 In moving ahead profitably in the new healthcare environment, Universal American will work more in collaboration with actual providers of healthcare in order to help them both assume and manage risk. This is, in turn, is expected to achieve measurably better quality - and ultimately, lower cost.
The company plans to accomplish these cost savings by engaging the people that it serves and helping them to make smarter and more economic choices about their healthcare. The firm also plans to employ technology for the purpose of making these healthcare choices easier to understand and more convenient to implement along the way.
The Bottom Line
Overall, Universal American may be considered a diamond in the rough as far as good value goes. The company is undervalued with a price-to-book ratio of 0.75, which means that for every dollar an investor places with the company, it essentially attains more than $1.30 of asset worth. The company is expected to show a compound annual earnings growth rate of 15.35% during the next five years, a pace that will eclipse its 3-year historical compound annual growth rate of a mere 1.3%. This could provide investors with a bit of cushion, even if the share price dips temporarily.
All in all, with the prospect of upcoming shareholder dividends in the future, along with anticipated potential share growth over the next year and beyond, investors who buy Universal American at the current levels are likely to be quite satisfied with their investment.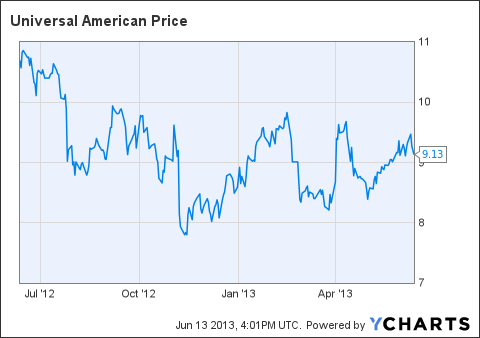 Disclosure: I have no positions in any stocks mentioned, and no plans to initiate any positions within the next 72 hours. I wrote this article myself, and it expresses my own opinions. I am not receiving compensation for it (other than from Seeking Alpha). I have no business relationship with any company whose stock is mentioned in this article.