Disclaimer: Box Ships (NYSE:TEU) is a microcap as its market value is $65 million. Investors should keep in mind that while there is no such thing as risk-free investment, microcap stocks tend to have higher than average risk attached to them. Investors should do their own research and figure out a risk tolerance level for themselves depending on their short and long-term goals.
Box Ships specializes in transportation of containers. The company operates in multiple trade routes around the world. The company is highly committed on returning its gains with the investors in forms of dividends (which I will mention in more detail below). The company has been traded publicly since 2011 and its short history in the stock market has been much less than impressive. Since its IPO, the stock has lost 65% of its value as it fell from $11.30 per share to $4.04. I believe that the stock has now reached a level where we can call it cheap.
Last year, Box Ships generated $65.89 million in revenues, up from $38.72 in 2011. The company's operating income was $21 million, up from $17 million in 2011. The company's total assets (including but not limited to cash, buildings and vessels) were worth $445 million in 2012, up from $401 million in 2011.
The company currently has 9 vessels. With the exception of 2 vessels, all the vessels are less than 10 years old (3 vessels are 3 years old). Below, you will see a list of vessels operated by Box Ships including their name, year-built, capacity, charterer, daily revenue, remaining charter time and expiration date of each charter. The average time remaining for charters is 21 months, which is close to 2 years. Some vessels have special circumstances attached to them. For example, for Maule, the charterer has the option to buy the vessel for $57 million when the charter contract expires (the vessel's current value is $69 million and it depreciates by $2-3 million per year). Most charter contracts are expected to be renewed once they expire as long as the global economy doesn't see another major recession. Here are the company's breakeven figures per day by size of vessel: $17,000 per day for 3,500 TEU vessels, $19,300 per day for 4,400 TEU vessel, $18,550 per day for 5,100 TEU vessels, $13,650 per day for 5,300 TEU vessels and $17,000 per day for 6,500 TEU vessel. According to these figures, most vessels are running profitable at the moment.

Below, you will see a few metrics that demonstrate the company's growth in the last year. Average number of vessels rose from 5.92 to 8.01, operating days for the fleet rose from 1,551 to 2,734, number of vessels rose from 7 to 9, and the calendar days for the fleet rose from 1,551 to 2,932. All these metrics point to double-digit growth rate.

The company attempts to preserve some of its equity by buying and selling vessels. For example, an average 5-year old 3,500 TEU vessel is worth $45 million whereas an average 10-year old 3,500 TEU vessel is worth $32 million. If the company buys a 5-year old 3,500 TEU vessel (with a 50% down payment), operates it for 5 years and sells it afterwards, it will preserve all of its equity. By the end of 5 years, the principal of the debt will fall enough that the sale price will recover all the down payment. This is good for the investors because it reduces their risk considerably. See the charts below for a sample demonstration.


The charts below show some interesting trends, which can be interpreted as either risk or opportunity for the company depending on how you look at things. The chart on the top left is the Shanghai Containerized Freight Index and it refers to cost of a shipment and it is trending downwards. This indicates that there is less demand for containerized shipments globally at the moment. Currently, the index is at low levels not seen since 2011, which may mean that it is not likely to drop much further because the global economy isn't in a worse shape than it was in 2011. If and when the trend reverses, the company's earnings will benefit from this greatly. On the top right chart, we see the daily rate of a 3,500 TEU vessel. The average for the last 10 years was $21,795 while the current average is closer to $10,000. As the current number is at a 10-year low (or at 2009 recession levels) things might start reversing soon. After all, the global economy is not as bad as it was in 2009. As you can see in the bottom left chart, secondhand vessel prices are also at recession levels. Currently, the number is around $20 million whereas the 10-year average is at $42 million. This is risky for the company because it will have to offer deep discounts for the vessels it wants to sell. On the other hand, it is opportunistic for the company because it can add new vessels to its fleet at cheap prices. Finally, the bottom right chart shows the idle capacity for Box Ships' vessels. As we can see, the idle capacity is in a downward trend, which is good for the company.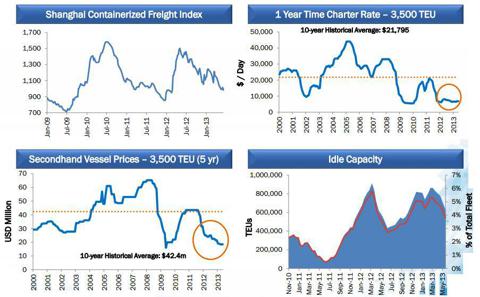 Despite the weak market conditions, Box Ships is highly profitable. Last year's net earnings gives the company a low P/E ratio of 5.35. In the last four quarters, Box Ships paid 82 cents per share in dividends, reflecting a yield of 20% compared to today's share price of $4.04. While Box Ships is highly committed to share its earnings with investors, there is no guarantee that the dividend rate will be the same in the future. Also, since the company doesn't have a long history as a public entity, there aren't enough data points to draw a conclusion regarding the company's dividend policy in the future. A few months ago, the company issued nearly 5 million new shares in order to retire some of its high-yielding debt, but the investors didn't take it very well as it led to a sell-off in the share price of the company.
I should also mention some of the more obvious risks associated with investing in this company. The company's performance will depend on many moving parts such as weather conditions, safety of international waters, political stability in the countries where it conducts business, global demand for imports (especially those originating from Asia) and global economic growth. Then again, there is no such thing as a risk-free investment (if there is such a thing, it probably yields 0% return).
Now back to the original question, can Box Ships double? It depends on the economy, but it is very possible. It looks like a lot of the metrics (as shown in the charts above) look very similar to how they did in 2009 when the global economy hit the bottom. As the global economy is in a much better shape today than it was in 2009, most metrics should be improving soon. In that case, there can be a lot of upside for this company.
Disclosure: I have no positions in any stocks mentioned, and no plans to initiate any positions within the next 72 hours. I wrote this article myself, and it expresses my own opinions. I am not receiving compensation for it (other than from Seeking Alpha). I have no business relationship with any company whose stock is mentioned in this article.