The 800-point rally in the Dow since July 13 was first fueled by hope, and then by positive earnings surprises. This is despite the fact that:
Expectations were dismal.
Most firms made the numbers via cost-cutting.
Sales guidance is weak, and back-end loaded.
Where's the Organic Growth?
As Trader Mark noted, investors are bullish about earnings season, despite a lack of fundamental improvement. Eaton (NYSE:ETN), Johnson Controls (NYSE:JCI), Caterpillar (NYSE:CAT), and Haliburton (NYSE:HAL) all reported revenue declines of 20% to 40%, but they all delivered earnings surprises. Investors are focused on EPS, and hope that sales eventually get better. Cost-cutting only gets you so far, and investors won't pay a premium for stocks that have weak organic growth. Companies will be hard-pressed to sustain earnings growth in the second half unless domestic demand improves, and that is hard to see with overextended consumers, rising unemployment and stagnant wages.
Except Goldman! Maybe they can buy cars, iPods, computers, and cell phones, and distribute them to the plebian masses. That's a stimulus plan I can live with.
U.S. Stagnates, While China Gets Traction
Going into earnings season, investors had concluded that the reflation rally had stalled, since monetary and fiscal stimulus were not working in the U.S. The stimulus has still not boosted domestic demand; it has only stabilized a shaky system. Only China seems to benefit from fiscal stimulus (as Caterpillar noted in their earnings release). China isn't burdened with defaults, low savings, and private deleveraging, so it makes sense that its stimulus plan is getting traction.
Stagflation Ahead
On the bear side, I still believe inflation relief won't last: Fiscal stimulus introduces structural deficits that will be virtually impossible to unwind after the recession. Right now, private deleveraging and sluggish bank lending are offsetting quantitative easing by the Fed, which Edward Harrison noted today. But all good things come to an end: When the recession is over, we'll be left with enormous deficits and a bloated Fed balance sheet.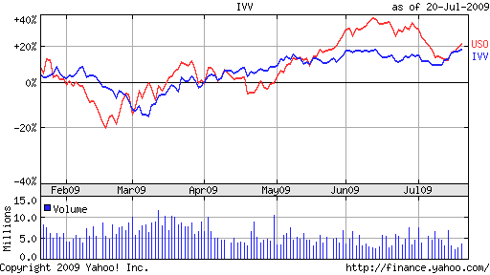 Disclosure: Long GLD, IVV, TIP.