If you have read my previous articles on Nokia (NYSE:NOK), you would know that I am a tentative bull. With a stock that is near impossible to value, any catalyst tends to alter theses quite tremendously and over the past few days we have seen quite a few important developments. In the near term, it is my belief that the stock has the potential to trade higher, but my long term belief in the turnaround has began to wane.
Nokia Siemens Networks
Today, we heard news that Siemens (SI) had approached a variety of Private Equity firms in order to discuss a sale, with a mooted price of $9bn. In my Sum-of-The-Parts analysis, which calculates NOK shares (contingent on the mobile division being a success) @ EUR3.70 ($4.99), how does this impact my valuation?
In terms of Nokia Siemens Networks (NSN), I use an EV/EBITDA13 multiple of 6.03 [Alcatel (ALU) 6x and Ericsson at (NASDAQ:ERIC) 7.03x] to come to an enterprise value of EUR9,823m ($12,769m), an equity value of EUR10,830m ($14,079m) and a per share value for Nokia of EUR1.45 or $1.93. I use a rough EBITDA estimate of EUR1,629 (assuming flat revenue and Q1 margin improvement from 10% to 12%).
Dow Jones indicated in this statement that NSN could be valued at more than $9bn with debt (enterprise value) meaning that DJ values NSN at significant below its peers (4.15x EV/EBITDA13).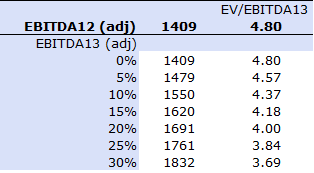 **Figures in euros
In fact, this $9bn valuation seems to constitute a pre one-off EBITDA shrinkage of 10-15%, which seems a little far-fetched considering the solid Q1's. I have also come across one website claiming that this $9bn is the value of Siemens' stake alone but this would value the company at a supreme 8.7x EV/EBITDA13x and is therefore incorrect.
Apparently the $9bn valuation comes from a European broker who says the joint venture would be valued at 0.6x 2014 revenues (EUR7.1 - EUR7.5bn). In order to get this number, revenues in 2013 must therefore shrink to EUR11.7bn from EUR13.37 (12% drop over two years). Even if this were true, the ratio would still be unreliable because the company is currently under a cost cutting operation leading to a quickly improving EBITDA line - i.e. since a revenue based multiple ignores cost-cutting exercises, it is not a good multiple to value a company like NSN.
If $9bn is too cheap for NSN, why has the stock rallied 5%? First off, I think we can take this number with a pinch of salt as the important thing is simply that Nokia will be able to partner up with a co-investor that has a vested interested in seeing NSN succeed. This of course is good news for Nokia and even if we see Nokia relinquish control through an IPO or a private sale, there would be a significant amount of money available to shareholders via a special dividend.
Competitors
Moving on from NSN and towards everyone's old favourite division in handsets and a piece of news that has made me less sure on a successful outcome. This is the fact that not only is the iPhone Budget coming out sooner than anticipated, but it will be arriving in a raft of funky colours. Sounds pedestrian right? Unfortunately there is only one other phone company that has been praised for their vibrant and funky colours - this of course is the Lumia (and the Asha!). If you read my blog on occasion you would know that I believe a phone's looks to be a true selling point. Without a doubt, the Nokia Lumia caused a stir when they introduced vibrant colours to the otherwise bleak collection of smartphones on offer. iPhone's colourful budget phones means that they have effectively taken away one of the USPs that the Lumia possessed. This is always bad news.
Christmas
Finally, let me add a theory which has not yet been voiced regarding Nokia, and the smartphone business in general. It is of no surprise that smartphone sales peak around Christmas as mobiles make a great present. Apple's (NASDAQ:AAPL) Christmas bounce is even more pronounced as their whole portfolio can be classified as great stocking fillers - even the iPod still shifts units!
Consider also that the average family has a Christmas budget where a limited money is allocated across your Christmas stocking.
There is a product in this world that isn't often updated, used by millions and is rather expensive - gaming consoles. For the first time in six years the X-Box One (NASDAQ:MSFT) and Playstation 4 (NYSE:SNE) will be battling it out for a share of your Christmas budget. For the first time since the PS2, we will actually see global release of the two leading consoles just in time for Christmas (the PS3 launched in some areas three months after Xmas).
There is a very real chance that mobile phones will be pushed out of stockings in favour of games consoles, meaning that the whole industry could be in trouble (not just Nokia!)
Concluding
I am a little bit more skeptical about Nokia delivering in the long term than I was prior to the latest news flow but I expect the NSN debacle to unlock some value for Nokia shareholders in the short term. It is therefore my opinion to add to your Nokia position in order to play the NSN game but I would be hesitant told hold the stock over Christmas.
Ho-Ho uh-oh.
Disclosure: I am long NOK. I wrote this article myself, and it expresses my own opinions. I am not receiving compensation for it (other than from Seeking Alpha). I have no business relationship with any company whose stock is mentioned in this article.