Simplifying the complicated workings of the offshore deep-water drilling services industry is a task unto itself. But, a high level understanding is beneficial, if not necessary, when viewing the potential of Hornbeck Offshore Services (NYSE:HOS). Hornbeck provides marine transportation and services to the oil and gas industry.
Hornbeck operates in two segments - "upstream" and "downstream." Upstream services use "offshore supply vessels" (OSVs) and "multiple purpose support vessels" (MPSVs) in deep sea waters. Hornbeck's core upstream geographies include the Gulf of Mexico, Brazil and Mexico. Since 2010, it has also expanded into the Middle East, West Africa and Latin America. Downstream services use tank barges and tugs on domestic inland waterways and lakes and in coastal waters. Downstream activity occurs primarily along the northeastern U.S. coastline, along the Gulf of Mexico coastline, in the Great Lakes and around the Puerto Rico coasts.
Upstream
Deepwater environments cannot be supported by on-shore facilities. Deepwater drilling procedures are more challenging and warrant complicated support. Upstream vessels transport cargo and supplies to offshore drilling rigs. They provide support services through all phases of a drilling rig's or production facility's life: construction, installation, repair/maintenance and decommissioning.
Technology improvements have increased the safety capabilities for OSVs relative to deepwater positioning and anchor-less stationing. Vessels are rated by DP systems where the notation following the DP reflects the usefulness and redundancy capabilities of the vessel. DP-3 is currently the highest designation. Hornbeck's fleet consists of 25 DP-1 vessels, 28 DP-2 vessels and 2 DP-3 vessels, Between April and December 2013, 6 DP-1 vessels will be retrofitted to become DP-2 vessels.
Hornbeck's OSV fleet has the longest remaining useful life compared to its publicly-traded competitors. Its fleet life averages 8 years while its competitors' fleet life averages 12 years. In total deadweight ton capacity, Hornbeck ranks in the top 5 providers at 4th. Since 1999, Hornbeck has built 33 OSVs, acquired 19 and sold 1. It has 20 OSVs under contract to build (all at a DP-2 rating). It has also built 4 MPSVs since 1999 and has 4 more under contract to build (also at a DP-2 rating). MPSVs are significantly larger vessels and are more specialized and versatile. Hornbeck's MPSVs are the world's largest by deadweight ton capacity.
Deep wells are defined by well depth rather than water depth. Worldwide, there are 91 floating rigs under construction or on order and 84 jack-up rigs under construction or on order as of January 2013. Each project typically requires more than one OSV to service it. Historically, rigs in the Gulf of Mexico require 2 to 4 OSVs.
The demand for vessels through 2016 for the Gulf of Mexico is estimated at 219 to 309 OSVs. The supply of OSVs, including builds to be completed in time, numbers 273. Deepwater rigs in the Gulf are expected to increase by 25% by 2015. On the other end of the life cycle, decommissioning activity of aging shelf production platforms is also increasing. Most platforms are decommissioned at the age of 19 years. In the Gulf, 70% are over 15 years old and 45% are over 30 years old. Recent mandates by the Bureau of Energy Management has accelerated decommissioning activity.
Downstream
Downstream vessels transport crude oil and petroleum products. Since 1998, in its Downstream business, Hornbeck acquired 13 tank barges and built 8. One tank barge is equivalent to 162 rail cars or 439 tractor trailer tanks. Of the 14,318 tank barges in use now, 2,198 will be retired by 2015 because they are single-hulled barges. Only 210 double-hulled barges will be added by 2015. The transition will result in a total 14% decrease in tank barges for industry use. Hornbeck has sold or retired all of its single-hulled barges. Similar to Hornbeck's upstream fleet, its 9 downstream double-hulled barges have an average life of 8 years while competitors' fleets average 11.1 years. Typically, tugs and tank barges work as pairs so Hornbeck's downstream fleet includes 9 ocean-going tugs.
Financials
Hornbeck customers are actually few in number. Its revenue potential is tied directly to the activity level of its customers. Both Hornbeck business segments, Upstream and Downstream, are impacted by weather, economic conditions and the demand for oil and gas. Hornbeck's core geographical markets represent 42% of the worldwide supply of oil. In fiscal 2012, Chevron (NYSE:CVX) and Petrobras (NYSE:PBR) each contributed more than 10% of Hornbeck's total revenue.
Three distinct situations have impacted Hornbeck revenue in the past five years, both positively and negatively. First, the financial crisis in the fall of 2008 impacted its revenue in 2009. Hornbeck's fixed costs are relatively high and must be covered regardless of revenue flow.
Second, in response to the April 21, 2010 explosion and spill at the Deepwater Horizon, the U.S. Department of the Interior issued a moratorium suspending all deepwater activity in the Gulf of Mexico. The moratorium lasted until October 2010. But the requirement to regain permits and new safety regulations impacted the industry through the middle of 2011. During the Deepwater Horizon clean-up efforts, Hornbeck was involved in each category of relief. It applied dispersants, supported drilling of relief wells, provided live video of the well head, placed the containment cap on the broken drill pipe, operated skimming equipment, performed separation of oil and water and provided storage capacity.
Finally, Brazil's Petrobras announced a spend of $142 billion from 2012 to 2016 for offshore exploration and production. Its vessel count needs are expected to increase from 290 to 480 by 2015.
While revenue levels are returning to pre-crisis and pre-Horizon levels due mainly to a larger fleet, Hornbeck's profitability still lagged through 2012. The following table comparing 2008 data to more current data illustrates the differences: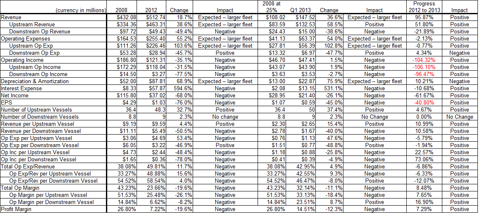 Operating expense increases are primarily related to: 1) reactivating vessels after the DOI moratorium, 2) higher operating costs for vessels in Latin America, and 3) higher crew wages.
Interest expense increased in 2009 and beyond due to Hornbeck's 8% senior notes due 2017. These notes were refinanced in the first quarter of 2013 to 5% senior notes due 2021. The early extinguishment resulted in a $24.3 million loss during the most recent quarter.
Operating margins are on pace to return to 41%, Hornbeck's decade-long average.
Future Commitments
Capital expenditures for deepwater activity for the years 2007 through 2011 never broke the $30 billion mark. Yet, worldwide spending is expected to double to $60 billion in 2015. Through year-end 2013, Hornbeck's contracts cover 54% of OSVs and 77% of MPSVs. Into 2014, 24% of OSVs and 31% of MPSVs are contracted. For the Downstream segment, contracts cover 60% for the remainder of 2013 and 5% of 2014.
Competitive Advantages
Subsequent to the Deepwater Horizon tragedy, the industry demands an even higher level of safety and has more stringent regulatory standards. Of Hornbeck's future upstream revenue contracts, 75% are with major oil companies, national oil companies and the U.S. government. Hornbeck's safety record is consistently better than its peers. For over a decade, its recordable incident rating has been less than 0.5. The average of the International Association of Drilling Contractors just broke the 1.0 mark in 2009. The Offshore Marine Services Association has broke the 0.5 mark in only three of the last ten years.
Hornbeck's debt level is steep with a debt/equity ratio of 52.8. But its debt is financing an aggressive fleet expansion program. The compelling factor of Hornbeck's debt is that it is gaining so much for Hornbeck. By deadweight tonnage metrics, Hornbeck is paying only $7,500 per ton - which is at least 16% lower than the rest of the industry. By 2016, Hornbeck's upstream fleet will be impressively larger - OSV by 40% and MPSV fleet by 100%. Besides growth in its fleet number, the deadweight tonnage capacity of its fleet almost doubles, increasing by over 90%. Between the young age, capacity and the advanced technological capabilities of its fleet, Hornbeck's earnings are projected to approach the 2008 level, its historical high, in 2014.
Hornbeck's peer group includes Gulfmark (NYSEMKT:GLF), Tidewater (TDW) and Seacor (NYSE:CKH). In the past 13 years, Hornbeck's average utilization rate is 88% compared to the peer group's average of 65%. The average dayrate in the same time frame for Hornbeck was $14,052 compared to peers' $6,014.
Discussion
Hornbeck's rebound from the financial crisis and the Deepwater Horizon tragedy is already built into its recent stock price. The current P/E ratio is over 50. Considering an industry-average P/E of 22 and using a 2013 EPS estimate, Hornbeck's current price is in a fair range.
However, incorporating strong projected growth, the forward P/E ratio declines markedly to the low teens. Analysts have projected a long-term EPS growth rate over 50%. Yet, using just a 20% long-term growth rate, a YPEG calculation yields a fair value of $87. That value equates to an upside of 67% over recent prices.
By year-end 2013, 25% of the OSV new-builds will be in the water. In 2014, 65% will be completed and launched. The remaining 10% are targeted for launch in the first quarter of 2015. Just as industry demands are on a steep upward trajectory, thanks to Hornbeck's increasing capacity and versatility, its potential is as well.
Investors looking to jump onboard with Hornbeck Offshore Services shouldn't wait much longer, lest they find all the vessels have left the dock.
Disclosure: I have no positions in any stocks mentioned, and no plans to initiate any positions within the next 72 hours. I wrote this article myself, and it expresses my own opinions. I am not receiving compensation for it (other than from Seeking Alpha). I have no business relationship with any company whose stock is mentioned in this article.
Additional disclosure: I recommended HOS as an investment option to my investment club at the June meeting.