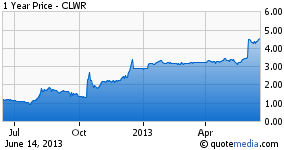 Like most industry observers, I have been enamored with the negotiations involving Clearwire (CLWR). Also, like most observers, I thought SoftBank's (OTCPK:SFTBF) latest and higher offer to buy Sprint (NYSE:S) this week would settle it all.
So emboldened, or reckless, are members of Clearwire's board by all this upping of the bids that they are recommending shareholders vote in favor of Dish's (NASDAQ:DISH) offer over Sprint's. This despite a warning earlier this week from Sprint, which owns about 51% of Clearwire, that it may very well take legal action against the fledgling wireless carrier if it enters into an agreement with Dish.
No pun intended, but Clearwire will be the loser in this battle if Dish fails to come through. Dish's chairman Charlie Ergen is not one to back down from a battle, but his ideas have been likened to pipe dreams at times. Such was the case when he first offered his bid for Clearwire, only to follow that up with a whopping $25 billion to buy Sprint! Throw in an activist group of shareholders with their own agenda and you have a perfect example of what can happen when solid management is not at the helm.
Spectrum Valuation Key
This all began when Japanese-based SoftBank chief executive and billionaire Masayoshi Son set his sights on the U.S. as a place to grow his wireless business. Sprint was targeted because of its majority ownership in Clearwire. There are few who would disagree that if it weren't for Clearwire's spectrum, SoftBank wouldn't have made a play for Sprint.
Already we see his loyalty to the deal with Sprint is thin compared to his determination to get spectrum. Last week, when it seemed his deal with Sprint would be derailed by Dish, he was reportedly quickly on the horn with execs from T-Mobile. Then there's his hurry to close the deal. The Wall Street Journal reported Thursday that he's made it clear that time is of the essence. He wants to close on a deal before the summer ends, and preferably next month.
Dissenting Shareholders
As I noted above, Dish is not the sole culprit behind what may turn out as a disaster for Clearwire shareholders. So is to blame Crest Financial, the largest of the independent minority stockholders. It's been just as adamant about Clearwire not valuing itself justly in even entertaining a bid as low as $3 a share. Sprint's first proposal to buy the remaining stake it doesn't own in Clearwire was $2.97 a share. It upped the bid to $3.40 a share last month to outdo Dish's bid of $3.30 a share.
The latest offer was still not enough, voiced Crest Financial. Observers were shocked, but it seemed appeased, by Dish then raising its buyout offer to $4.40 a share. This amounted to a nearly 30% increase over Sprint's offer.
Interesting about Crest Financial's determination in getting Clearwire shareholders to vote against Sprint's offer is how it could directly benefit from such an approval. It's discussed $240 million in convertible debt that it could offer Clearwire. At what cost, becomes an important question.
Sprint's Battle
In the grand scheme of all of this, Sprint has far more to lose. It has pumped billions of dollars into the financially struggling Clearwire, so it's quite a slap in the face to it from Clearwire to treat it this way, many observers say. No matter, Sprint's suffering its own financial woes.
Running a distant third behind Verizon and AT&T in the wireless space, Sprint can no longer afford to keep bleeding cash. The deal with SoftBank would supply it with a much-needed infusion of cash - to the tune of $21.6 billion. So it's understandable that it would do all it can to secure the rest of the stake in Clearwire it does not own. The question then becomes if the forces I've outlined above will prevail.
Disclosure: I have no positions in any stocks mentioned, and no plans to initiate any positions within the next 72 hours. I wrote this article myself, and it expresses my own opinions. I am not receiving compensation for it (other than from Seeking Alpha). I have no business relationship with any company whose stock is mentioned in this article.