I'm a big believer in the long-term merits of investing in the companies that are big players in the North American unconventional oil revolution. What I'm not a big believer in is the idea that oil production in the United States is going to continue grow at the rates we have seen over the past year.
I also don't believe that increasing U.S. production is going to result in a long-term drop in the price of oil.
Why don't I think oil production in the United States can continue growing at the rapid pace we have experienced over the past year?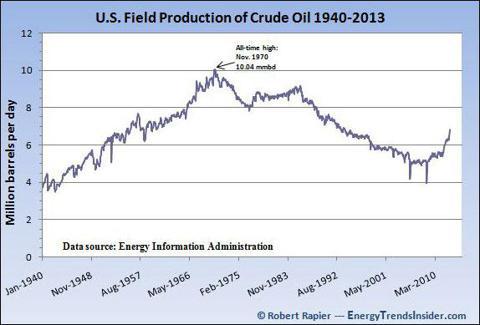 It is because last year's production surge was the result of a move of drilling rigs from natural gas to oil that can't be repeated again in the future: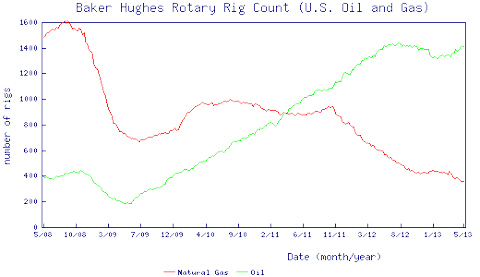 The number of rigs drilling for oil in the United States went from 200 in 2009 to 1,400 by the start of 2012. That is the big driver of the increase in oil production in the United States.
That rig count has flattened and I believe it is soon going to start showing up in the production data.
As for why I don't think the growth in U.S. oil production can significantly lower the price of oil in the long term, the answer is very simple. These new sources of oil require oil prices of $80 plus for the production to be profitable. If the price of oil drops, producers are going to quickly lay down the drilling rigs. With first year decline rates on these tight oil wells that can be up to 60%, a decrease in rigs will quickly mean a decrease in production.
This week I read an interview with legendary investor and commodities bull Jim Rogers who seems to agree with my thinking:
Fusion: Many believe the U.S. shale revolution is going to solve our energy problems? Is it over-hyped ?

Rogers: Yes, I believe it is. Regarding natural gas, the fundamentals on the ground are not nearly as good as the hype. The number of rigs on the ground has gone down 75% the last couple of years, as the wells are very short-lived, and it takes an enormous amount of money to keep them up. A number of companies have had to lower estimates of their reserves. As for oil shale, typical wells deplete at 38 percent the first year. Thus you need a lot of drilling, money, and a high price to keep up production rates. All you have to do is go out in the oil patch. I believe the investment world will be disappointed with the notion that supply is so great that oil will collapse.
EOG Resources (NYSE:EOG), the single largest producer of oil using horizontal wells in the United States, in its most recent presentation shows how production in the North Dakota Bakken play is now flattening: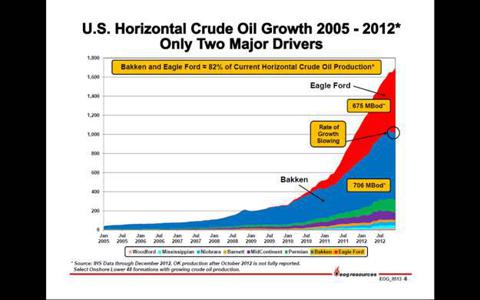 What Does This Mean For Investors?
If I'm right, oil prices of $90 plus are going to be the norm going forward. What I think this actually means is that investors should embrace these unconventional producers that have been responsible for North America's production growth.
Some of the top unconventional oil producers in the United States include:
- EOG Resources
- Continental Resources (NYSE:CLR)
- Kodiak Oil and Gas (NYSE:KOG)
The reason I like these unconventional producers is that I believe their "second wave" of production from these unconventional plays is going to be exceptionally profitable. By "second wave" I mean the secondary phase of production through downspacing and enhanced oil recovery (e.g., waterflooding).
The first or initial phase of production will involve making investments in roads, pipelines and other expensive infrastructure. The secondary phase of production will not require a good chunk of this spending as this infrastructure is already in place.
Every barrel produced through secondary production will be much more profitable than the barrels produced in the initial production phase. That means that cash that was previously needed for investments in infrastructure now becomes available for distribution to shareholders either through balance sheet improvement, dividends or share repurchases.
I'm invested in these unconventional oil producers for the long term. I believe that with each passing year, the acreage that these companies have locked up is going to prove more and more valuable.
Disclosure: I have no positions in any stocks mentioned, and no plans to initiate any positions within the next 72 hours. I wrote this article myself, and it expresses my own opinions. I am not receiving compensation for it (other than from Seeking Alpha). I have no business relationship with any company whose stock is mentioned in this article.