Looking for high dividend stocks that aren't overbought? Like many of the stocks in our recent articles, this stock is undervalued on a PEG basis, and on other bases as well. Paradoxically, even though it's oversold, it also has increasing institutional support. In addition, it goes ex-dividend in 2 weeks,for both its common and preferred shares, and its financials are better than its industry averages.
Colony Financial, (CLNY), is a US-based REIT which owns and manages a portfolio of real estate-related debt and equity investments, including ownership interests in single-family homes for the purpose of renting the homes to tenants, real estate acquired in settlement of loans, mortgage-backed securities, and other debt-related investments.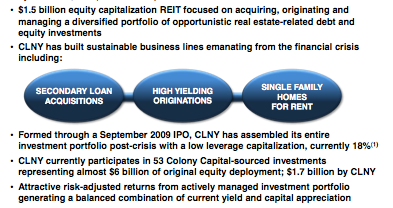 CLNY has become one of the major players in the US single-family rental home market, which is forecasted to keep increasing: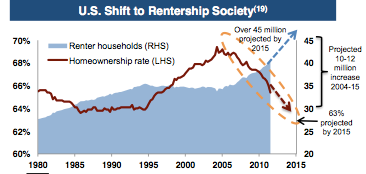 CLNY has focused on areas hit hard by the Housing crisis, which has enabled it to buy distressed properties at low prices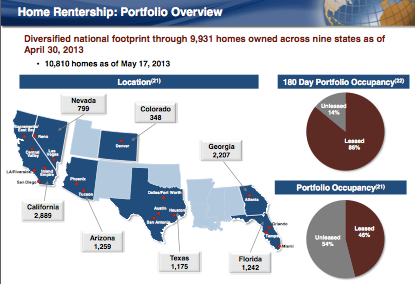 (Source: Colony Financial website)
CLNY has had a good run up over the past year, BUT it has entered oversold territory recently, which suggests that it may be a good time to buy, on a technical basis: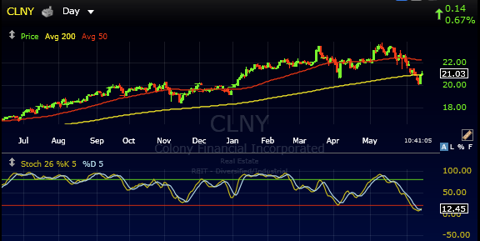 Institutions have increased their ownership by over 15% in the 1st quarter, but it still only holds 67% of CLNY, which is lower than some of its competitors.

Dividends: CLNY has an attractive dividend yield for both its common and its preferred shares, both of which go ex-dividend on June 26, 2013. The preferred shares are also cumulative, which means that if any dividends are omitted, they must be paid out to preferred shareholders first, before common shareholders can receive dividends.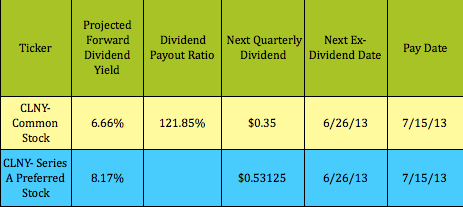 Options: CLNY does have options available, but they are very thinly traded, so we didn't add it to our Covered Calls or Cash Secured Puts Tables.
Earnings: Although CLNY's 17.67 P/E is toward the top of its P/E range, it still looks undervalued on a 2014 PEG basis, thanks to an average 38.24% growth forecast:

Although it commands a higher Price/Sales ratio, CLNY is also selling for a much lower Price/Tangible Book value than its peers: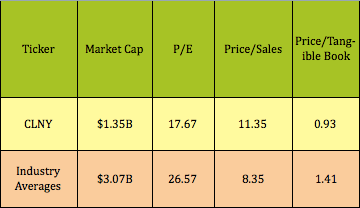 Financials: Other than ROA, CLNY's ratios are better than industry averages, and it has much lower debt:

Disclosure: Author was long shares of CLNY at the time of this writing.
Disclaimer: This article was written for informational purposes only. Author not responsible for any errors, omissions, or actions taken by third parties as a result of reading this article.
Disclosure: I am long CLNY. I wrote this article myself, and it expresses my own opinions. I am not receiving compensation for it (other than from Seeking Alpha). I have no business relationship with any company whose stock is mentioned in this article.