One of the remarkable characteristics of the stock market in the aftermath of the financial crisis is its incredible resilience on any given trading day. As we all have witnessed so many times over the last several years, the stock market can start the day in a sea of red with bad news all around only to find the resolve during the trading day to explode higher despite the lack of any sound fundamental reason to end the session decisively higher. Thursday's trading was just the latest example of this phenomenon. But as we all know, there is no free lunch in this world, and the forces driving this seemingly unbreakable optimism must ultimately be paid back at some point in the future.
An examination of history provides an instructive guide on how buoyant stocks are today. Over the last 1,068 trading days since March 18, 2009, when the Fed first initiated daily U.S. Treasury purchases as part of its then unprecedented quantitative easing (QE1) program to try and resuscitate the economy and financial markets, the stock market as measured by the S&P 500 Index (NYSEARCA:SPY) has risen on 55.9% of these trading days.
This stock market winning percentage may not seem notable at first, but it is quite remarkable when put into historical context. The long-term average winning percentage over a comparable time period for the stock market over the last 85 years has been 52.5% with a standard deviation of 2.2%. In other words, today's stock market is running well above the long-term historical average in this regard, as it has only performed better during a comparable stretch less than 3.5% of the time over the last 85 years. Taking this a step further, in only six instances over the last 85 years have stocks posted a similar winning percentage: 1929, 1955, 1965, 1989, 1999 and 2007. Thus, we are currently living in truly extraordinary times with today's market.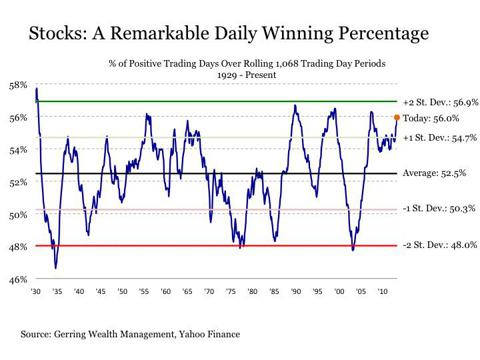 But what does all of this imply for the stock market going forward?
First, once stocks have reached such lofty heights of consistency, they are almost always followed by an extended period of more uneven and below-average daily price performance. This has been true of every single past instance with the exception of the aftermath of the 2007 episode, which of course was never allowed to fully play itself out thanks to the launch of the Fed's quantitative easing programs that quickly reversed the trend back higher.
Second, the market has typically performed in one of two ways once these daily winning percentage peaks have been reached. At best, the bull market is sustained, but the pace of further stock market advance slows considerably from the previous trajectory. Such was the case after 1955 and 1989 during what were still the early to middle stages of the last two secular bull markets. At worst, the stock market subsequently tumbles into a sharp and sustained correction as the forces that were inducing the strong daily winning percentages in the first place subsequently disappear, leaving the artificially inflated market nowhere to go but down. Such was the case after 1929, 1965, 1999 and 2007.
This is why Fed actions and the talk of tapering matter so much today. It would be one thing if we were operating in an environment marked by robust economic expansion and consistently strong corporate revenue and earnings growth. But we are not. And while it is always possible that it may actually be different this time, history has shown us time and time again that it's almost never different this time when it comes to financial markets.
Thus, continuing to monitor the words of the U.S. Federal Reserve next week and going forward remain of paramount importance, for they remain the last leg underneath the U.S. stock market. And with the rest of the world's equity and credit markets having already shifted to the downside for as long as two years ago now, it remains to be seen how much longer U.S. stocks can keep it up before joining the rest of the crowd lower.
In regards to positioning in such an environment, stock allocations would be well served to place an increasing emphasis on high quality names trading at reasonable valuations with attractive current income and lower price volatility that are also trading soundly from a technical perspective. Representative names include Exxon Mobil (NYSE:XOM), International Business Machines (NYSE:IBM), General Electric (NYSE:GE), McDonald's (NYSE:MCD), Oracle (NYSE:ORCL), Emerson Electric (NYSE:EMR), AT&T (NYSE:T) and Comcast (NASDAQ:CMCSA). The Utilities sector (NYSEARCA:XLU) also offers appeal after having been sold off sharply since peaking at the beginning of May.
From a longer-term perspective, it should be noted that both high quality bonds and precious metals have typically performed well in the wake of these euphoric periods for stocks, as the mounting fears that overtake the market have investors seeking to reallocate to perceived safe havens such as long-term U.S. Treasuries (NYSEARCA:TLT), gold (NYSEARCA:GLD) and silver (NYSEARCA:SLV). For those seeking to allocate to precious metals in a securities portfolio, the Central GoldTrust (NYSEMKT:GTU) and Central Fund of Canada (NYSEMKT:CEF) represent ideal selections.
It will be interesting to see how much longer stocks can keep it up. And much will depend on the latest actions by the Fed starting next week.
Disclosure: I am long GE, T, XOM, MCD, CMCSA, IBM, ORCL, EMR, XLU, TLT, CEF, GTU. I wrote this article myself, and it expresses my own opinions. I am not receiving compensation for it (other than from Seeking Alpha). I have no business relationship with any company whose stock is mentioned in this article.
Disclaimer: This post is for information purposes only. There are risks involved with investing including loss of principal. Gerring Wealth Management (GWM) makes no explicit or implicit guarantee with respect to performance or the outcome of any investment or projections made by GWM. There is no guarantee that the goals of the strategies discussed by GWM will be met.