Brookfield Property Partners (NYSE:BPY) is just another case of a recent spin-off, which is trading at attractive valuations and has meaningful upside potential in the medium term. This investment note discusses Brookfield from a fundamental perspective with analysis of its long-term investments to conclude on the bright outlook for the entity.
Company Overview
Brookfield is an owner, operator and investor in commercial property primarily in the United States, Europe, Australia, Canada and Brazil. The company was established by Brookfield Asset Management (NYSE:BAM) as its primary vehicle to own and operate commercial property operations, including office, retail, multi-family and industrial assets. After the spin-off Brookfield acquired from Brookfield Asset Management substantially all of its commercial property operations. The chart below gives the current organization structure for the parent company and its stake in Brookfield.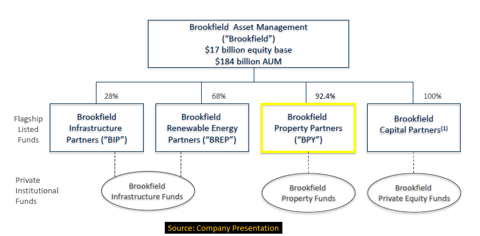 Sector Investment Overview
In terms of investment, the company's primary objective is to invest in properties that can generate long-term sustainable cash flow. Currently, the company has 52% capital invested in office space, 42% in retail, 2% in multi-family and industrial and 4% in other sectors. This is not taking into account the recent acquisition of a 30% stake in logistics warehouse developer Gazeley from Dubai World subsidiary Economic Zones World, which I will discuss later. As of May 2013, the company had $31 billion in assets invested across sectors. Further, based on the investments, the intrinsic value per share, according to March 31, 2013, was $25 compared to the current market price of $21.2.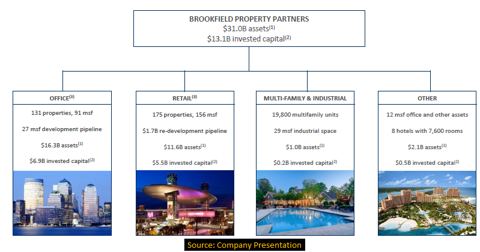 Strategic Investments
For Brookfield, the sole growth driver is the strategic investments made by the company and the cash inflow from the investments. I would therefore focus on the investments and its quality in this section.
Among the listed companies, Brookfield has a stake in Brookfield Office Properties (NYSE:BPO), General Growth Properties (NYSE:GGP) and Rouse Properties (NYSE:RSE). The table below gives the strategic investments and Brookfield's stake. The highlighted investments are listed in the US stock exchange.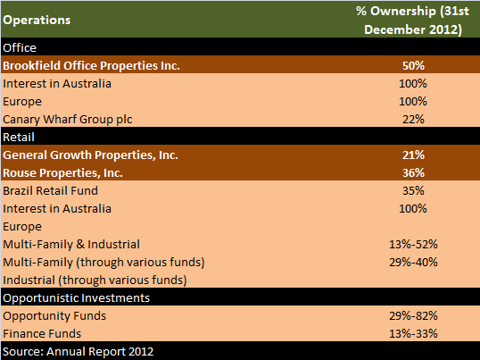 Brookfield Office Properties - Brookfield has a 49.6% stake in Brookfield Office Properties as of December 2012. Office Properties has 109 properties totaling 81 million square feet. With Office Property having an average occupancy rate of 94% and an average lease term of 7.4 years, the investment is excellent for long-term and for a stable cash inflow. It is also very important to mention here that a majority of the tenant base is high quality and it ensures revenue stability. The chart below gives the major tenants and their credit rating.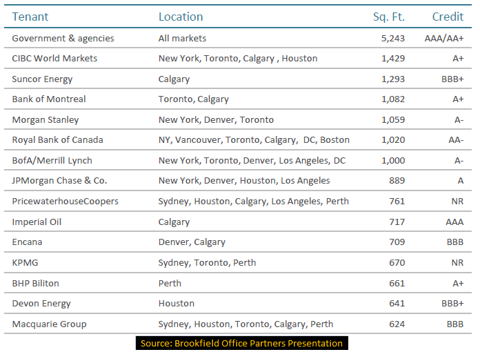 The point on stable cash flows from Office Partners is underscored by the fact that the fund from operations of the entity has grown steadily from $439 million in 2009 to $650 million in 2012. As the counterparty remains strong, FFO will exhibit the same growth and stability in the medium to long term.
Office Partners have also been ahead of the competition with the portfolio vacancy consistently outperforming the general market. All these factors combine to make Brookfield Office Partners an excellent long-term investment.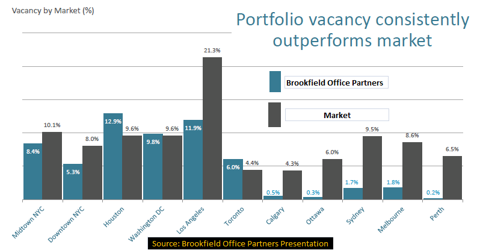 General Growth Properties - Brookfield had a 21% stake in General Growth Properties as of December 2012. The company's assets consisted of 123 malls comprising 54 million square feet of inline space. General Growth Properties has 95.8% leased properties with an occupancy rate of 93.5%.
As the permanent occupancy for the company is expected to increase from 89.6% in 2012 to 93% in 2014, the outlook should remain bright for the company. At the same time, increased rental revenues will boost the net operating income for the company going forward. In the past, an increase in permanent occupancy has boosted the base minimum rents for the company. Going forward, this trend should continue to boost the NOI and FFO.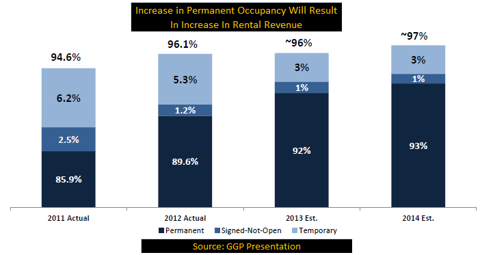 Rouse Properties - Brookfield has a 36% stake in the publicly listed Rouse Properties, which is a spin-off of General Growth Properties. The company's portfolio consists of 32 malls totaling 22.5 million square feet with 90% of the properties leased. Very similar to General Growth Partners, the percentage of permanent leased property has increased from 74.1% in FY11 to 78.4% in FY12. This is a positive trend as it tends to increase the rental revenue.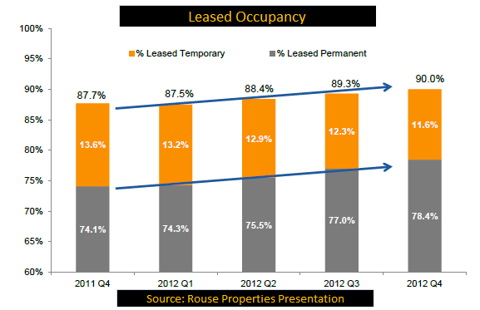 The company's guidance is in-line with the positive trend in permanent leasing. For 2013 Core FFO is expected to be in the range of $1.49 to $1.55 per diluted share. The range represents an 18% to 23% increase over 2012 core FFO. Going forward, growth should continue for Rouse Properties through the organic and the inorganic route.
Current Market Value of Stake In 3 Listed Entities
Before I discuss the other strategic investments, I would like to focus on the current market value of the stake in the above discussed entities. This is just to give a rough idea that Brookfield, which is a recent spin-off, is undervalued considering the value of investments.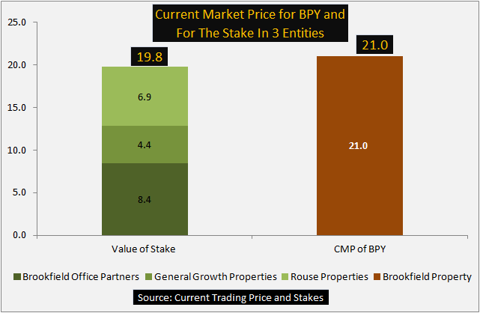 The current market price per share of Brookfield is just 6.4% higher than the value (according to stake held) of the three listed entities. Besides these investments, Brookfield has meaningful investments in other properties. Therefore, the upside potential is clear and it is in sync with the company declared intrinsic value of $25 as of March 2013. Even if $25 is considered as a fair value, Brookfield had nearly 20% upside from current levels. I must again mention here that I have not taken into consideration the recent acquisition of a 30% stake in logistics warehouse developer Gazeley.
Stake in Canary Wharf Group plc
Brookfield has a 22% stake in Canary Wharf Group plc as of December 2012. Canary Wharf is an integrated property development, investment and management group of companies. As of December 31, 2012, the company had an average unexpired lease term of 15.5 years with 76.3% of the portfolio having properties that cannot expire within 10 years. This gives clear revenue and steady cash flow visibility for the company. In terms of valuation, the properties had a value of $6,446 million as of December 2012. A 22% stake for Brookfield would imply a value of $1.4 billion.
Stake in Gazeley
In June 2013, Brookfield acquired a strategic 30% stake in Gazeley. This is an important acquisition as it expands Brookfield's reach to the Middle East and China.
Gazeley is a global developer of logistics warehouses and distribution parks. The cost effective warehouse and distribution buildings accommodate recognized companies and third party logistics providers. Gazeley's customers include Asda, Wal-Mart (NYSE:WMT), Tesco (NASDAQ:TESO), Procter & Gamble (NYSE:PG), John Lewis, Toyota (NYSE:TM), Volkswagen, Lamborghini, DHL, Geodis and Norbert Dentressangle.
According to Yahoo Finance, Gazeley's current portfolio includes -
524,000 square meters (5.64 million square feet) of existing assets and a substantial land bank of 1.3 million square meters (14 million square feet) with a further 1.1 million square meters (11.84 million square feet) held under option agreements.
The significant land bank should add value to Brookfield's stock price. More importantly, presence in high growth markets will ensure robust growth coming from Gazeley in the future. Gazeley also benefits from the acquisition as it will get capital infusion, which will help its long-term strategic growth plans.
Steady Increase in NOI and FFO
The net operating income and the fund flow from operations have been on a steady increase for Brookfield in the last three years as evident in the financials. Going forward, the NOI and FFO should continue to improve with steady income from the existing portfolio and incremental income from acquisitions. The market price should increase in accordance.

Conclusion
Being a relatively recent spin-off, Brookfield Property Partners still needs to realize its true market value. Going by the strategic acquisitions, intrinsic value and the steady income flow, investors can expect a 50% upside from current market price and a 20% upside from the company's March 2013 intrinsic value of $25 per share. Besides this, considering the company's value proposition below, the stock can trade in the range of $30-$35 with a one-year time horizon.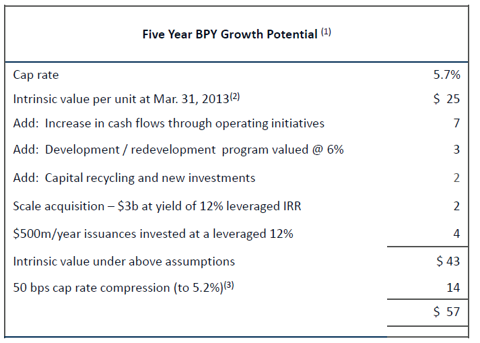 Disclosure: I have no positions in any stocks mentioned, and no plans to initiate any positions within the next 72 hours. I wrote this article myself, and it expresses my own opinions. I am not receiving compensation for it (other than from Seeking Alpha). I have no business relationship with any company whose stock is mentioned in this article.