By Sumit Roy
Commodities saw mixed performance as gold, silver, and oil rallied while other commodities retreated. Stocks, as measured by the S&P 500, dipped almost 1%. The index is now up more than 14% since the start of the year.
Macroeconomic Highlights
In China, the National Bureau of Statistics reported that Chinese exports only grew by 1% in May, the slowest pace since July 2012, and well below the 7.4% increase that was expected. At the same time, imports fell by 0.3%, which was the first decline since February and below the 6.6% increase that was anticipated. Other Chinese data came in closer to expectations. The consumer price index in the country grew by 2.1% year over year in May, down from 2.4% in April. Industrial production grew by 9.2% from a year ago in May, while retail sales grew by 12.9% in the month.
Meanwhile, in the U.S., the Census Bureau said that retail sales in May jumped by 0.6%, better than the 0.4% increase that was expected. At the same time, the Department of Labor said the number of people filing for unemployment benefits dropped from 346K to 334K last week -- close to five-year lows. The strong data in the U.S. fueled speculation that the Fed could pare back its quantitative-easing programs. This led to a sharp increase in long-term interest rates; the 10-year bond yield reached as high as 2.27% -- a 14-month high -- before retreating to last trade near 2.1%. On Wednesday, the Fed will deliver its latest monetary policy decision, which promises to be a major market mover.
Finally, Japan was in focus this week as the country's stock market continued to tumble. The Nikkei's correction since the end of May reached 22% at one point, but the benchmark managed to recover a bit on Friday.
Commodity Wrap
| | | |
| --- | --- | --- |
| Commodity | Weekly Return | YTD Return |
| Silver | 1.89% | -27.28% |
| WTI | 1.84% | 6.51% |
| Brent | 1.61% | -4.38% |
| Gold | 0.38% | -17.14% |
| Soybeans | -1.24% | 6.34% |
| Copper | -2.14% | -12.33% |
| Natural Gas | -2.35% | 11.64% |
| Corn | -2.40% | -6.88% |
| Wheat | -2.59% | -12.85% |
| Palladium | -3.48% | 3.82% |
| Platinum | -3.61% | -5.94% |
It was another week of low volatility for gold and silver, as the duo barely moved. Still, the pair managed to put in modest gains in the period. On the fundamental front, exchange-traded funds continue to be a drag, liquidating 600K ounces of gold in the Thursday-to-Thursday period.
Moreover, reports suggest that physical buying in Asia may be waning as well. Gold imports into India, the world's No. 1 gold consumer, are plunging following the government's move to increase import duties from 6% to 8% earlier this month, according to sources.
From a technical perspective, it's hard to characterize gold as anything but a neutral, range-bound market. However, we suspect that the range will resolve itself to the downside given the ongoing selling by ETFs and the fresh signs of weakness in Asia (see "Gold Price Pressure Grows As Silver Breaks Down, Central Banks May Buy Less As Bond Yields Rise To 14-Month Highs").
Gold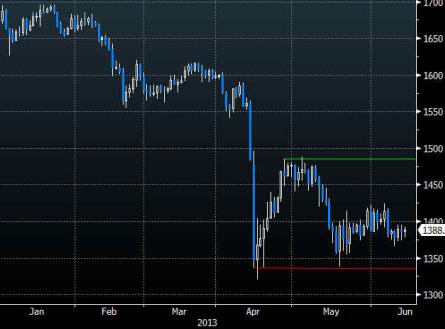 Silver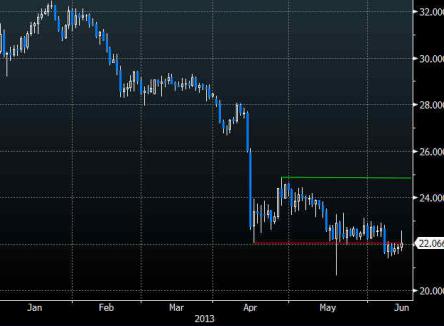 Platinum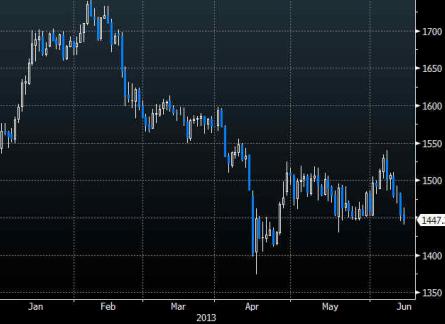 Palladium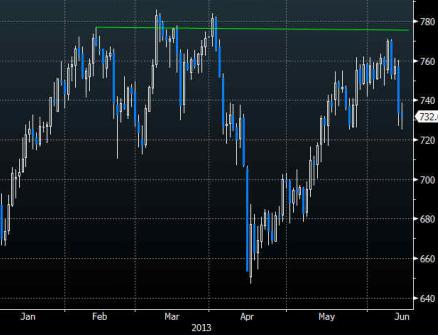 Crude oil surprised this week as Brent reached a two-month high above $106, while WTI hit a nine-month high above $98. While a clear break is not yet evident on the charts, it's looking as if oil is poised for a breakout (see "Oil Range-Bound After Big Inventory Build, IEA Says Supply Exceeds Demand"). If so, WTI may finally surpass the $100 mark.
This week's rally was inspired by rising geopolitical tensions in Syria after sources suggested that the U.S. may seek to supply arms to the opposition forces in that country. While Syria is an insignificant oil producer, conflict in the Middle East always has the potential to spread and destabilize the major producers in the region.
Brent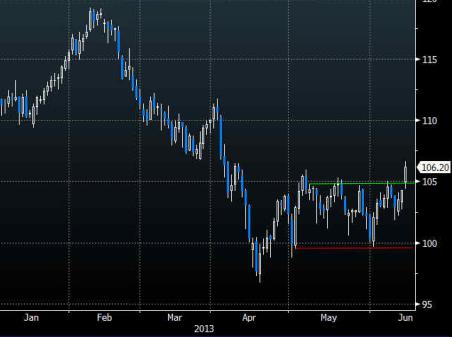 WTI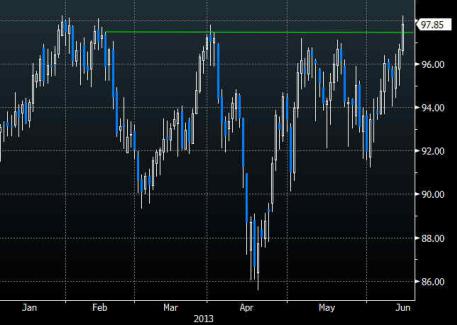 Grains sagged after the release of the latest supply and demand figures from the USDA. Despite a modest downward revision to its forecast, the department still expects the next corn harvest to yield a record crop. The department now forecasts 2014 season-ending corn stockpiles at 1.949 billion bushels, down from its previous forecast of 2.004 billion, but above the 1.829 billion that analysts were expecting. With corn and wheat at the bottom of their respective trading ranges, it's looking less likely that soybeans will break out to the upside.
Corn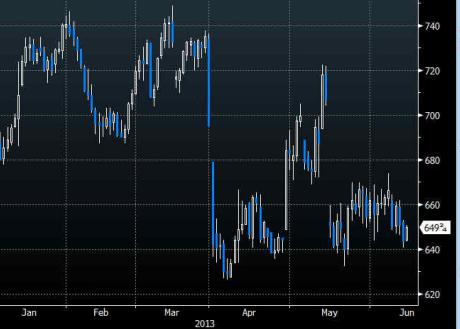 Soybeans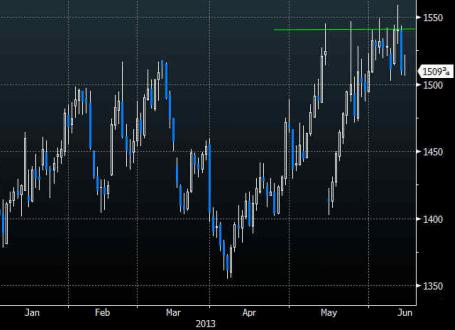 Wheat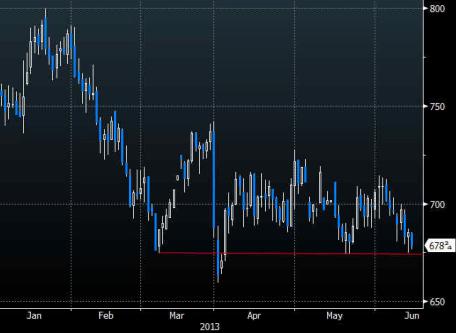 Copper dropped amid this week's disappointing trade data from China.
Copper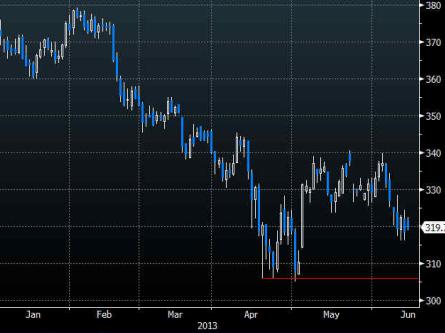 Natural gas was pressured by another large inventory injection reported on Thursday. Even though warmer-than-normal temperatures are expected in the coming weeks, bulls have been discouraged by the big inventory builds of recent weeks.
Natural Gas