After "leaders" U.S. President Obama and Japanese Prime Minister Shinzo Abe got off the phone on Thursday morning, market gunslingers (henceforth known as "The Slingers"), who have been caught up in the overcrowded and leveraged Yen carry trade, were apparently assured the cavalry was on the way. All of the late night fireworks stopped and the vacuum tubes calmly renewed their business of trying to re-reflate fizzling Ponzi units.

For a down and dirty look on the pain already inflected on the Yen carry trade this week, refer to the recent spec positioning shown in the first chart. In a nutshell, this is the trade that has driven the leveraged silly season stage of the global debt and bond bubble, including such luminary pricing of Rwandan 6% bonds, the Nikkei roller coaster and the final blow off in REITs with 4% cap rates. It will be especially important to monitor the action in PIGGs (see Greek bonds below).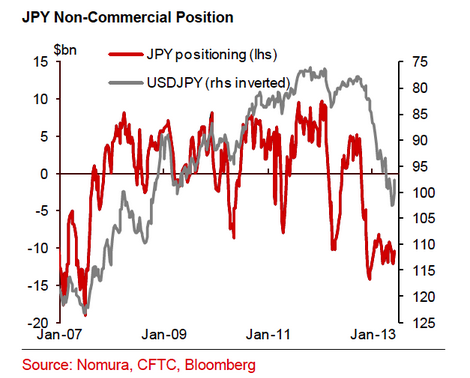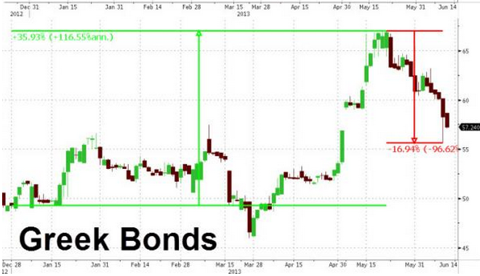 Chart Source: Zero Hedge/Bloomberg
Take a look at the emerging market bond (NYSEARCA:EMB) market, another losing carry-trade favorite. On a price basis, this trade is down 10% -- then add another 7% from the Yen reversal, and then add leverage. Even if these Slingers hedged this to a degree, there is no way these riskloves aren't hurting right now.
Emerging Market Bonds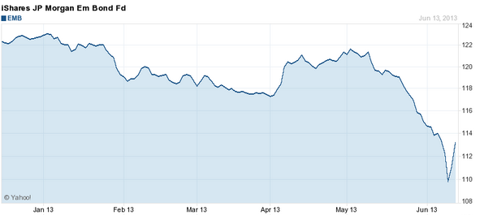 Chart Source: Yahoo Finance
Suffering welts from the Yen carry trade, The Slingers decided on Thursday to throw more fuel on their other crowded trade, shorting more gold. Incidentally, it is not just the futures that have been shorted by The Slingers. They have shorted the GLD ETF to the tune of 29.71 million shares of the 335.7 million currently outstanding. Yes, that's a record, too.
Wondering where all the "selling" has been coming from in the GDX names? Yep, The Slingers are short 19,116,700 of 207.4 million shares there as well. All the more liquid quality mine development names have been heavily leaned on and shorted. Looking at both the Toronto and U.S. markets, Allied Nevada has about 9.6% of the float shorted, Detour 10.16%, Pretium 6.8%, Seabridge 12.2%.
Disclosure: I am long PVG, OTCPK:DRGDF, ANV. I wrote this article myself, and it expresses my own opinions. I am not receiving compensation for it. I have no business relationship with any company whose stock is mentioned in this article.