Actionable Items:
Highest Positive Spread: Nuveen Insured New York Tax-Free Advantage Municipal Fund (NYSE:NRK)
Focus Stock: Virtus Total Return Fund (DCA)
Last Week's Focus Stock: Guggenheim Enhanced Equity Strategy (NYSE:GGE)
Munis Outlook: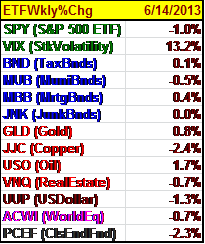 In 2010, analysts Meredith Whitney foresaw a widespread collapse in the muni bond market. Ms. Whitney, enjoying her "bank dividend cuts," created panic in the muni bonds. However, in 2011, the muni market enjoyed a total return of 10.7%. In 2012, munis gained 6.8%. Yet, CEFs muni bonds may be gathering "moss."
The Obama administration's current budget seems to say that "interest" on muni bonds would remain free of federal income taxes only for those in the 28% tax bracket or below. The tax rate for wealthier investors would be the difference between their regular tax rate and 28%.
The Detroit Mess: Detroit will stop making payments on billions of dollars in unsecured municipal debt starting Friday. This is a move to save cash. The bankruptcy odds are 50-50.
Last year Stockton, CA, became the largest American city to declared bankruptcy. The city has defaulted on a substantial amount of bonds. This has causing bond investors and bond insurers to worry about when they'll get repaid -- prompting fears that other financially troubled cities could follow suit.
As part of the deal struck last Tuesday, JPMorgan (NYSE:JPM) has agreed to the take the largest muni haircut -- roughly $842 million on the $1.2 billion of sewer debt it owns in Birmingham.
Looking for Munis: While "interest rates" may already increase; debt may go traditionally lower. Anyone who is looking at municipal bonds will seek lower maturity. They will be doing their homework on the issues. GrowthIncome has established that muni dividends may have gone down (click here).
ETFs % Change Week-to-Week: MiscSectr (0.6%), Currency (0.3%) and Consumers (0.1%) were the leaders this week over the previous week. Asset Alloc (-4.9%), Pacific/Asia (-3.9%) and EmergingMkts (-3.0%) were laggards for the week. (This is the change in bonds week-to-week.)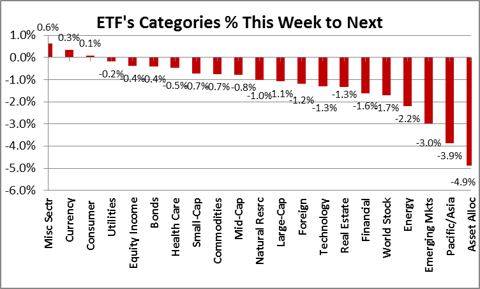 CEF Weekly Fund Type Performance: This week saw price rises for SpecEqFnds (-1.5%), GenEqFnds (-1.6%) and InvGrdBndFnds (-2.0%). The laggards were SingleStMuniFnds (-3.4), NatlMuniBndFnds (-3.3%) and ConvtSecFnds (-3.1%). (Most of the monthly distributions last week were for muni bonds.) PrcNAVSprd were all negative.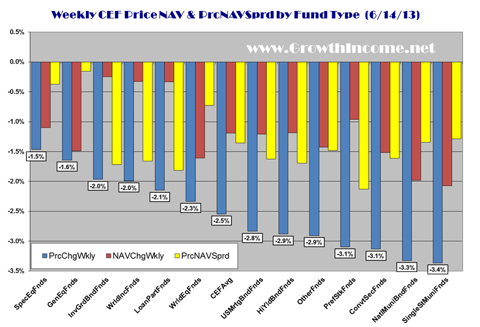 Highest Spread and Stock for the Week: The highest spread is a New York muni bond fund. The Nuveen Insured New York Tax-Free Advantage Municipal Fund seems to have a positive share price of +1.4% and a negative NAV of -2.2%, respectively. The PrcNAVSprd was +3.6% (a positive number may mean a future decline in share price).
NRK's monthly dividends were raised from monthly rates for May and August 13th and 12th to monthly distributions of 27% ($0.069 per share), respectively. The discount is -4.8% and the month annual distribution yield is 6.1% (9.4% for taxable equivalent yields). The stock price has dropped from $16.03 to $13.73. The fund has $567 in structural Muni Term Preferred Shares for 30.2% of its 1.8 billion in net assets.
Lowest Spread and Focus Stock for the Week: Virtus Total Return Fund was our Focus Stock of the Week. DCA's share price was negative -3.9% and its NAV per share was a plus +0.2%. Its PrcNAVSprd decline was -4.1% (share prices to go down). The stock is less than $4.00 per share. The discount is -15.1% to NAV, which touches its 52 week low.
The total assets are $169.1 million with $25.9 of leverage on structural debt. The main drive of the stock was a slug of sell orders this week. The volumes were Thursday-to-Friday 105,200 and 227,400, respectively; this was in relationship to 3 months average daily total of 74,684. Equity was 65.5% of the portfolio and corporate debt was 24.0%.
Focus Stock and High Price for Last Week: Last week's "Focus Stock" for the week was Guggenheim Enhanced Equity Strategy. GGE was up for the week at 1.1%. The Highest Spread stock for the week was BlackRock California Municipal Income Trust (NYSE:BFZ) (share prices to go down), which was off -4.9% for the week (with a weekly monthly dividend, down -4.5%).
Disclosure: I have no positions in any stocks mentioned, and no plans to initiate any positions within the next 72 hours. I wrote this article myself, and it expresses my own opinions. I am not receiving compensation for it. I have no business relationship with any company whose stock is mentioned in this article.