The Dow Jones World Index has just broken to a multi-week high, confirming this is the performance of the DJ World Small and Mid Cap indices which have also cleared their June highs. US market internal indicators are also registering multi-week highs, and the all important Value Line index is within a whisker of closing at a multi-week high.
Yet it seems that "investors" are still extremely reluctant to believe in the world equity market rally. The phrase "bear market rally" remains all too common in the media. Perhaps this personifies the mood of the market and suggests why there has been so many positive earnings surprises over the last few weeks (albeit less bad than previously thought surprises).
We refrain from having preconceived ideas. We try (as much as humanly possible) from identifying with the bulls or bears. Each day we try and approach the markets as if we did not have any exposure at all so at least we can have some chance of arriving at an objective assessment. Yes we read far and wide, but that is not to try and identify with what anyone is saying.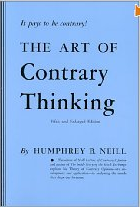 Rather we try to assess what the average trader/analyst/investor is thinking and where they are positioning themselves. We also try to determine how popular an "investment" "theme" or story is knowing all too well that when everyone thinks alike the opposite is most likely to happen - borrowing from one of our favourite investment books by Humphrey B Neill: The Art of Contrary Thinking.
From the charts below we conclude that equity markets are genuinely bullish as evidenced by:
The multi-week highs and the strength of the underlying market (as per market internals, small caps, mid caps, and small cap emerging market indices).

If the market was weak then we would not see new highs in small cap indices and particularly emerging market small caps.

Any weakness in the indices being quickly arrested.

If markets were bearish there would be a sluggish claw back of previous losses.
Are markets overbought again? Yes, the NYSE 200 day moving average is up at 80%......but be aware if the market starts trending (we think that it already is) then we can expect it to remain overbought for some time. The 200 moving day average ratio is a good indicator for oversold situations but history suggests that it does not hold a respectable record for calling market tops (the actual %age that is). If the moving average ratio started to diverge from the performance of the S&P 500 then we would start to get worried.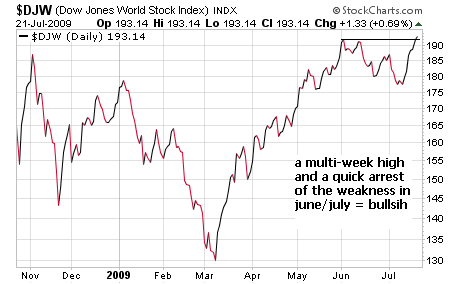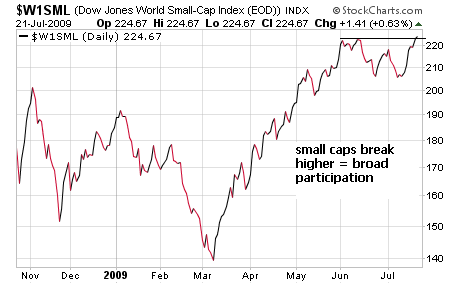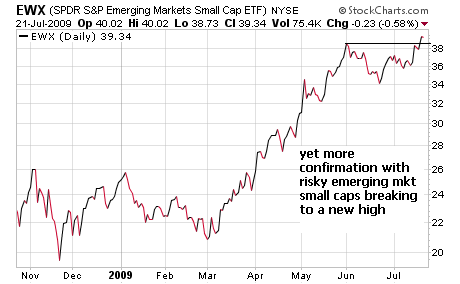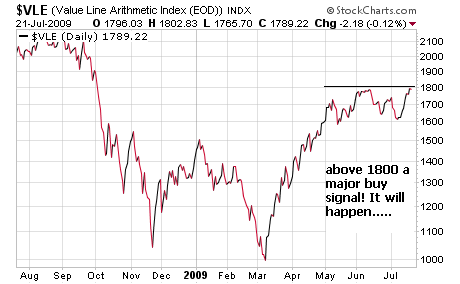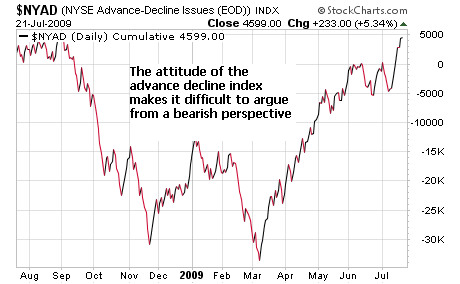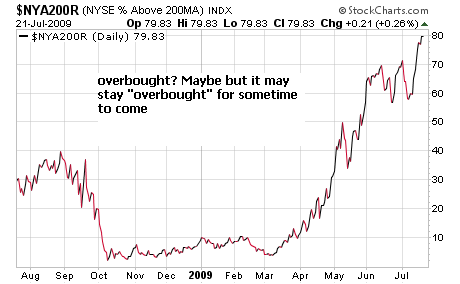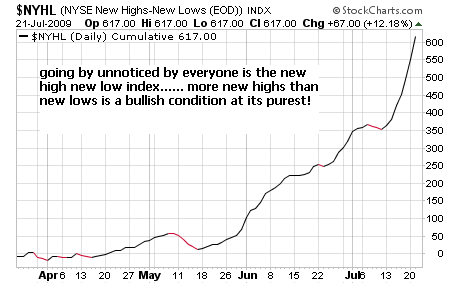 What about volume? It seems that markets have been advancing on decreasing volume! Yes, volume has been declining ever since September/October last year......but then what do you expect? We had a crash in September/October and then again in February/March that was comparable to the big one in '87! The volume going through the market over the last three/four months is not materially different than volumes that occurred over the last three years (taking out the volume associated with the two crashes we have just had).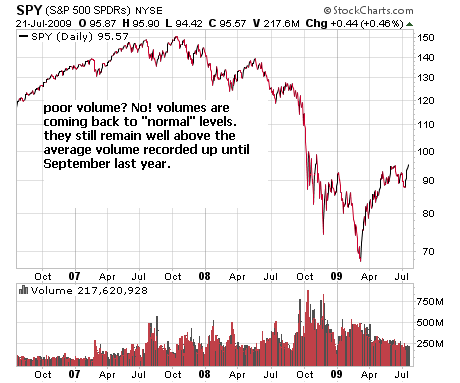 The market is suggesting that it wants to go higher (for whatever reason). We are positioned accordingly........who are we to question the market's intentions?