The medical device industry confronts several challenges that will have long-term implications. Revenue in this industry will not grow as quickly over the next five years and the increasingly strict regulatory environment will remain a significant impediment.
The U.S. Food and Drug Administration have a classification system for medical devices. The classes relate to device complexity potential safety issues.
Class I - These devices present minimal potential for harm to the user and are often simpler in design than Class II or Class III devices. Examples include elastic bandages and tongue depressors. Nearly half (47%) of medical devices fall under this category and 95% of these are exempt from the regulatory process.
Class II - Most medical devices are considered Class II devices. Examples include devices ranging from powered wheelchairs to implants used in knee, hip, or spinal surgery; 43% of medical devices fall under this category.
Class III - These devices, usually designed to sustain or support life, are implanted or present potentially unreasonable risk of illness or injury. Examples of Class III devices include implantable pacemakers and breast implants. About 10% of medical devices fall under this category.
Perhaps the most significant factor to consider is the ever-changing nature of regulatory approval. Several high-profile device and consumer health-related recalls pushed the FDA to become more stringent in requiring data from device manufacturers. It is reasonable to assume that the additional costs associated with regulatory approval will be borne by the manufacturers.
Another significant market dynamic is the 2.3% medical device tax that came with the Patient Protection and Affordable Care Act. This tax is applied to top-line revenue, thereby making all medical device manufacturers subject the tax.
The new Group Purchasing Organizations have strong purchasing power. These groups will pressure manufacturers when negotiating contracts.
Despite these obstacles, medical device manufacturers will continue to benefit from the aging population while the influx of newly insured people will drive up demand for devices. Globally, the increasing numbers of middle class people in emerging markets will offer additional opportunities. Worldwide markets for medical technology will expand dramatically as populations' age.
The ten largest publicly traded medical device companies generated approximately $78.3 billion in revenues in 2012. The following list is ranked by 2012 sales and includes several companies that have lines of business other than medical devices.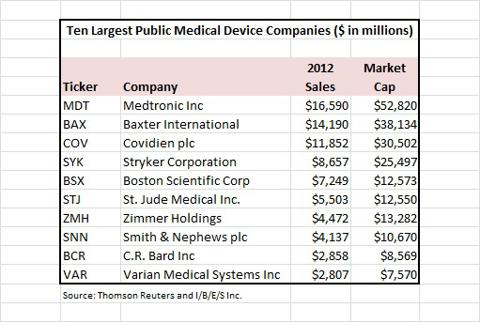 Mergers and acquisitions will play a significant role in company growth. One company not on this list, Johnson & Johnson (NYSE:JNJ) saw double digit growth from its medical device unit but only because of its $12 billion acquisition or orthopedic company Synthes. Domestic acquisitions will continue as a result of companies seeking market share and cost synergies, the number of foreign company acquisitions will increase. These acquisitions provide favorable tax advantages to global companies with cash held offshore.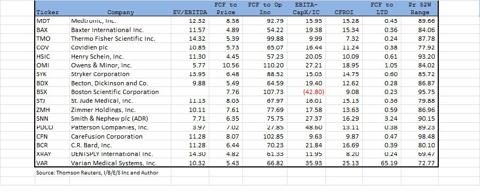 I consider the metrics contained in the above referenced table to be essential building blocks when evaluating a company for investment. In my opinion, these metrics reflect important income statement and cash metrics of valuation and profitability.
Of the companies shown here, I am most disposed to Smith & Nephew (NYSE:SNN). I believe SNN offers the best value at attractive levels of profitability:
To start with, I rule out Boston Scientific (NYSE:BSX) as it has negative earnings before interest, taxes, depreciation and amortization. I have no interest in money-losing companies.
The first metrics of interest to me are valuation. My income statement metric is enterprise value to EBITDA. I track 88 companies classified as being in the Medical Equipment and Supplies industry. The median EV/EBITDA ratio for these 88 companies is 12.58 and the average is 17.63. All of these companies are valued below the industry average and all but Stryker (NYSE:SYK) are below the industry median.
My next valuation metric is free cash to price. I look for a high free cash yield. All of these companies do very well when compared to the industry median of -2.24 and the average of -60.2.
I next look at the quality of earnings by comparing free cash to operating income. The best companies convert a very substantial portion of their operating earnings to free cash. The industry median for this metric is 70.95% and the average is 67.3%. Baxter International (NYSE:BAX) is the worst performer in this category, converting 54.22 % of operating income to free cash.
There are several valid methods for evaluating profitability. The two that I choose to use are EBITDA less Capital Expenditures to Invested Capital and Free Cash Return on Invested Capital. The first method is from the income statement and the second from the statement of cash flows.
The industry median for EBITDA less Capital expenditures to Invested Capital is 4.7 and the average is -48.25. With the exception of Boston Scientific, all subject companies are profitable. Smith & Nephew, C.R. Bard (NYSE:BCR) and Varian Medical Systems (NYSE:VAR) are the strongest of the lot.
Cash Return on Invested Capital is used to confirm the quality of income statement based returns. For this metric, the industry median is 9.98 and the average is 12.9. The underperformer here is Boston Scientific.
The balance sheet is all too often overlooked when evaluating a company. Debt is the biggest risk to a company's success or failure. Debt is not a bad thing in and of itself. I focus on a company's ability to service the debt rather than the part it plays in the company's capitalization structure. Only Zimmer Holdings (ZMH), Smith & Nephew, Stryker and Varian generate free cash at levels relative to the debt load that I am comfortable with.
In my estimation, Smith & Nephew possesses the strongest combination of valuation and profitability metrics. As a U.K.-based device maker specializing in implantable hips and knees, and high-tech bandages, it is the fourth largest supplier of orthopedic implants behind Stryker, Johnson & Johnson and Zimmer.
The medical device market continues to be a highly dynamic industry undergoing continuous change. Given the macroeconomic and regulatory factors, the industry will be forced to adapt in order to provide products to the market.
Disclosure: I have no positions in any stocks mentioned, and no plans to initiate any positions within the next 72 hours. I wrote this article myself, and it expresses my own opinions. I am not receiving compensation for it (other than from Seeking Alpha). I have no business relationship with any company whose stock is mentioned in this article.