Investment Thesis
As markets become more bullish, private equity firms will play a larger part in market performance and growth as synergies are sought to improve returns and underperforming segments are divested, chopped up, and sold off. The growth in international trade has resulted in larger investments in infrastructure projects around the world, which may result in long-term growth via stable returns.
Firms involved in the space are KKR & Co LP (NYSE:KKR) and Carlyle Group (NASDAQ:CG):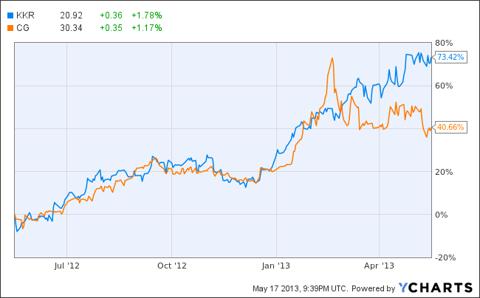 Carlyle Group
The Carlyle Group is currently investing in international alternative energy. The long term growth prospects in the alternative energy sector are very positive. They are going to be driven by increased energy demand in the emerging nations and higher demand on the developed nation's power grids due to increased loads from more powerful appliances such as the Tesla Roadster (NASDAQ:TSLA).
KKR
Kohlberg, Kravis, Roberts is currently involved in infrastructure projects, real estate, and natural resources. The company also provides access to capital markets and debt underwriting, as well as mezzanine and direct lending. KKR's specialty is mergers and acquisitions. The firm was made famous for its purchase of RJR Nabisco.
Excellent Dividends
Both companies pay excellent dividends, with KKR shares yielding 6.41% and CG's dividend at 10.56%.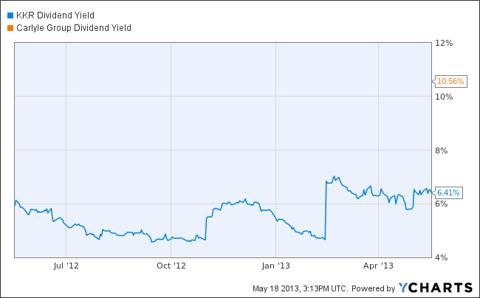 Bull Market Equals More Exploratory Bets
Now that the economic recovery is in full swing, investors will begin to look more towards private equity for growth opportunities. The talent depth within the private equity field will be better suited for dealing with special situations.
Disclosure: I have no positions in any stocks mentioned, and no plans to initiate any positions within the next 72 hours. I wrote this article myself, and it expresses my own opinions. I am not receiving compensation for it (other than from Seeking Alpha). I have no business relationship with any company whose stock is mentioned in this article.