Background
Now that PepsiCo (NYSE:PEP) and German dairy giant Muller opened their US yogurt plant this week, investors could become interested in buying shares of Lifeway Foods (NASDAQ:LWAY).
Demand for yogurt has increased in recent years, per capita consumption is relatively low and the new venture Muller Quaker Dairy believe they can benefit. However, the new facility has added to the already increasing capacity in the sector, which is now seeing only sales of Greek yogurt grow and an intensification in promotional activity.
Demand for yogurt in the US has jumped in recent years, buoyed by increased interest in healthier products and the success of manufacturers to convince consumers of the health attributes of the dairy product. And per capita consumption of yogurt in the US is below that seen in Europe or the UK. Danone CEO Franck Riboud often calls the US an "emerging market" for yogurt.
That emerging market now includes some formidable competitors. Growth in US yogurt has been driven by Greek yogurt. Greek accounts for 43% of the total US yogurt market, data from Nielsen shows, compared to just 2% in 2007. And, notably, it is Greek yogurt that is maintaining the growth of the whole category. Sales of non-Greek yogurt have been declining since 2011.
So far, the new venture Muller Quaker Dairy is selling both standard and Greek lines in the US. Chobani, a privately-owned dairy producer, leads the Greek yogurt segment and opened a new plant in Idaho last year. Danone (OTCQX:DANOY) has invested heavily in the US in recent years, increasing production capacity, boosting advertising and rolling out new products. It has seen its share of the US yogurt market and of the Greek segment increase.
And General Mills (NYSE:GIS), the owner of the Yoplait brand, is planning more innovation and marketing in the next 12 months in a bid to boost its sales and to catch up with Chobani and Danone, particularly in the Greek segment, which the US food giant only entered in 2010.
The interest in Greek yogurt has led all players to increase capacity. The increased capacity makes the category ripe for heightened competitive pressures through increased promotional activity but also could fuel M&A Activity in the sector.
PepsiCo and Muller are no industry lightweights, they both have the financial resources to invest heavily behind marketing and promotions to try to gain a foothold in the US yogurt sector. Other majors such as Chobani, General Mills and Danone will likely defend their position in this market.
The last one Danone holds also an interest of 21.1% in Lifeway Foods, which could be their lottery ticket to gain market share in the growing yogurt market.
Main Investment Catalyst
Danone's alliance with Chicago-based Lifeway Foods at the end of 1999, which saw Danone take a 20% stake in the small NASDAQ-quoted kefir maker, might have looked like the isolated purchase of a promising North American functional foods manufacturer. However, it seems that this move is part of a wider strategy to apply Danone's expertise in nutrition to a new range of functional dairy products: kefir. The open question is whether or not Danone now plans to make kefir a global product synonymous with its brand name and will it acquire Lifeway Foods along the way. But not only Danone could be interested in this growing healthy dairy opportunity.
The company
Lifeway Foods, Inc. is America's leading supplier of the cultured dairy products known as kefir and organic kefir. In addition to its line of kefir products, the company produces a variety of frozen kefir and probiotic cheese products, as well as kefir smoothies and kefir parfaits.
Lifeway's portfolio consists of 18 product categories and approximately 78 individual offerings. Below you will find part of the company's product portfolio.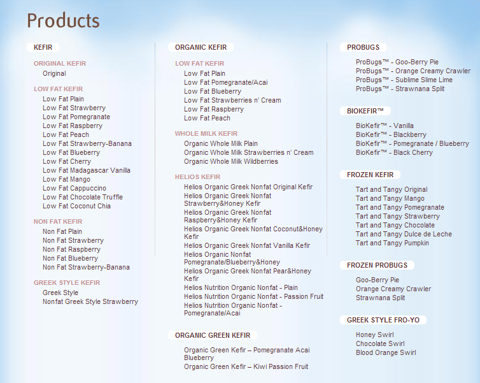 What's Kefir?
Kefir is a fermented milk product similar to yogurt, which originated in Russia. This tangy, creamy milk product is sometimes referred to as the "champagne of milk" because of its fizzy effervescence.
This stirred beverage made from fermented milk has a complex mixture of bacteria (including various species of lactobacilli, lactococci, leuconostocs, and aceterobacteria) and yeasts (both lactose-fermenting and non-lactose- fermenting). The small amount of CO2, alcohol, and aromatic compounds produced by the cultures give it its characteristic fizzy, acid taste. Kefir fabrication differs from that of yogurt in that kefir grains (small clusters of microorganisms held together in a polysaccharide matrix) or mother cultures from grains are added to milk and cause its fermentation.
Health benefits of Kefir
Many health benefits have been traditionally reported. Kefir has been used for the treatment of atherosclerosis, allergic disease, and gastrointestinal disorders, among other diseases. Until recently, most research has been limited to studies lacking modern statistical practices or to reports written up in Slavic languages, rendering them inaccessible to most western scientists. However, recent studies have investigated antibacterial, immunological, antitumoral, and hypocholesterolemic effects of kefir consumption on animals. Results suggest potential benefits.
Difference Yogurt vs. Kefir
Yogurt and kefir differ based on the type of cultures used to ferment the milk. Yogurt uses only bacteria, primarily lactobacillus species, while kefir uses both bacteria and yeast. Although yogurt can range in texture from a thick liquid to a semi solid, gel-like consistency, kefir is primarily liquid.
How is Kefir Used?
Kefir is most often consumed as a cold beverage. Most people consume kefir because of its enjoyable flavor and texture, but some feel it aids in digestion and calming an upset stomach. Kefir can also be mixed into smoothies, poured over cereal or granola, or used in baked goods.
Financials Lifeway Foods

Taglich Brothers' analyst Howard Halpern has a speculative buy rating on the stock with a 12-month price target of $19.65.
According to Taglich Brothers, Lifeway Foods' brand awareness campaign and nationwide distribution should drive three-year annualized sales growth of 20.6% to $135 million by 2014. Taglich's forecast reflects distribution of LWAY's frozen Kefir through 4,000 US stores, up from less than 500 in 2011, and May 2013 distribution at Harvey Nichols, a London based retailer.
Distribution to mainstream stores such as Target, Costco Japan, and Costco stores in New England should support Kefir growth. Most US Wal-Mart stores now carry Lifeway products. Introduction of new ProBugs products such as Green Kefir, Blast, and Bites for babies should drive sales to existing customers.
We think Taglich is conservative in their projections because we think Lifeway can add more distribution channels in the US and in Europe this fiscal year and the years to come.
Gross sales (reported on 5/15/13) grew by 28% to $27.6 million. EPS increased to $0.14 from $0.07 per share.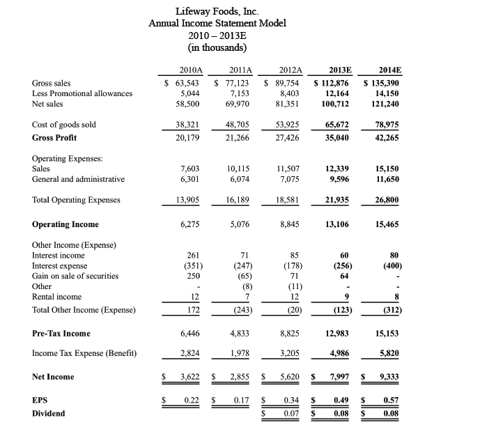 LWAY's brand awareness campaign boosted its 2012 and 2011 sales growth rates to 17% and 21%, respectively, up from 9.3% in 2010. Analysts project growth in 2013 and 2014 of 25.8% and 19.9%, respectively.
On May 20, 2013, the board of directors increased the company's annual dividend by 14.3% to $0.08 per share which is a dividend yield of less than 1%.
Growth Strategies
Lifeway aims to increase sales utilizing a three pronged approach of increasing mainstream distribution, launching new offerings within existing product categories, and using social media to enhance localized marketing.
Mainstream Distribution
Success and brand awareness was built on distribution to natural and organic grocery stores such as Whole Foods. Lifeway's aim is to expand distribution of its products to mainstream supermarkets/stores. Over the last two years, its Kefir products purchased as the Lifeway Club Pack have made distribution inroads with Target, Costco Japan, Aldi Inc. (1,200 US stores in 32 states), and Costco New England. In 1Q13, the company expanded its distribution to Wal-Mart stores nationally.
In May 2013, Lifeway's Frozen Kefir pints (currently sold in over 3,000 US stores) will be distributed in several retail stores in London, such as Harvey Nichols and Rogan's. The company is partnering with a UK co-packer to manufacture Lifeway frozen pints in order to scale distribution to retail outlets and eventually distribute the brand throughout Europe.
The distribution plan is to establish brand awareness for its dairy products in the cooler section of the grocery store. That should enable the expansion to the frozen foods and snacks/healthy aisles of the grocery store.
New Products
This year we will see distribution of five new products for babies, youngsters, young teens, and adults. Three of the new offerings will be in the ProBugs product category.
ProBugs Bites was designed as a nutritious baby food option. It is a tiny bite of freeze-dried shelf stable Kefir that quickly dissolves in the baby's mouth, which come in three flavors. ProBugs expanded its youngster line with the launch of Lifeways first organic Green Kefir for kids. The Green Kefir is a yogurt-like smoothie blended with kale, broccoli, spinach cabbage, and apple delivering a full serving of vegetable. ProBugs Blast for young teens will be introduced in 2013. It is a low fat smoothie with unique "out-of-this-world" packaging designed specifically for those interested in the universe since the packaging will have creative stories educating young teens on comets, the galaxy, moon and stars.
Lifeway's Frozen Kefir Bars (60 calories) were introduced as a complement to Frozen Kefir pints. The goal is to expand the frozen Kefir brand within the frozen foods section of grocery stores.
Social Media Marketing
The Lifeway brand has expanded into Facebook and Twitter in order to maximize local grassroots sampling efforts. This tool enables Lifeway to market directly to consumers with information that provide the best food options available. Social media can drive consumers to sponsorship events such as the Food Network South Beach Food and Wine Festival, the Frozen Kefir shop at Miami Lounge, at the Sundance Film Festival, and three events during the US Presidential inauguration.
Asset Purchase
On May 15, 2013, the company entered into an agreement with a Chapter-7 bankruptcy trustee to purchase virtually all the assets of Golden Guernsey Dairy, LLC for $7.4 million. The asset purchase of this 170,000 square foot dairy manufacturing, bottling and distribution facility in Waukesha, Wisconsin will quadruple the company's current dairy capacity located in Morton Grove, Illinois.
Competition
There are no publicly traded direct Kefir competitors. With LWAY's acquisition of Kefir producers Helios and Fresh Made in 2006 and 2009, respectively, the company became the dominant producer in the US.
Risks Lifeway Foods, Inc.
Groupe Danone SA Relationship
The extension of the non-compete period and standstill period of the stockholders' agreement expired on December 31, 2011. As of December 31, 2012, Danone owned approximately 21.1% of LWAY's common shares. If Danone were to sell its stake in Lifeway Foods, the stock price could be adversely affected.
Management Control
Ludmila Smolyansky (mother of the company's CEO and CFO), chairperson of the board of directors, beneficially owns or controls approximately 45.3% of common shares outstanding as of May 13, 2013. The chairperson has the ability to substantially influence corporate decisions that may not be in the best interest of the shareholders at large.
Miscellaneous
The company's financial results are subject to other risks and uncertainties including competition, operations, financial markets, regulatory risk, and/or other events. These risks may cause actual results to differ from expected results.
Trading Volume
Liquidity could be a concern. In 2011 average daily volume for LWAY's shares were 14,578 and declined to 12,008 in 2012. Over the last three-months to June 14, 2013 average daily volume increased to 33,403 shares. Average daily volume remains relatively low with a float of 4.6 million shares and 16.4 million outstanding shares; therefore, investors need to be aware that by nature a thinly traded equity can have significant price volatility.
Final Note
As the US population ages, consumers are growing increasingly aware of their health. A trend toward consumer-oriented and alternative healthcare products has been driving sales of vitamins and supplements that boost immunity, including probiotics. This will be beneficial for Kefir producers such as Lifeway Foods, but also for players like Chobani, General Mills, Danone and the new venture Muller Quaker Dairy.
Consumer research firm Mintel projects US yogurt sales should top $9.5 billion by 2016, up 49% from $6.4 billion in 2011. Growth in the category reflects the introduction of specialized yogurts such as Greek style and probiotic enriched yogurts. Mintel has observed that Greek-style yogurt accounted for 25% of total US yogurt sales.
Heightened consumer awareness should benefit Lifeway as its frozen Kefir becomes more widely distributed in supermarkets across the US. Keys to growth include an emphasis on the regular introduction of new products and, most importantly, the introduction of products that are considered healthy.
Looking ahead Lifeway Foods could become an interesting acquisition target for specialized dairy players such as The WhiteWave Foods Company (NYSE:WWAV) but also for big foreign players such as Danone or Dutch-based FrieslandCampina.
Disclosure: I have no positions in any stocks mentioned, and no plans to initiate any positions within the next 72 hours. I wrote this article myself, and it expresses my own opinions. I am not receiving compensation for it (other than from Seeking Alpha). I have no business relationship with any company whose stock is mentioned in this article.