Precious Metals Weekly Market Wrap
Following another wicked sell-off on Friday, June 7th, gold and silver rebounded last week and they did so as the price of most other asset classes declined. Fresh safe haven demand as a result of rising geopolitical tensions in the Middle East were no doubt a factor as was a weaker U.S. dollar.
Though gold ETF outflows reached their slowest pace in four months and futures market positioning has improved considerably, precious metals remain under pressure from a combination of factors. These include a weak chart set-up for technical traders, rising long-term interest rates, and ongoing efforts by the Indian government and central bank to curb demand by the world's biggest gold consumer.
For the week, spot gold rose 0.5%, from $1,384.60 an ounce to $1,391.50, and silver jumped 1.8%, from $21.69 an ounce to $22.08. Gold is down 16.9% so far in 2013, nearly 28% below its all-time high of over $1,920 an ounce in 2011, and the silver price is down 27.2% this year, some 55.4% below its record high reached over two years ago.
Precious metals continue to move counter to broad equity markets and, while stocks are outperforming the metals by a very wide margin in 2013, the recent relationship between the two could prove to be very important for investors.
U.S. stocks have now declined three times in the last four weeks while the gold price has risen each time stocks have fallen.
As detailed here earlier in the month and as shown below, stocks and gold have seen a modest positive correlation over the years. But, so far in 2013, the two have an unusually strong inverse relationship.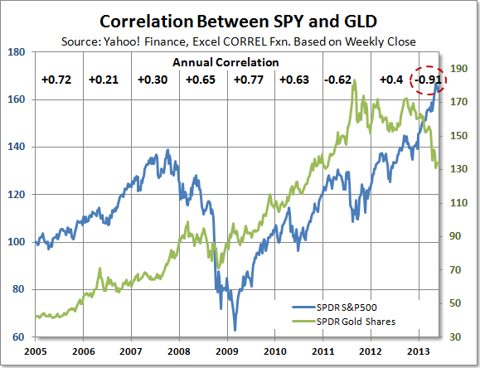 In fact, since this chart first appeared nearly two weeks ago, the correlation has moved from -0.90 to -0.91, closer to the -1.0 mark that would indicate a perfect negative correlation.
To be sure, the technical picture for precious metals remains precarious as the April sell-off inflicted important long-term chart damage. The gold price has been unable to hold the $1,420 level after repeated attempts in recent weeks, and silver recently dipped to fresh multi-year lows.
Should the current inverse relationship between stocks and precious metals continue, however, and if the recent stock market slide gathers pace, this could be very good for gold and silver.
The Federal Reserve meets this week and, based on this Wall Street Journal story from Jon Hilsenrath (often referred to as the Fed's mouthpiece), central bank policy makers appear ready to dial down their talk of "tapering" their $85 billion per month money printing effort. This has been widely cited as the proximate cause for recent weakness in equity markets. If this case is presented convincingly at mid-week in either the meeting minutes or Fed Chief Ben Bernanke's press conference, then U.S. stocks are likely to get a boost and precious metals may see more selling.
As shown below, after a record amount of bullion exited precious metals ETFs in April and early-May, outflows have slowed considerably over the last three weeks. It is no coincidence that this comes at the same time that metal prices have stabilized and equity markets have faltered.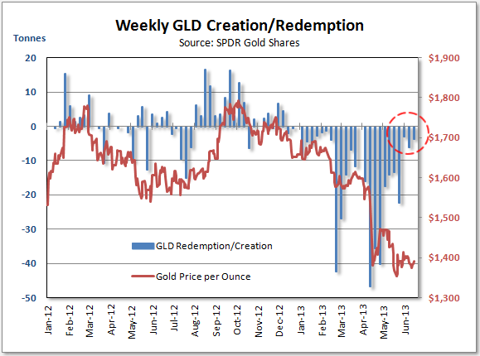 The popular SPDR Gold Shares ETF (NYSEARCA:GLD) shed 3.6 tonnes last week and this marked the smallest three week outflow since early-February. Holdings stand at 1,003 tonnes and, despite what analysts believed a month ago, it is now possible that it will hold the important 1,000 tonne level.
The iShares Silver Trust ETF (NYSEARCA:SLV) added 10.4 tonnes to its holdings last week, this following four consecutive weeks of outflows that totaled over 450 tonnes of silver. For the first time in months, there are clear signs that the end of precious metal ETF selling could be at hand as U.S. investors review their investment options in light of recent developments in global financial markets.
One billionaire investor who hasn't reconsidered his investment approach is John Paulson who, throughout the recent gold market swoon, held his positions in precious metals. The famed investor who made billions betting against subprime mortgages before the housing bubble burst said earlier in the month that he will stop reporting the performance of his gold related funds since the heightened scrutiny given to these investments has diverted attention away from other funds that are performing well.
Paulson's gold fund is the firm's smallest offering and was down nearly 50% through April. It is owned almost entirely by Paulson and the company's employees and is the largest position in the SPDR Gold Shares ETF at nearly 10%.
Gold inventories at the COMEX commodities exchange continue to be the subject of great interest as holdings by JPMorgan continue to decline. When combined with the astounding amount of metal now being delivered from the Shanghai Commodities exchange as reported at Gold Miner Pulse, it's clear to see that gold continues to flow from West to East at current, lower prices.
After eliminating sales tax on gold last year, Singapore continues in its quest to become a world-class gold center. Deutsche Bank opened a 200 tonne gold storage facility there last week. Much of the gold to be stored in this facility will likely come from the West as the recent sell-off has released years of pent up demand for the metal in the East. Clearly, the Asian people are buying what American investors have been selling.
Demand in China remains strong as recounted last week in Visualizing Gold Demand In China and, in India, the government has taken even more steps to curb gold buying. Now that the wedding season is over, look for gold demand in India to fall off sharply after record buying in the spring and the government's latest import duty hike, along with other actions that restrict the financing of gold purchases. After importing 117 tonnes of gold in April and 162 tonnes in May, gold buying is expected to drop below 50 tonnes in June, however, there has been a sharp increase in smuggling.
Investment banks remain mostly bearish on precious metals, Bank of America analysts saying last week that a "well-defined, symmetrical triangle" could result in the gold price falling to as low as $1,250 an ounce. Technical analysts at UBS AG suggested that "the recent recovery is over" and went on to note that gold may fall to $1,303. Societe Generale analysts predicted that the gold price will approach $1,200 by the end of the year before falling to $1,150 in 2014, and $800 in five years.
In the bullish camp was HSBC's James Steel who in a Bloomberg interview noted the dramatic slowing of ETF outflows before reiterating his call for an average 2013 gold price of $1,542 an ounce, up nearly 11% from current levels. According to this GoldCore report, Steel is on record as saying gold will surpass the $2,000 level at some point, what was once almost universally accepted by investment banks but now making him an outlier.
Disclosure: I am long GLD, SLV. I wrote this article myself, and it expresses my own opinions. I am not receiving compensation for it (other than from Seeking Alpha). I have no business relationship with any company whose stock is mentioned in this article.
Additional disclosure: I also own gold and silver coins and bars