Oracle (NYSE:ORCL) the database software giant, is scheduled to report its fiscal Q4 '13 earnings after the bell on Thursday night, June 20th.
Analyst consensus is looking for $0.87 in earnings per share (EPS) on $11.13 billion in revenues for expected year-over-year growth of 6% and 2%, respectively. EPS and revenue estimates have held steady since the last earnings report in March '13.
If you read the conference call comments from ORCL's last two earnings reports (Q2, FQ3), CEO Safra Katz seems to have blamed sales execution for the recent problems, so some think the lull in ORCL's stock outperformance has been self-inflicted. The stock is flat year-to-date, with the S&P 500 up about 15%, after returning approximately 30% last year, about double what the S&P 500 returned.
Last quarter, ORCL missed on both EPS and revenues and the stock fell 7% post-earnings. License revenue growth was expected in the mid-single-digit range, and instead didn't grow at all (flat year-over-year on constant currency basis).
The Issues:
The stock has recovered somewhat since the March '13 earnings report and remains technically intact, but the following is what we think are ORCL's key issues:
Larry Ellison, who is a brilliant guy, talks Social and the Cloud, but it is still a small part of ORCL's overall revenues. Cloud revenue of $238 million in fiscal Q3 '13 (if annualized) is roughly 2% of ORCL's expected total revenues for fiscal 2013;

Hardware Systems Products, which is roughly 7% to 10% of ORCL's total revenues, has fallen for most of 2012 and is expected to decline in the 20% range for fiscal 2013:
Q4 '13 -18% (estimate, per Credit Suisse)

Q3 '13 -23%

Q2 '13 - 24%

Q1 '13 -24%
* Source Credit Suisse research reported dated 3/21/13.
As the reader can quickly see, the Hardware segment has struggled all year, although the declines are getting less severe.
To understand ORCL, you have to understand the history and I think it was sheer brilliance that Ellison hired away Chuck Phillips, the former software analyst at Morgan Stanley (NYSE:MS) and made him President during the tech collapse in the early 2000's. This drove a software acquisition strategy that turned out quite nicely.
Expected 2014 Guidance:
As its stands, currently analyst consensus is looking for $2.92 in EPS on $39.578 billion in revenues for expected year-over-year growth of 9% and 14%, respectively, and this is after weak guidance last quarter.
The question I have is, are expectations low enough where 2014 consensus is maintained?
The Valuation:
ORCL, trading at $33 per share, is trading at 12(x) and 11(x) the 2013 and 2014 current consensus of $2.68 and $2.92, for expected growth in 2013 and 2014, of 9% and 9%, respectively.
ORCL's current cash-flow valuation is 12(x) price to cash-flow, but if balance sheet cash balances are excluded, ORCL is trading at 9(x) cash-flow.
Since ORCL is a software company, it obviously generates a lot of free-cash-flow, a lot of which has gone to repurchase stock the last few years:
2013 (estimated) $9.2 billion in stock repo'ed

2012 $5.9 billion in stock repo'ed

2011 $1.2 billion in stock repo'ed
ORCL is still projected to end 2013 with $37 billion in cash, with the point being there is room for more share repurchases if needed.
The summary:
As a finance geek, I can't know whether ORCL has the right Cloud strategy or the right strategy for Social, since I can barely work and Excel spreadsheet, let alone know if ORCL has the right CRM strategy or Exadata product line.
What I can know is that if a large-cap tech company I like is selling at a pretty reasonable valuation with negative sentiment built into it, after two weak earnings reports, then I want might want to own the stock.
Typically, we will not buy a name prior to an earnings report. But in this case, ORCL might warrant a partial position (we are currently long a small amount of ORCL) with a desire to own more if the stock if the report is another quarterly miss, with tepid guidance, and the stock drops close to $30.
ORCL's $160 billion market cap is sizable, and maybe mid-to-high single digit earnings growth is the norm for the coming years. However Ellison - through acquisitions - has always managed to generate double-digit earnings and revenue growth in almost all markets.
The chart: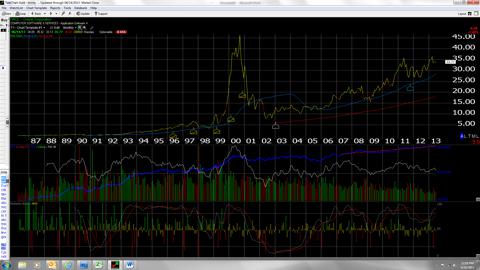 A breakout above $36.50 would be a huge positive. The double-top on the chart at $36.50 in both 2011 and 2013, is a negative. The $28.50 or 50-month moving average should be rock-solid support.
On Thursday, June 20th listen for:
Revenue and EPS guidance for 2014 relative to above consensus;

Constant currency license growth for fiscal 2014. The closer it is to double-digits, the better. ORCL can do better than low single digit license revenue growth (ex. forex);
Disclosure: I am long ORCL. I wrote this article myself, and it expresses my own opinions. I am not receiving compensation for it (other than from Seeking Alpha). I have no business relationship with any company whose stock is mentioned in this article.