In this article, I suggest that Canadian National Railway (NYSE:CNI) -- a Quebec-based railroad company with operations in North America -- is an excellent low risk investment that will likely provide outsized returns over the long term.
1: About Canadian National Railway
Canadian National Railway is Canada's largest railroad company, and the second largest publicly traded railroad in North America only to Union Pacific (NYSE:UNP). It ships all sorts of products from automobiles to oil to agricultural products. It also operates in the intermodal freight transport business -- a rapidly growing segment of the railroad industry.
Given the strength in commodity prices over the past decade, Canadian National has seen its business rise in these segments more rapidly than in other segments. The company has seen its exposure to the forest products and automobile markets shrink during this time period. It has also seen its intermodal business become its largest segment as companies continue to choose railroad shipments over truck shipments with the rise in fuel prices. The following chart illustrates these points by breaking down the percentage of revenue that the company received from each segment over the past couple of years; to evidence the longer-term trends, I have also provided similar data for 2003.
| | | | |
| --- | --- | --- | --- |
| Segment | 2012 | 2011 | 2003 |
| Petroleum/Chemicals | 18% | 18% | 19% |
| Metals and Minerals | 13% | 12% | 9% |
| Forest Products | 15% | 16% | 23% |
| Coal | 8% | 8% | 5% |
| Grain and Fertilizer | 18% | 19% | 16% |
| Intermodal | 22% | 22% | 19% |
| Automotive | 6% | 6% | 9% |
*Rounding error has made the total for 2011 101%.
Most of these operations are located in Canada, although it also has rail lines in the United States traveling from the U.S.-Canada border towards the Gulf of Mexico. The following is a map of Canadian National Railway's 20,000+ miles of track.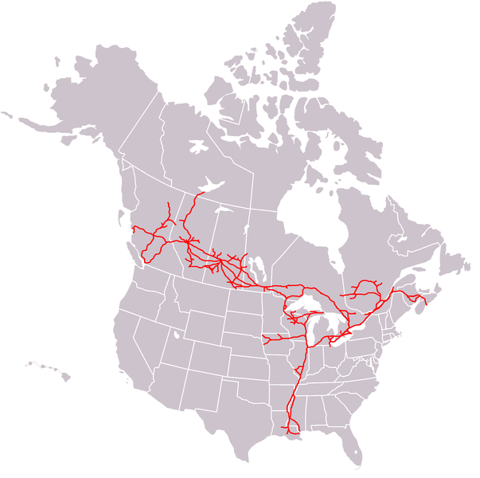 2: Canadian National operates as a part of a de facto oligopoly
The railroad industry is an oligopoly: there are only a few railroad companies, and there are high barriers to entry. It would take billions of dollars and several years -- if not more than a decade -- of construction in order for somebody to create an entirely new railroad network that could compete with the existing companies. As a result, if a company wishes to ship something from one point to another in North America, it usually only has one or two rail companies to choose from.
Other than Canadian National, there are five publicly traded companies that operate railroads in North America: Union Pacific, CSX (NYSE:CSX), Norfolk Southern (NYSE:NSC), Kansas City Southern (NYSE:KSU), and Canadian Pacific (NYSE:CP). In addition, there are two other companies: Burlington Northern Santa Fe, which is owned by Berkshire Hathaway (BRK.A, BRK.B), and Ferrocarril Mexicano that is privately owned. The following map illustrates how these companies' rail networks are laid out throughout North America: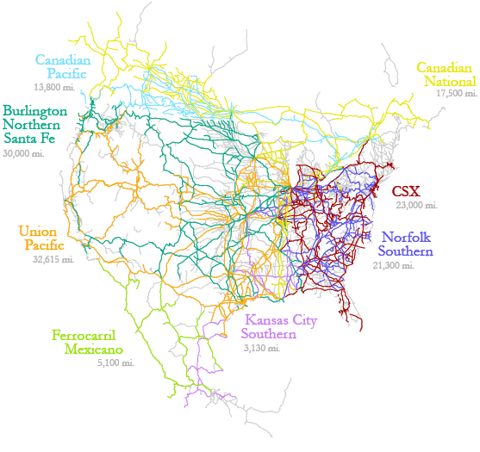 As this map illustrates, there are essentially four regions in which eight companies operate more or less as de facto duopolies. Chicago is a central point for Canadian National, CSX, Norfolk Southern, Burlington Northern, Union Pacific, and Canadian Pacific. If one considers Chicago to be the center point of North America from the perspective of the railroad industry, one can observe the following duopolies:
The West (west of Chicago) is controlled by Union Pacific and Burlington Northern.
The East (east of Chicago) is controlled by CSX and Norfolk Southern.
The North (Canada) is controlled by Canadian National and Canadian Pacific, although Burlington Northern and CSX have some Canadian exposure in the northwest and northeast, respectively.
The South (Mexico) is controlled by Kansas City Southern and Ferrocarril Mexicano.
While these regions are basically controlled by duopolies, by looking at the map one observes that Union Pacific and Canadian National have exclusive coverage of several regions, and this makes these two companies in particular more appealing as investments than their competitors.
3: Canadian National has outperformed the competition
The fact that the railroad industry is an oligopoly means that these companies as an aggregate are incredibly appealing as investments. The performance of the railroad company stocks relative to the broader stock market evidences this appeal.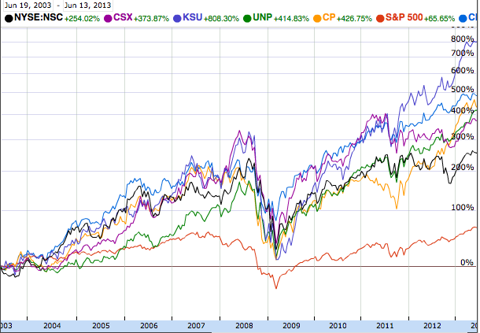 Over the past 10 years, Canadian National has been the second best performing railroad stock with only Kansas City Southern, a smaller and more speculative company, outperforming it.
4: Canadian National's strong financial results
The outperformance of Canadian National's stock price reflects its financial performance. The company's net income has increased more than five times while its sales have more than doubled. The following chart illustrates these figures:
These strong results have been reflected in the company's growth in annual cash flow on a per share basis, which has risen from $1.61 in 2003 to $7.83 in 2012, which works out to an annualized growth rate of 19% per year.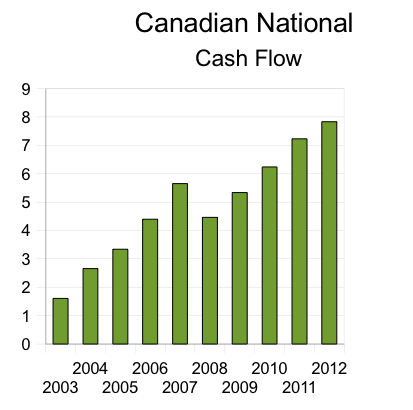 5: Canadian National's history of returning capital to shareholders
Canadian National has done an exemplary job of returning capital to shareholders both through stock repurchases and dividends. Since the financial crisis in 2008, Canadian National has repurchased roughly $4 billion worth of its own shares, and it has reduced the number of shares outstanding from around 471 million to 425 million as of the end of March. Furthermore, the company has consistently increased its quarterly dividend on an annual basis.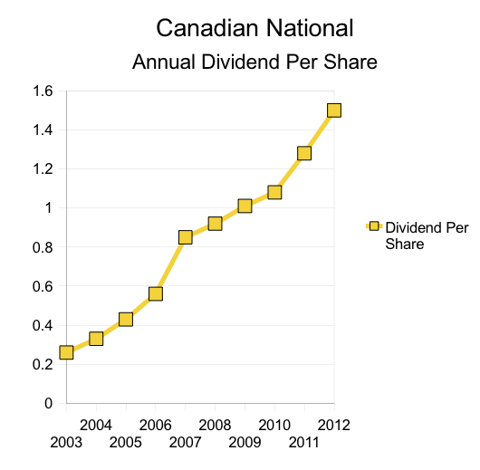 Despite these consistent dividend raises, the company has maintained a low payout ratio relative to its operating cash flow. Thus, there is a high probability that the company will be able to continue to increase its payout to investors even in a lean or recessionary economic environment.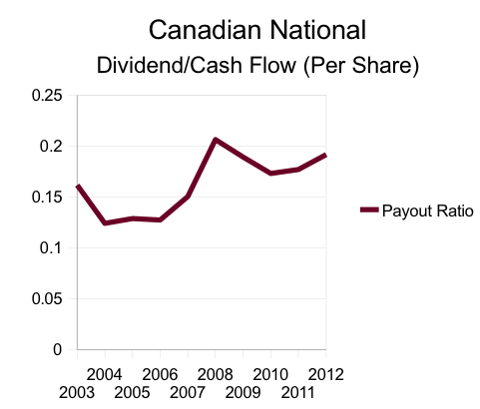 6: Canadian National's coal exposure
Given the slump in coal prices over the past couple of years in the United States, resulting from tighter environmental regulations, railroad companies have seen coal shipments decline. Norfolk Southern and CSX, which operate in the eastern United States where much of the nation's coal is mined, have seen significant revenue hits as a result. On the other hand, Canadian National is another story. While coal comprises less than 10% of the company's overall sales, it is worthwhile to note that coal has been a tailwind, not a headwind. In 2012, Canadian National saw revenues from coal shipments of $712 million, up from $618 million in 2011: this represents a 15% year over year increase.
Risks
7: Weather-related headwinds
The company has suffered a recent earnings slump as a result of inclement weather adversely impacting its Canadian operations (Q1 2013 net income was down over 28% from Q1 2012). Given that the company operates in Canada, which experiences debilitating freezing temperatures in the winter, it is subject to these setbacks.
8: Economic sensitivity
As consistent as railroad companies have been over the long term, they are vulnerable to macro-economic headwinds. The 2008 global financial crisis is an excellent example of this. The company saw its revenue slump 19% from 2008 to 2009. Furthermore, it saw consecutive years of profit declines from 2007-2009: during this time frame, profits fell from $2 billion to $1.63 billion, which is nearly a 20% decline.
Future Catalysts
9: Intermodal Freight
The intermodal freight business has been growing at a fast pace given the fact that companies are incentivized to use railroads as opposed to trucks to ship bulk goods. This is the case because of the following:
Railroads have lower fuel costs than trucks.
Goods shipped by truck are subjected to the high cost of tolls, while goods shipped by railroad are not.
Each truck requires a driver, whereas trains that offer intermodal services allow the cargo of a single truck to be shipped as if it were a car of a train, and it only takes one engineer (along with a small backup crew) to drive a train. Thus labor costs for railroad shipments are much lower than they are for truck shipments.
10: Mining in the Yukon
Recall that above I presented a map of all of the rail lines in North America that are run by major railroad companies, and that Canadian National has a monopoly over the Yukon and northwest Canada. Recently the Yukon has seen an onslaught of mining investment, and this investment will lead to meaningful growth in mine production in the Yukon: according to the Conference Board of Canada, mine output in the Yukon will increase to roughly $268 million in 2017 from $128 million in 2011. Canadian National will likely see increased revenues as the ore produced in this region must be shipped to refiners.
11: Potash mining in Saskatchewan
While Canadian National does not have a monopoly in Saskatchewan as it does in the Yukon, it should benefit from increased potash mining in Saskatchewan, particularly from Potash Corp. of Saskatchewan (POT). According to Potash Corp., China's potash consumption is set to soar over the coming decade.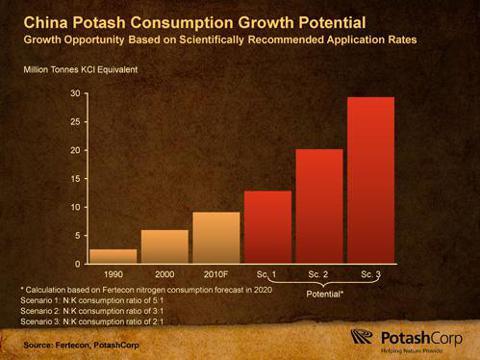 Regardless of which of these three scenarios plays out, China's mere 3 million tons of annual potash production can hardly satisfy its anticipated demand. Much of this demand will likely be satisfied by Potash Corp., whose potash will be shipped by Canadian National to Vancouver so that it can be shipped by boat to China.
Future Areas of Concern
12: The Canadian economy
The Canadian economy has been generally growing over the past decade with the exception of the 2008-2009 global financial crisis period.
However, recently the economy has been decelerating, with growth peaking at around 4% annually in 2010. While many of the products that Canadian National ships are exported, investors should be concerned that the company's automobile and forest product shipments will suffer. Both of these segments of Canadian National's business have become smaller relative to the overall company over the past decade, however, they still account for over a fifth of the company's total shipments, and a recession in Canada will hurt the company's sales and profits.
13: A slump in metals prices
Metal prices have been slumping recently, as evidenced by the following chart of the Elements Rogers International Commodity Metal ETN (NYSEARCA:RJZ):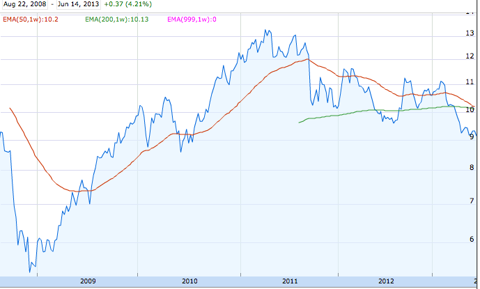 Since its peak in 2011, it has been making lower highs and lower lows. While metals are still in a longer-term secular bull market, a continuation of this downtrend could curtail mining in Canada, which will negatively impact Canadian National's shipment of ore and refined metals.
Valuation
Currently, Canadian National Railway trades at roughly 17.6 times trailing earnings and at 3.8 times book value. If we assume that inclement weather in the first quarter of 2013 caused $0.60 per share worth of earnings damage (so that earnings would be slightly less than what they would have been had the company maintained its historical growth rate), we can revise the P/E ratio to 15.9 times earnings. Over the past decade, the company has grown its earnings from $525 million in 2003 to $2,680 million in 2012, or at 20% per year.
If we use Benjamin Graham's method of valuing equities: Value = EPS * (8.5 + 2g) where g is the company's growth rate we get:
Value = $6.18 * (8.5 + (2 * 20)) = $300
I should note that Graham revised the formula to account for interest rates:
V = (EPS * (8.5 + 2g)) * (4.4/Y)
where 4.4 was the average rate on investment grade corporate bonds while Y is the current rate. The rationale behind this is that if interest rates are lower, then investors should be contented with a lower rate of return on other assets. Given the current low interest rate environment, the value of Canadian National using this revised formula would be significantly higher.
Considering the stock currently trades at just under $100/share, by this calculation, the stock is incredibly undervalued. Of course, it seems a little presumptive to assume that the company will continue to grow its income at a rate of 20% per year, so let us recalculate the valuation using Canadian National's annual sales growth rate. The company's revenue in 2012 was $9,920 million, and in 2003 it was $4,206, which equates to a growth rate of about 10%, so:
V = $6.18 * (8.5 + 20)
So the valuation would be around $175, which is still significantly higher than the current stock price. Even if we are conservative and factor in the possibility that the aforementioned risks dampen sales growth, so that it is 7% instead of 10%, the valuation should be around $140.
Thus, unless there are serious problems ahead that both compound the aforementioned risk factors and overshadow the secular growth and consistency that Canadian National has been experiencing, even through a tough economic environment, the company's stock is significantly undervalued.
Conclusion
The reader should take away the following points from this article about Canadian National Railway.
Canadian National Railway is Canada's largest railroad company, and the second largest publicly traded North American railroad company. It ships agricultural commodities and fertilizers, metals, forestry products, automobiles, oil and petrochemicals, and it operates in the intermodal freight business.
The railroad industry operates as an oligopoly. Furthermore, there are regions where Canadian National has zero or limited competition.
Canadian National Railway has, for the most part, outperformed its peers.
The company has consistently grown its sales, profits, and cash flow.
The company has consistently returned capital to shareholders, and it is in a position to increase this rate of return even if it suffers an earnings recession.
Despite these positive points, investors should be wary of a potential economic slowdown in Canada or inclement weather. Over the past five years, both types of events have seriously hurt the company in the shorter term.
The company is uniquely positioned to benefit from the rise of mining in the Yukon, and the growing international demand for potash, particularly in China.
Investors should be concerned that the company's forestry and automotive segments can be hurt by an economic recession in Canada. Given the recent deceleration of Canada's economy, there is a meaningful chance that this will take place.
Regardless of the risks, the company is extremely undervalued, even if one assumes that the company's growth will slow rather meaningfully.
Assuming that investors understand the risks of owning Canadian National Railway shares, they should be bought at the current price of just under $100/share.
Disclosure: I am long CNI, POT. I wrote this article myself, and it expresses my own opinions. I am not receiving compensation for it (other than from Seeking Alpha). I have no business relationship with any company whose stock is mentioned in this article.