I discovered a small company with good investment growth potential that produces semiconductors for numerous markets. Diodes Incorporated (NASDAQ:DIOD) is a $1 billion small-cap global producer of discrete, logic, and analog semiconductors. The company manufactures these products for the consumer electronics, computing, communications, industrial, and automotive markets. The products are sold mostly in Asia, North America, and Europe. The company's products are used in digital cameras, portable DVD players, modems, medical devices, smartphones, PCs, notebooks, flat panel displays, datacom devices, and mobile handsets. Diodes' focus on application-specific standard products and collaborative customer-focused product development gives it a competitive advantage over other semiconductor companies.
The company's products include: diodes, rectifiers, MOSFETs, transistors, protection devices, amplifiers, single gate logic, functional specific arrays, Hall effect and temperature sensors, power management devices, LED drivers, DC-DC switching & linear voltage regulators, USB power switches, load switches, voltage supervisors, and motor controllers.
Diodes reported record revenues for the first quarter of 2013. Quarterly revenue increased 8% year-over-year to $177 million, beating estimates by $640,000. Earnings per share for the quarter were $0.16 vs. an estimate of $0.06. The company attributed its revenue growth to a one-month contribution of the BCD acquisition and Diodes' continued design win momentum. Gross profit margin increased 13% year-over-year from 23% to 26%. The increase in gross margin was attributed to net sales increases in higher margin regions such as North America and Europe, lower gold prices, and an improved product mix.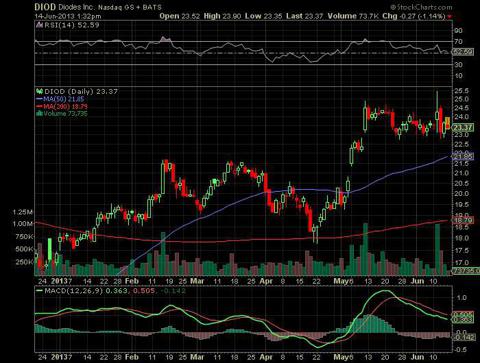 Diodes' acquisition of BCD was completed in March. The acquisition was made to expand the company's market and growth opportunities. This should improve Diodes' analog product portfolio by expanding its linear and power management offerings. BCD also has manufacturing capabilities in China and a cost-effective development team that can be deployed across multiple product families. Diodes should also benefit from cost efficiencies, higher utilization, and an improved product mix as a result of the acquisition.
The trailing PE ratio of 63.6 would make most investors wince. However, a closer look reveals an attractively valued stock. The forward PE ratio of 13.7, PEG of 1.4, and price to book ratio of 1.6 give the stock an attractive valuation. As a comparison, the S&P 500 is trading with a forward PE of 14.6 and a price to book ratio of 2.3.
The balance sheet looks solid with $200 million in total cash and $217 million in total debt. The debt to equity ratio is relatively low at 30.5. The company also has 3.9 times more current assets than current liabilities.
The company increased its earnings estimates for the second quarter of 2013. Previous estimates of $206 million to $218 million were increased to $210 million to $218 million. The company is expected to grow earnings annually at 15% for the next five years. This growth is sufficient to lead Diodes to outperform the S&P 500. Investors in the stock should be able to double their money in about five years.
Competitors
Diodes

Fairchild (FCS)

Semiconductor

International Rectifier (NYSE:IRF)

Vishay Intertechnology (NYSE:VSH)

Market Cap

$1 billion

$1.7 billion

$1.5 billion

$2 billion

Forward PE

13.7

12.26

62.8

12.25

PEG

1.4

5.45

-2.05

1.33

Price to Book Ratio

1.6

1.2

1.2

1.24

Gross Margin

26%

31%

26%

23%

Operating Cash Flow

$82M

$162M

$140M

$288M

5-Yr Expected Annual Earnings Growth

15%

5%

10%

12%

Table by David Zanoni Data Source: Yahoo Finance
Diodes stands out among the competition in terms of earnings growth. If expectations are achieved, the company's above average earnings growth should lead to above average stock growth over the long term. You can see the difference that three percentage points can make over a five-year period. If an investor put $10,000 into Vishay Intertechnology stock, the investment should be worth about $17,000 in five years. If another investor put $10,000 into Diodes' stock, the investment should double to about $20,000 in five years. That three percentage point advantage that Diodes has over Vishay represents a 17.6% higher gain over five years.
Diodes differentiates itself from the competition by utilizing innovative, highly efficient packaging and cost-effective process technologies. This is combined with the company's collaborative customer-focused product development system. Diodes operates a flexible and cost-effective manufacturing system. The company's Shanghai, China packaging, assembly, and test facilities have historically operated at near full capacity. The company has been able to expand that capacity to meet growth objectives.
Diodes also differentiates itself from the competition through its integrated packaging expertise. The company is able to provide customers with products with equal functionality with fewer individual parts at a lower overall cost than competitors' products.
The company also has a broad customer base with 150 direct customers with 10,000 additional customers through its distributors. This broad customer base among diverse end markets makes the company less susceptible to market fluctuations.
By effectively collaborating with customers, Diodes maintains high-quality customer service. This focus is another competitive advantage in the form of deep customer relationships that provide the company with key insights for customer's product development needs. This results in a stronger demand for product designs.
Diodes needs to maintain a competitive edge to remain a step ahead of the competition. One of the ways that the company is accomplishing this is through product improvements. Diodes recently announced the integration of a transistor, Zener diode and resistor into a standard SOT89 package. The company's press release stated:
"With this integration, the ZXTR200x family of high-voltage regulators from Diodes Incorporated boosts power-circuit densities through reductions in component count and footprint. Principle applications for the devices are in networking, telecom and Power-over-Ethernet (PoE) where they are ideal voltage supply regulators for primary-side controllers in 48V DC-DC PSUs".
Looking forward, Diodes plans on using strengths from acquisitions to enhance profitability and growth opportunities with its global customer base. It will continue to look for new acquisitions to expand the company's products and grow the business. The company plans on capitalizing on the growth in China to be a driver for the business. It will also work diligently on innovating products especially for high-volume, high-growth applications such as LCD and LED televisions and panels, set-top boxes, smartphones, tablets, and notebooks.
The company will also work to enhance cost-competitiveness. By continually improving manufacturing processes, Diodes looks to increase production yields to achieve larger economies of scale.
Conclusion
Various competitive advantages will keep Diodes on the cutting edge of the industry. This will lead to above average revenue and earnings growth for the future. The company's attractive valuation and strong expected earnings growth should allow the stock to approximately double in price in five years.
Disclosure: I have no positions in any stocks mentioned, and no plans to initiate any positions within the next 72 hours. I wrote this article myself, and it expresses my own opinions. I am not receiving compensation for it (other than from Seeking Alpha). I have no business relationship with any company whose stock is mentioned in this article.