Most metals companies have experienced some of their worst performance ever this past year. In fact, some companies, such as U.S. Steel (NYSE:X), are trading very close to their financial crisis lows due to a combination of oversupply and weak demand. As you can see from the chart below, steel prices fell off of a cliff in 2008 when the commodities bubble burst, then rebounded slightly before trending negatively from 2011 until the present. As a result, I believe that there are some bargains to be had, but investors must choose carefully. I'd like to consider one metal play that is somewhat different than the others, Commercial Metals Company (NYSE:CMC).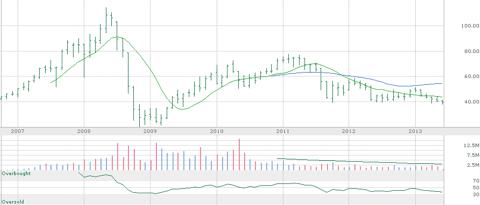 Who is CMC and why are they different than the rest?
Commercial Metals is a producer of steel and copper with five mills in the U.S., but what differentiates the company is its recycling and marketing operations. The company's domestic and international mills combine to account for almost 36% of CMC's sales, with a total production of about 4.2 million tons last year. CMC also has a fabrication business which actually lost money last year, mainly producing reinforcing and structural steel products for use in various construction applications.
CMC's recycling business processes scrap metals for recycling into new metal products for sale to steel mills and aluminum processors. The recycling division accounts for just over 18% of CMC's sales and shipped about 2.4 million tons last year. As mentioned, the company also operates a marketing and distribution business, which markets and trades metals, ores, and other products in both the U.S. and international markets.
Just over a year ago, CMC was the target of a tender offer by Carl Icahn and his Icahn Enterprises (NYSE:IEP), which failed due to lack of interest from CMC shareholders. Icahn had offered $15 per share directly to shareholders, but only succeeded in receiving about 23% of the company's shares; much less than the 40.1% he would have needed for a controlling interest when combined with his existing shares. CMC itself advised shareholders to reject the offer, calling it a "bargain-basement price."
Compared to most other metal producers, CMC has a fairly modest amount of debt on its balance sheet, which should help the company ride out the weakness in global commodity prices better than most of its competitors. A general trend in the metals industry is towards lower production, especially in China, whose overproduction caused most of the oversupply and low demand problems plaguing the industry. Once inventories come down, this should help boost the value of scrap metals significantly, which should greatly benefit CMC's recycling business.
One other thing to keep in mind is that the overcapacity issue amongst metals producers is expected to lead to significant consolidation among these types of companies. As a result, virtually every metals producer is a potential takeover target, particularly smaller companies such as CMC. While CMC could very well end up being acquired for a premium to the current share price, I believe that the company will benefit from consolidation in the industry whether or not it becomes a target. The general consolidation and decreased production will lead to metal producers having greater pricing power over their products, which benefits virtually every aspect of CMC's business.
The numbers
CMC currently trades for around $14.60 per share, or 13.7 times TTM earnings. While revenues (and earnings) are expected to decline slightly during the current fiscal year, due mainly to weakness in CMC's international operations, the projected gradual rise in scrap and steel prices as well as the greater expected pricing power is projected to greatly benefit CMC's bottom line in fiscal year 2014 (which begins in September) and beyond. The consensus of analysts following the company predicts earnings of $1.38 and $1.79 per share in FYs 2014 and 2015, respectively.
Additionally, CMC has one of the best track records of dividend payments in the industry. The company currently pays out 3.28%, and has never cut its dividend since it began paying in 1984. CMC has also stated its intention to boost share repurchases as earnings rise in order to further increase shareholder value.
Alternative metal plays: more risk but more potential reward
The better-known steel and copper plays such as U.S. Steel and Freeport-McMoRan (NYSE:FCX) are much more volatile and have seen their share prices drop more drastically than CMC's. However, for those with the stomach to ride out the roller coaster ride in these stocks, there could very well be more potential for reward if and when the metal industry finally starts to get its act together.
U.S. Steel, for example, is currently trading for over 90% less than its highs during the commodity peak of 2008. With almost $4 billion of long-term debt ($1.4 billion more than the company's entire market cap!), a lot of which is high-interest, U.S. Steel has a much more levered balance sheet than CMC, whose $1.1 billion in debt is much more manageable relative to the company's cash flow. Freeport, which is a much larger company, actually has a positive net cash (cash minus debt) position, making its balance sheet the most attractive of the three. However, copper and gold prices have been very volatile and earnings can be very unpredictable.
Conclusion
As a believer in the long-term viability of the steel industry, I think that now is a good time to cautiously accumulate shares of companies like CMC and other metal producers at these low levels. Should the consensus estimates prove to be accurate, by the end of fiscal year 2014, CMC could be worth $18.90 assuming the same P/E.
Disclosure: I am long X, FCX. I wrote this article myself, and it expresses my own opinions. I am not receiving compensation for it (other than from Seeking Alpha). I have no business relationship with any company whose stock is mentioned in this article.