Humana (NYSE:HUM) is a healthcare company that primarily offers Medicare Advantage programs to its clients. MA programs fall under "part c" of Medicare coverage. Those enrolled in MA programs pay a premium to receive at least the same benefits that they would under original Medicare; the providers contract with the federal government and receive a fixed amount each month based on how many subscribers they have, in addition to other premiums they receive.
Advantage plans can be a superior alternative to traditional Medicare, particularly if a senior needs prescription drugs, wants to cap out-of-pocket expenses (which original Medicare does not limit), or needs coverage for vision, dental, assisted living, and nursing home care - the latter two being of rapidly growing importance given an aging demographic.
The Medicare Advantage space has tripled since 2005, presumably due to the breadth of coverage and out-of-pocket expenses cap, and however surprising, the passage of the ACA in 2010: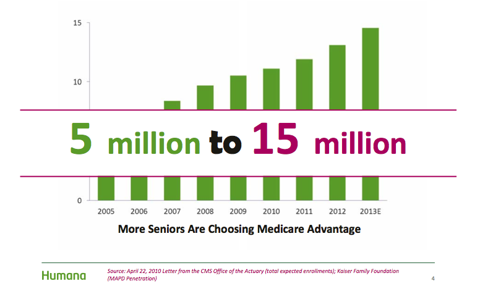 More than 3.3 million Americans have enrolled in Medicare Advantage programs since the ACA was signed into law in 2010 -- an increase of more than 30%. This growth has been completely unexpected, particularly by ACA detractors who have been predicting peril for the MA industry.
Various commentators and analysts have been projecting a steep decline in the number of beneficiaries enrolled in MA plans as a result of alleged "cuts" to Medicare, though 28% of all seniors who receive Medicare coverage are now enrolled in Advantage plans -- a record high.
The catalyst for this continued, even accelerated growth is the new incentive structure set forth by the new healthcare law. Providers of Medicare Advantage programs receive cash bonuses and preferential treatment from the CMS (Centers for Medicare & Medicaid Services) if they can lower premiums while improving the quality of services.
It appears that despite popular opinion that the ACA is attempting to cripple private insurers, the federal government sees these providers as part of the solution, at least in the intermediate term.
Federal Government Cuts
That said, the government is in fact pulling back on the payments that providers of MA receive in order to push beneficiaries into original Medicare: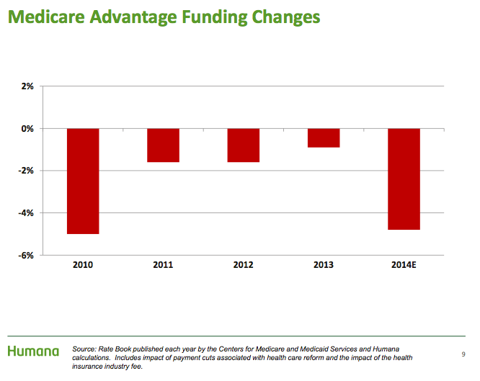 Given the reductions in funding, you might expect meaningful declines in net income, yet EPS has grown 31.3% since 2010: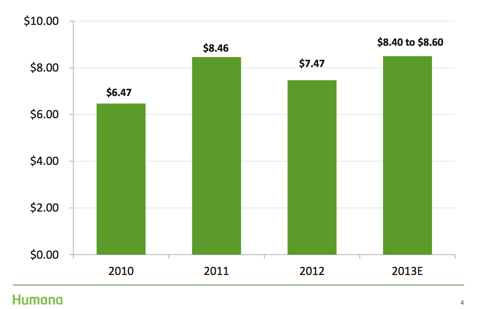 The strong bottom-line growth stems from the rapid growth in enrollment (with superior growth in its specialty offerings) and stable premiums.
By reducing payments and tying bonuses to quality, the federal government expects to continue to put downward pressure on MA premiums, though overall enrollment and cost-cutting in these programs has more than offset pricing weakness.
However, it's possible that over time the government's actions will be successful in driving a trend away from MA programs (where it is alleged that insurers market expensive, unnecessary plans) and into pure, original government Medicare. Currently, it is projected by The Medicare Trustees that enrollment in Advantage plans will peak in 2015, and return to 2012 levels (~14 million) by 2017 -- far better than the ~7 million predicted by the Heritage Foundation: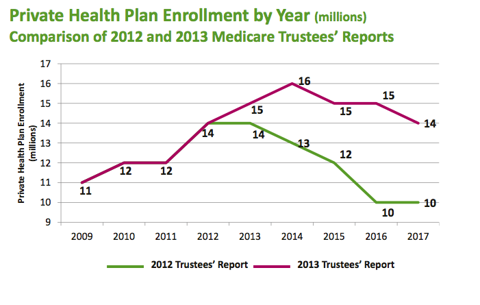 Integrated Care
As a result of the industry outlook, Humana is moving towards an "integrated care" business model, and away from being so heavily reliant on favorable dynamics within the Medicare insurance business.
After a few relatively large acquisitions in 2012, HUM either employs, is directly invested in, or has MSO (management services organizations) contracts with 2,500 primary care providers across the country.
To increase efficiencies with these healthcare providers, Humana also closed on its acquisition of Certify Data Systems, which is a health information technology firm.
Across the entire care management business, Humana has doubled its professional employee base from 3,800 in 2011 to 7,600 as of Q1. The investments in direct care and health-related information technology will facilitate a smooth transition from being a "pure-play" on Medicare Advantage insurance products to a primary care provider.
Ultimately, Humana wants to be able to provide the same benefits that the government does for 15% less at the same or better quality. While progress on that front has thus far not been quantified, the surprising outperformance (relative to peers) of Humana's MA enrollment growth (.pdf - page 5) could be reflective of a consumer base that sees Humana's offerings as superior and cost-effective: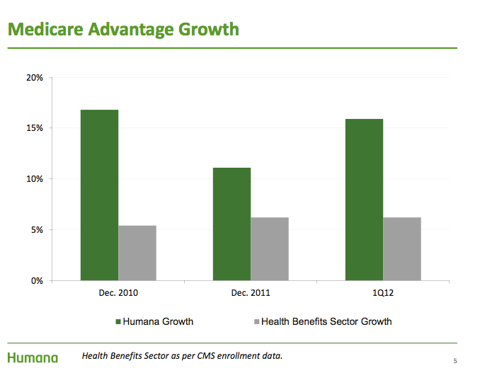 Industry Worries Overblown
The assumption that original Medicare will be able to woo an increasing amount of seniors -- an assumption that is clearly held by a majority based on both the valuations and MA industry projections -- is very shaky and is where the unrecognized value of HUM lies.
Firstly, even the most profitable players in the MA business do business at profit margins of 3-5%. With margins thin to begin with and the industry moving to a large-scale, highly integrated model, the smaller players (especially non-profits) are going to continue to be squeezed out of the business entirely: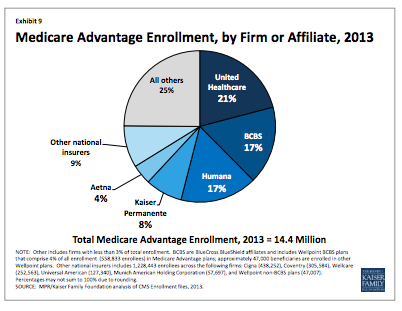 The "all others" segment includes small, regional insurers and non-profits. Based on the material shown above that displays the relative outperformance of Humana's growth, this trend may already be underway.
Even if the decade-long trend of MA plan outperformance relative to original Medicare reverses by 2017 as expected, the largest names will benefit as they gain market share from the smallest insurers -- this seems to be the case thus far for Humana in particular.
Secondly, it's not so certain that the government will be successful in its efforts in convincing beneficiaries to stick with original Medicare. MA plans traditionally offer far better coverage and flexibility, have caps on out-of-pocket expenses, automatically cover Part D, and offer supplementary packages.
Perhaps the biggest key of all is that it may become more difficult to find the best doctors who also accept Medicare. With the government trying to squeeze every excess dollar out of the system - payment rates for physicians taking Medicare are set to decline a whopping 31% in 2013 - at least some of the best physicians are likely to drop Medicare and cater to private insurer networks.
Humana has the most cash-rich balance sheet of any of the MA insurers. With over $6 billion in net cash (a mere $2.9 billion in debt - about twice annual net income), Humana can afford to buy back shares, increase the dividend, and continue to outright purchase physician practices.
Humana is doing all three of these.
The company recently announced a reset of its buyback program, allocating $1 billion to be used in repurchases through 2015. If the company completes it, it'll reduce the share count by almost 10% at current prices. Shares outstanding have declined from about 167 million shares in 2010 to 157.5 million as of Q1. The annual dividend has been growing at about 8% per year, and is currently ~1.3%.
As mentioned above, Humana purchased primary-care coordinators Metropolitan Health Networks and MCCI Holdings, along with Certify Data.
The acquisition of Certify Data Systems was a logical decision; CDS's technology connects Humana with its physicians and their patients' health records, which are obviously more reliable and informative than are simple claims records.
Humana has been particularly aggressive in regard to its acquisitions of physician groups. Management recently highlighted the fact that it's targeting another 1,000 physician practices to purchase. This comes after the company's $790 million acquisition of Concentra in 2010, and the aforementioned investments in Metropolitan and MCCI.
These acquisitions create so-called "access points" for the company's beneficiaries. In other words, by having a direct financial stake and controlling interest (with the exception of MCCI Holdings), Humana has guaranteed that these care units will accept its insurance. CDS's technology cleans up the analytics side of things and further reduces costs. Essentially, it's vertical integration at its finest.
With plenty of net cash left on the balance sheet and the flexibility to take on some additional leverage, Humana has the competitive advantage and relatively small size that enables it to make "needle-moving" acquisitions without meaningful deterioration of its balance sheet.
Fair Value For Shares Of HUM
Humana trades at 9.5x 2013 estimates for $8.60 per share. This compares to UnitedHealth Group's (NYSE:UNH) valuation of 11.8x 2013 earnings, 10.41x for Aetna (NYSE:AET), and 10.5x for Cigna (NYSE:CI).
All these names are trading at deep discounts to the broader market multiple as a result of the projected funding cuts and projected decline of business as beneficiaries avoid the supposed extra premiums of MA programs. As I explain above, however, I don't believe that the concerns regarding a loss of business to original Medicare are well-founded.
The CMS even reversed its previous guidance for a 2.3% reduction in 2014 and is now increasing MA payments by 3.3%, spiking the shares of Humana back in April and indicating how concerned investors are about annual payments.
Going forward, Humana will indeed have to deal with a decline in payments, though I expect that its acquisitions and superior relative growth rates will continue for the next several years.
With analysts guiding for a slight fall in EPS to $8.50 in 2014, I believe the accretive benefits from recent acquisitions, further cost cuts, and continued growth in premiums will result in an earnings surprise to the upside.
Considering the dirt-cheap multiple, superior growth trends, and squeaky-clean balance sheet, HUM deserves to trade at a multiple closer to the broader industry 5-year average around 17, rather than at 9.5x.
Given this multiple, large net-cash position, and guidance for about $8.50 in '13 EPS, 2013 downside appears limited to maybe 8X FY13 EPS, so ~15% downside. I think 8X is a reasonable valuation bottom going forward as well.
Though vague, management noted that earnings should see a nice "lift" starting in 2015. With EPS growing at a CAGR of over 7% in the context of severe funding cuts from 2010-2013, I expect EPS towards the mid-upper range of FY14 estimates at $9 a share, and a long-term CAGR of 7-9%.
I believe Humana will come in closer to $9 a share as the company receives additional benefits from recent acquisitions and as funding for its MA offerings is actually increased, which so far doesn't appear to be baked into earnings estimates. Furthermore, growth on the enrollment side should more than offset any reductions in premiums' pricing; 2014 has been heralded as "the year" that things turn sour for Medicare Advantage providers like Humana and beneficiaries start to turn back to original Medicare. Yet the same underlying trends driving MA enrollment growth are going to be present in 2014, which should keep growth on pace.
Considering the likelihood of additional share buybacks enabled by Humana's large cash position, bottom line EPS growth has some cushion. Assuming $9 in '14 EPS and a CAGR of 8%, Humana would have EPS of $10.50 at the end of 2016, $9.45 with a 10% discount.
The long-term estimates are a bit hazier, but I believe shares of HUM will trade at a "normalized" multiple around 12-14 by next year as it becomes clear to investors that despite funding cuts, the outlook for MA providers is actually quite fine.
At 12X my estimate for $9 a share, Humana would be trading at $108, good for 35% upside.
More conservatively on the earnings side, 12X analyst estimates for $8.50 gives us $102 per share, or 26% upside.
Absolute worst case, HUM probably trades at 9X $8.50, or $76.50 per share - minimal downside from current prices around $80.
Overall, the long-term earnings power of Humana is severely understated, and the severely compressed multiple and conservative EPS estimates offer considerable downside protection while providing market beating returns for the next several years. As the cheapest, least-leveraged, and moderately sized name in the space, Humana also appears to be a good bet to outperform its peers as it successfully evolves into an integrated care company.
Disclosure: I am long HUM. I wrote this article myself, and it expresses my own opinions. I am not receiving compensation for it (other than from Seeking Alpha). I have no business relationship with any company whose stock is mentioned in this article.