Overview
MFA Financial, Inc. (NYSE:MFA) is a mortgage real estate investment trust ("mREIT") that invests in mortgage-backed securities ("MBS"). MFA utilizes leverage to acquire its portfolio of Agency ($7 billion portfolio) and non-Agency ($5.4 billion; face value of $6.3 billion) residential mortgage-backed securities.
MFA utilizes repurchase ("repo") agreements, which are low short-term rates, to finance the acquisition of its mortgage-backed securities. MFA generates net income by maintaining a spread between the interest it earns on its investments and the cost of financing such investments. As opposed to more highly-levered, agency-focused peers, like American Capital Agency (NASDAQ:AGNC) and Annaly Capital Management (NYSE:NLY), MFA's management team uses relatively modest leverage to generate returns. As of March 2013, total portfolio leverage was 3.1x (7.8x for the agency portfolio and 1.5x for the non-agency portfolio).
Agency mREITs carry limited credit risk as securities are guaranteed by government sponsored entities and are subject to interest rate and refinance risk. Hybrid mREITs, like MFA, invest in both agency and non-agency securities and Hybrid mREIT managers have the flexibility to move between agency and non-agency securities to find the best risk/reward for shareholders.
Non-Agency Exposure is Compelling
Unlike its agency-focused peers, MFA has the flexibility to invest in both agency and non-agency securities. When purchased at the appropriate price, non-agency securities can offer mREIT investors attractive risk-adjusted returns and lower the volatility in an mREIT portfolio. Non-agency mortgages trade more like equity than credit because when the economy heals, recoveries increase.
Non-Agency MBS selection is driven by credit analysis and expected return, whereas Agency MBS selection is driven by analysis of interest rate sensitivity, prepayment exposure and expected return. This is an important distinction as agency-focused mortgage mREITs have struggled as rates have risen over the last few weeks.
That said, we believe that MFA is a compelling investment due to the Company's non-agency portfolio, and more specifically its concentration to certain parts of California.
A key risk for mREITs is prepayment risk. As rates decline, borrowers refinance loans into lower rates, which impact mREIT earnings. After the credit collapse, hybrid mREITs (including MFA) purchased non-agency mortgages at significant discounts to par value. In the most recent reporting period, MFA owned over $5.4 billion of non-agency MBS with an average amortized cost of 73% of par. As refinancing on these securities increases, MFA realizes more than its average cost. In the first quarter, these assets generated a loss-adjusted yield of 6.80% on an unlevered basis.
As the housing market recovers, the estimate of losses will continue to decline. MFA has only recently lowered its estimate of future losses within MFA's Non-Agency MBS portfolio due to a combination of both home price appreciation and mortgage amortization. Over the last nine months, $170 million has been transferred from credit reserve to accretable discount. This increase in accretable discount will be realized in income over the life of the Non-Agency MBS. Due to the reduction in loan-to-value ratios, the Company has lowered its loss ratios on existing non-agency MBS.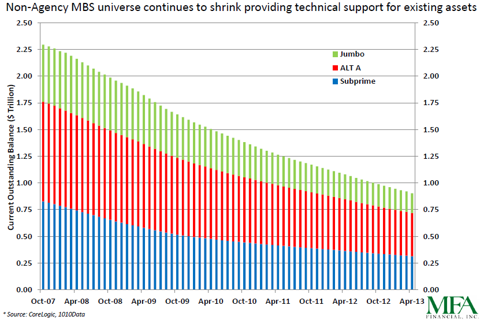 Due to payoffs, the non-agency sector continues to shrink, providing support to the asset class. In addition, as more hedge funds and institutional investors enter the non-agency market in search of yield, prices and liquidity will continue to be buoyed by demand.
Conversely, agency mREITs (including Annaly and American Capital Agency), which typically have an average MBS cost over par, can experience loss on securities as refinancing increase. If an investor pays $1.06 for a face value security of $1.00 and the security is refinanced the investor will lose $0.06 (or 5.7%).
California Concentration
MFA is levered to the California housing market (~46% of the underlying loans in the Non-Agency portfolio are in California) and will continue to benefit from the home price appreciation and investor demand in the state.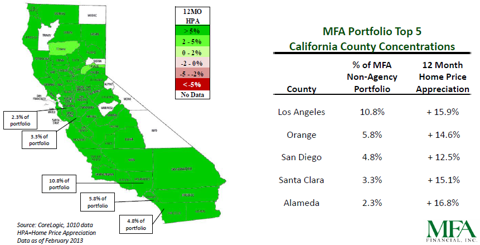 As investors and home buyers continue to bid up homes in California, MFA's large non-agency portfolio (remember MFA's average cost of ~73 cents on the dollar) should continue to benefit. The combination of an accommodative FED and low mortgage rates, limited housing supply, and strong demand from rent-to-own money managers has led to price appreciation on a nationwide basis.
According to a recent Wall Street Journal article:
In California, the number of homes sold in recent months that had been flipped-or bought and resold within six months-has reached the highest levels since late 2005, according to PropertyRadar, a real-estate data firm.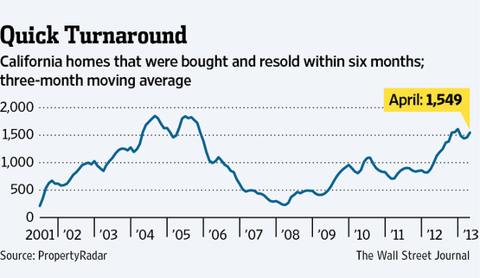 While many may scream that this is simply another home price bubble, MFA will be the beneficiary. The feeding frenzy for homes only continues to lower loan-to-value ratios.
Conclusion
Like many mREITs, MFA has an average overall Parsimony rating (52) due to its unique financial metrics and choppy dividend history. However, MFA carries our highest rating for Risk-Reward Profile (99).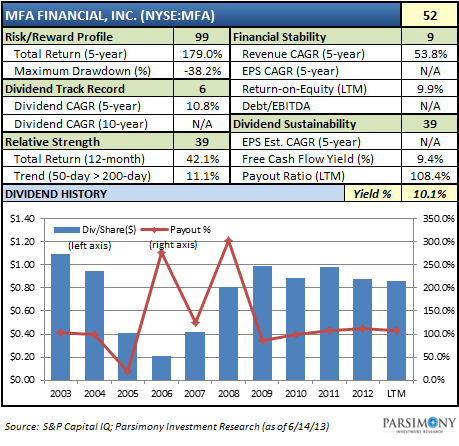 The stock has an attractive dividend yield (~10%) and the company has delivered shareholders a 179% total return over the past 5 years. In addition, the stock has a very low beta (0.31) and a relatively low correlation to the S&P 500 (0.62), which makes it an attractive addition to your DIY Dividend Portfolio.
As discussed above, MFA's non-agency portfolio will also help diversify your overall mREIT exposure if you are currently concentrated in agency-focused mREITs (like AGNC and NLY).
We are targeting a "Buy Zone" of $8.00-$8.50 for MFA as we believe that this a good low-risk entry point for long-term dividend investors (see chart below).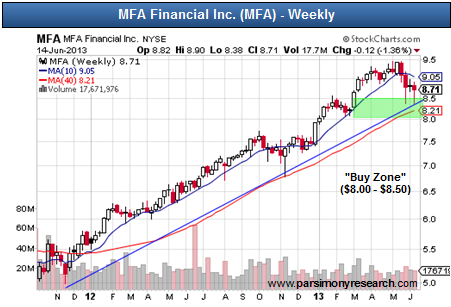 Disclosure: I am long AGNC. I wrote this article myself, and it expresses my own opinions. I am not receiving compensation for it (other than from Seeking Alpha). I have no business relationship with any company whose stock is mentioned in this article.