Introduction
The cigarette industry is in decline. Not because of a drop in sales or revenue, but because there exists a conundrum for cigarette producers - cigarettes or e-cigarettes? An e-cigarette is an electronic inhaler that vaporizes a liquid solution into an aerosol mist, simulating tobacco smoke. E-cigarettes look like traditional cigarettes but contain the liquid solution with nicotine to satisfy nicotine cravings.
Undoubtedly, cigarette consumption is addictive and the producers capitalize on that nature of their product. However, we can notice growing awareness regarding harmful health effects of smoking cigarettes. As a result, cigarette consumption is declining about 3% annually. Tobacco kills nearly 6 million people each year, of whom more than 5 million die from direct tobacco use and more than 600,000 are nonsmokers exposed to second-hand smoke. Thus, total cigarette consumption has continued on a 13-year downward trend. That is why the market for e-cigarettes might become the next growth play for the tobacco giants.
Is Altria Group (NYSE:MO) still worth your money when both Philip Morris (NYSE:PM) and Reynolds American (NYSE:RAI) provide strong competition? These companies have introduced e-cigarettes while continuing to rely on tobacco cigarettes. Are e-cigarettes the right deal for investors? Can e-cigarettes cannibalize tobacco industry? Where should you invest your money out of all the options in the cigarette industry? In this article, you will find the answers to these questions.
Tracking Financials
Philip Morris is the global supplier of famous cigarettes, marketing to more than 180 countries. Its lineup includes brands such as Marlboro and Benson & Hedges, so it makes sense that its market capitalization eclipses the competition entirely. Altria Group is the breakaway group from Philip Morris International and the parent company of Philip Morris USA. Altria Group conducts all sales and operations in the United States. It has a market cap of $71.5 billion, while Reynolds American's market cap stands at $26.2 billion.
| | | | |
| --- | --- | --- | --- |
| Indicator | | | |
| Market Cap | $71.5 bil | $149.9 bil | $26.2 bil |
| Price/Earnings ttm | 16.4 | 17.4 | 17.7 |
| Price/Book | 20.0 | -34.6 | 5.1 |
| Net Income Growth (3 Yr Avg.) | 9.3 | 11.5 | 10.0 |
| Revenue Growth (3 Yr Avg.) | 1.3 | 7.6 | -0.5 |
| Dividend Yield, % | 4.94% | 3.62% | 5.05% |
| Net Margin % TTM | 25.0 | 11.3 | 18.3 |
| Debt/Equity | 3.3 | - | 1.0 |
| ROE | 120.2 | -327.8 | 27.1 |
| Current Price | $36.06 | $91.70 | $47.64 |
Data from Morningstar on 14 June, 2013
As mentioned earlier, it is becoming increasingly difficult to increase revenue at a time when there exists a growing awareness about the harmful effects of tobacco. For this reason, Altria Group and Reynolds American are struggling with their revenue growth over the past three years. The two brands are restricted to the American market, which has forced them to change strategies and to switch to e-cigarettes. Philip Morris, on the other hand, has shifted its attention to the developing world. The company bought the remaining 20% from Grupo Carso in Mexico for Philip Morris Mexico. Surprisingly enough, the net income growth of the three companies is neck and neck, despite PM having a large advantage in revenue growth.
In terms of ROE metric, Altria Group and Reynolds American make more profit from each stockholders' dollar, in comparison to Philip Morris. The cost of selling and operating expenses is far lower for the American cigarette sellers, which is a glaring incentive for investors looking to get more bang for their buck. Altria Group in particular also shows admirable ROE numbers while being laden with debt. The company's high debt/equity ratio spells trouble in times of a financial crunch, but such an event is unlikely since the company's free cash flow is healthy and has been positive for the last 10 years.
Dividend and Stock Performance
Reynolds American and Altria Group offer high yields for investors, at 5.05% and 4.94%, respectively. Reynolds American has been increasing its dividend payout for the last 8 consecutive years, but its payout ratio for TTM is 87.8%. Whether Reynolds American continues to increase its dividend remains to be seen, but I suspect it will entirely depend on how the company's new e-cigarette and tobacco sales go. Its current TTM dividend is $2.36, while Altria Group's ttm dividend is $1.73.
While Altria offers a great price to entice an investor to such a high dividend payment, it has recently shown fluctuation in its dividend payouts and boasts an unwantedly high payout ratio. Philip Morris, on the other hand, offers a higher dividend in absolute terms, but due to its high market capitalization, the yield is much lower than its competitors. The company has provided a ttm dividend of $3.32 after hiking increments for the last 5 years, with a current payout ratio of 63.4%.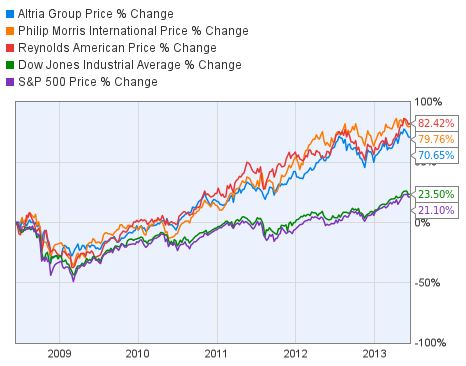 When the performance of the three is put into perspective, the price trend dispels notions of any decline. Over the past 5 years, all three tobacco companies have outperformed the market's average by a staggering percentage. Reynolds American and Philip Morris lead Altria Group over the course of the last 5 years. The graphs illustrate price trends compared to market averages of the S&P 500 and Dow Jones Industrial Average.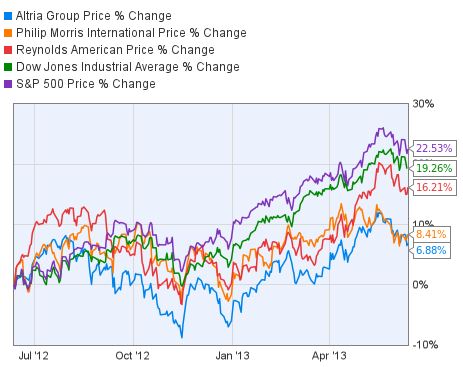 Over the past 12 months, however, the cigarette industry's performance became more apparent. It is indeed true that the growing awareness campaigns and laws against tobacco consumption are taking their toll on the stock prices of two of these companies. Since April 2013, Reynolds American has seen its share price appreciate significantly, while Philip Morris and Altria's prices show only nominal increases. Reynolds American is the producer of the Camel brand, which has an 8.5% market share and is growing in popularity in the premium menthol segment. The company's brands are high-equity and high-potential brands as they offer a niche experience, especially with the introduction of the VUSE e-cigarette.
What does the Future Hold?
Reynolds American is launching its VUSE e-cigarette, while Altria Group is launching 'MarkTen', its own brand of electronic cigarettes. Reynolds has the advantage of launching its product before Altria, which will provide a significant boost. The e-cigarette industry has grown from thousands of customers in 2006 to several million today. Sales of e-cigs are expected to top $1 billion this year. In the United States, due to aggressive advertising and well positioned publicity, e-cigarettes are gaining popularity and quickly becoming mainstream. This looks to simply be a logical move from MO and RAI to capitalize on the growing demand for e-cigarettes, seeing how they are the two largest cigarette producers in the United States.
Philip Morris, on the other hand, does not look to be venturing into e-cigarettes for the international market, as demand for electronic cigarettes in the developing world is sparse at best. While the company experiences declining volumes in Russia, Japan and the EU, its volumes continue to grow in developing countries such as the Philippines and Indonesia. Furthermore, Philip Morris' international market share in the cigarette market stands at 28.8%, as mentioned in the company's latest annual meeting of shareholders.
Make or Break for Investors
I am taking a prudent approach towards the choice among the three. RAI and MO face uncertainty and volatility as their sales are expected to shift from tobacco sales to e-cigarettes. PM, on the other hand, continues to enjoy healthy revenue and profits from its continued strategy of targeting developing markets. This is much more risk-free when compared to the other two options and also compels me to side with PM for investing.
Bottom Line
The company pays a high dividend, has stable earnings and shows consistent growth in developing countries. The culmination of all of these factors allows me to advise a solid and long buy for Philip Morris.
Disclosure: I have no positions in any stocks mentioned, and no plans to initiate any positions within the next 72 hours. I wrote this article myself, and it expresses my own opinions. I am not receiving compensation for it (other than from Seeking Alpha). I have no business relationship with any company whose stock is mentioned in this article.