Altria (NYSE:MO) dominates the market with 50% market share in the U.S. tobacco industry. The company owns a strong product portfolio, including its flagship brand 'Marlboro'-- which contributes approximately 85% to total cigarette volume sales of the company. The company has been delivering impressive top and bottom line growth of 6% and 7% respectively on average in the recent five years. Also, analysts are anticipating a high growth rate of 7.5% on average for next five years. Given strong growth prospects and potential for price appreciation based on my price of $38.5 (calculation shown below), I am bullish on the stock.
Last week MO held investors day conference, in which the company put forward its long term objectives and discussed its earnings guidance for the year 2013. The strengths that support MO to achieve its target in the long term include;
The diverse business model
Leading premium brands
Focus on innovation
Cost Management, and
Solid balance sheet and cash flow position
The company revised its reported diluted earnings per share guidance for the full year 2013 to a range of $2.50 - $2.56 from $2.49 - $2.55. However, the company reaffirmed 2013 full year adjusted earnings guidance range of $2.35 - $2.41 per share. In contrast to the company earnings guidance, analysts are anticipating MO to earn $2.40 per share.
Due to health concerns and increasing regulations on traditional cigarettes, the tobacco industry has been working to move towards e-cigarettes. Following in the footsteps of the tobacco industry, MO announced it will introduce the first e-cigarette brand in August, 2013. This e-cigarette introduction was announced last week at the investor day conference and is consistent with the company's long term plan of product innovation. MO's move towards e-cigarettes will help it to grow its declining top line. Moreover, the company's efforts towards e-cigarettes and other alternates to traditional cigarettes could prove to be an important stock price catalyst in the future.
Following the investors day conference, Barclays Capital upgraded MO from sector weight to overweight.
Financial Performance
Due to lower sales of smokeable products in the recent first quarter, revenues for MO decreased by 2% year on year basis. Reported revenues for MO were $5.5 billion in 1Q 2013. Due to a disciplined cost savings and cost reduction program, MO experienced 21% increase in gross profit and 30% surge in operating income in the recent quarter. The cost reduction program positively impacted the bottom line of the company as adjusted earnings per share came out to be 54 cents, which was 10% higher as compared to corresponding period last year. Adjusting EPS for the last quarter was in line with the analyst consensus. Altria's bottom line was also positively impacted by higher prices and lower interest costs.
During the 1Q 2013, MO repurchased $57 million worth of share at an average price of $34.05 per share. Also, in the recent quarter the company completed its $1.5 billion worth of share repurchase program and introduced a new share repurchase plan of $300 million, which is expected to be completed by the end of the ongoing year, 2013. Other than impressive share repurchase program, MO also offers a high dividend yield of 4.9% with an annualized dividend rate of $1.76 per share.
Figure 1: Annual Cash flow from operations and Dividends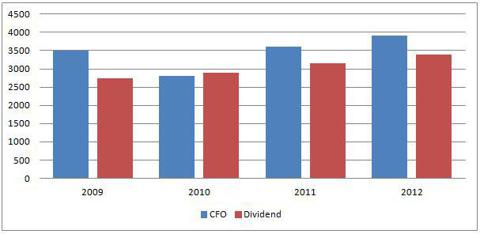 Source: Annual Reports
Figure2: Quarterly Dividends for MO



Source: Ycharts.com
Altria has been sharing successes with its shareholders through dividends, and has increased dividends consistently. Also, the company has healthy operating cash flow in comparison to its dividend payments, which indicates dividends offered are likely to be maintained without any cash flow problem going forward.
Conclusion
MO has been posting healthy financial performance in the past, and given its ongoing cost reduction and share repurchase program, I believe the company will continue to deliver strong financial performance in the coming years. Also, the company plans to work towards e-cigarette as disclosed on the investors day earlier this week, which will support and grow top line for MO.
I believe MO has a potential for stock price appreciation based on my price target. Using S&P 500's forward P/E of 15x and 2014 analysts EPS forecast of $2.57 for MO, I calculated price target of $38.5 per share. This provides investors a potential price appreciation of 9%.
Disclosure: I have no positions in any stocks mentioned, and no plans to initiate any positions within the next 72 hours. I wrote this article myself, and it expresses my own opinions. I am not receiving compensation for it (other than from Seeking Alpha). I have no business relationship with any company whose stock is mentioned in this article.