In this article, the unique combination of companies under discussion includes three in the construction, mining and agricultural industries. This requires a holistic approach to evaluating the performances of Caterpillar (NYSE:CAT), Deere (NYSE:DE) and Cummins (NYSE:CMI). Furthermore, seeing how direct macroeconomic factors, such as growth rate and prices, affect fortunes of these companies, it is even more important to highlight the changes in the global economic system.
China is currently the sole driver of global demand. Sadly, however, its output has been on the negative end for the past four months. In May alone, the country's estimates for economic growth were cut back from 8.2% to 7.6%. In the case of agriculture, the effect is completely the opposite. In the U.S, there have been record crop yields for 2012 with continued expectations for 2013. These impressive yields have dropped the commodity prices for corn, cotton and wheat, and as a result, the incomes of farmers have stagnated, having an adverse effect on the sales of farming equipment. Mining is primarily conducted in developing countries and the output in India and China has dropped as prices are at a three and a half year low, arresting growth for companies involved in mining activities.
Financial Picture
Caterpillar is the largest provider of construction machinery in the world and this is reflected in its market capitalization. The company has been having a difficult time recently as its sales in machinery fell 9% in February, 11% in March and 13% in April. With the current cut in China's output estimation, it would be logical to expect the negative trend to continue and be compounded. Caterpillar's revenue growth and net income growth are direct reflections of China's growth over the past three years. Currently priced at $85.01, it is level with Deere's share price on the stock market.
| | | | |
| --- | --- | --- | --- |
| Indicator | Caterpillar | Deere | Cummins |
| Price/Earnings ttm | 11.5 | 10.5 | 15.2 |
| Price/Book | 3.1 | 4.0 | 3.4 |
| Net Income Growth (3 Yr Avg.) | 85.2 | 52.0 | 56.6 |
| Revenue Growth (3 Yr Avg.) | 26.7 | 16.1 | 17.1 |
| Dividend Yield, % | 1.83% | 2.21% | 1.69% |
| Net Margin % TTM | 7.9 | 8.5 | 8.8 |
| Debt/Equity | 1.5 | 2.6 | 0.1 |
| Return on Equity | 29.9 | 41.0 | 23.3 |
| Current Price | $85.01 | $85.44 | $117.12 |
Deere, the agriculture machinery provider, has had its work cut out for it. In the last two quarters of 2012, bad weather prevented farmers from utilizing any farm equipment. On the metric front, Deere boasts a higher ROE than its competitors and also offers the highest yield. However, it also has a huge amount of debt, which needs to be serviced. It had a negative net cash flow in 2012 and has the unwanted debt/equity ratio of 2.6. However, almost 40% of its debt is long term, which should make cash flow much more manageable. In its last quarter, Deere's profits rose 2.7% but it cut back its sales projections for the year. While its financials are not in a difficult state at the moment, it would be unwise to expect a stellar 2013 for the world's largest seller of tractors.
Cummins on the other hand, provides engines to PACCAR, Volvo AB, Navistar, Chrysler and others. The company also makes large engines for the mining and construction industry. The company has a market capitalization of $22.1 billion. Unlike the competition, Cummins has next to no debt as the debt/equity ratio suggests, while its revenue and income growth is extremely healthy. The company has the highest net margin of the three companies under discussion, meaning, compared with its competition, it has the highest margin from which to make a profit, given a set amount of revenue. Cummins invests heavily in R&D, but that has not translated into results until now due to the slowdown in the economies of China, India and other developing countries. Furthermore, Cummins shares are the most expensive option of the three machinery-producing companies.
Stock Price Trend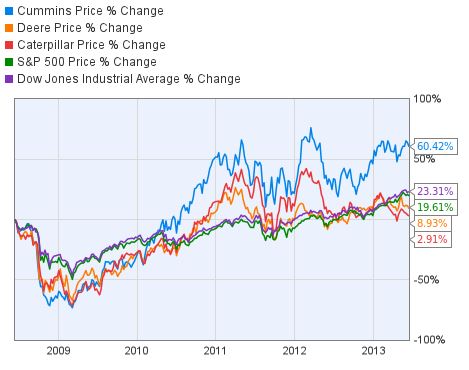 The graphs above illustrate the performance of the trio over five years and one year. Over the course of five years, Cummins has undoubtedly been able to award its investors with significantly higher returns than any of its competitors. Efforts to jumpstart the global economy by investing in construction and mining allowed Cummins and Caterpillar to enjoy the benefits of a price appreciation. Since mid-2012 however, Caterpillar has drifted away from Cummins due to the lack of growth in China. Presently, this is the first time that Deere and Caterpillar have slipped below the return rates of moving market averages since 2010.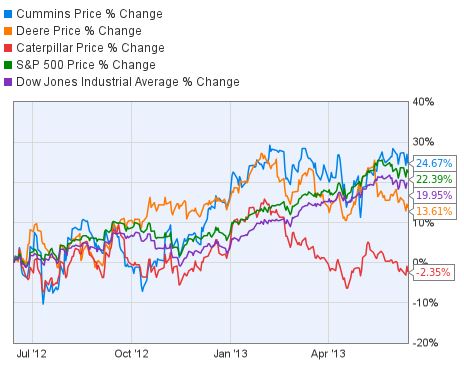 The TTM shows a similar story to the 5-year story, but the margins are now much lower than before. Cummins is still leading the pack and also the market averages, albeit by a lesser margin. Caterpillar's fall down the price chart continues whereas Deere has hit a resurgence and only in the month of May did its price fall below the Dow Jones Industrial Average. The graph suggests that Caterpillar is in trouble, mirroring China's slowdown in growth. Deere has potential just under the surface and Cummins can withstand volatility due to its diverse range of products.
Make or Break for Investors
Due to the nature of products delivered by the three companies, I believe it is worth taking a risk if you are considering investing your money. Caterpillar needs to end its reliance on China for a change in its fortunes, as China's growth impetus has shifted from construction - for the time being at least. Caterpillar is not essentially a bad investment. Far from it in fact. But from an investor's perspective, maximizing capital gains is necessary and thus the timing could be better.
Cummins saw its heavy-duty truck sales improve on a quarterly basis in Q1 2013. The difference between Caterpillar and Cummins is that the latter's U.S share is 50% of its total sales. Even when the global economy is slowing down due to less growth in developing countries, Cummins is able to capitalize on the U.S demand. In fact, Cummins gets only 6% of its revenues from China. Therefore, the only thing going against the company right now is the high share price, which makes it a difficult stock to buy. I believe there is further potential for the share price to appreciate. (Source: Company's latest available quarterly presentation)
Deere, on the other hand, has benefited from record-high farm profits in preceding years. In the company's Q2 2013, it announced record earnings of $1.08 billion. The company's equipment sales are expected to grow by 5% for the remainder of 2013, which would further add to the impressive financials of the farm machinery manufacturer.
The situation is quite peculiar among the three companies at the moment. Caterpillar has proven potential, but market slowdown is hurting it badly at the moment. Deere has a large agriculture base, which is used as a springboard for its share prices every year, while Cummins is very highly priced. In the end it comes down to one thing: timing.
Bottom Line
I believe Deere provides the best options for investors due to its lack of volatility amidst a global slowdown and unfavorable market conditions, along with two record quarters for the company. In my opinion, Deere is a Buy while Cummins and Caterpillar are currently Holds.
Disclosure: I have no positions in any stocks mentioned, and no plans to initiate any positions within the next 72 hours. I wrote this article myself, and it expresses my own opinions. I am not receiving compensation for it (other than from Seeking Alpha). I have no business relationship with any company whose stock is mentioned in this article.