It couldn't get much better for Nexstar Broadcasting Group, Inc. (NASDAQ:NXST) over the last 12 months, as it has traded in a range of a little above $6 a share a year ago to close at $30.65 on Friday, June 14. Over a period of a year, it doesn't get much better than that, so it now has to be taken into consideration whether or not this awesome run of Nexstar is going to begin to fade, or if it still has legs left to move even higher. Looking at the overall position of the company, it appears like there is still a lot of heft left in the stock, and should provide a good return for at least several more years.
I say that because guidance from the company is that it's still going to do very well during the off political season, so when it gets all its ducks in a row with its recent acquisitions, heavy political spending will return providing even further impetus for the share price. Depending on whether or not more acquisitions are made, 2015 could be another banner year. But even if the company stays as it is today, it will be a huge beneficiary of major ad spend on the 2016 presidential and other races, which begin spending fairly early in the year. With two out of the next three years being political years, this bodes extremely well for the broadcaster.
When looking at the terrific performance of Nextstar in the first quarter of 2013, it's amazing the type of growth it enjoyed in a non-political year. This and the upcoming burgeoning political ad spend is why it appears this stock is far from slowing down.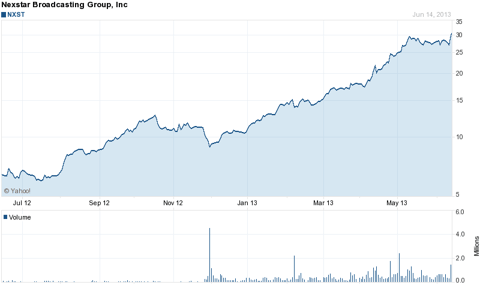 Latest Earnings Report
Net revenue for the first quarter of 2013 was $112.2 million, an increase of 34.2 percent year-over-year. Core revenue jumped to $83.3 million, gaining 32.6 percent from the $62.8 million generated in the first quarter of 2012.
Breaking it down regionally, local revenue soared to $59.9 million, up 31 percent; on a national basis revenue climbed $23.4 million, a 34.3 percent increase; on the political spending side, revenue was down to $800,000, in contrast to the $2.8 million spend in the prior year, which was to be expected. That was also with a fewer stations than the firm now has.
Fee revenues from retransmission came in at $23.8 million for the quarter, rising 64 percent of the same reporting period in 2012. The majority of that was driven by acquisition of the Newport stations, and another 8 stations acquired in the first quarter of 2013.
Revenues from the Internet climbed to $6.5 million, representing a cash flow of $39.8 million, up 17 percent over the first quarter of 2012. Adjusted EBITDA was $33.1 million, with free cash flow of $10.2 million, which was a record performance by the company in a non-political year for the first quarter.
Income Statement

Cash Flow

Expenses
Corporate expenses for the reporting period ended March 31, 2013, grew to $6.7 million, in comparison to the $5.4 million year-over-year. Approximately $1 million of that was a one-time event associated with acquisitions in the quarter, capital markets, legal accounting and other professional services.
Overhead over the next 3 quarters is expected to stay above regular levels because of expenses related to the CCA acquisition and ABRY secondary offering. During the remainder of 2013, the normal run rate will be up from the regular $5.5 million to $6 million to $6.5 million.
Starting in the fourth quarter of 2013, if the CCA station acquisition is completed, an additional $375,000 per quarter in corporate expenses is expected to be added for infrastructure and staffing requirements to manage the 19 more stations added.
Station direct operating expenses came in at $61.4 million in the first quarter, a major increase from the $42 million in expenses last year in the same period. The majority of the $19.1 million increase is attributed to the 18 stations added in the fourth quarter of 2012 and first quarter of 2013. Fixed expenses on a same-station basis climbed less than 2 percent.
Debt and Leverage
One of the major concerns over Nexstar is how levered the company is. As of its most recent quarter, it held debt of $928 million and cash on hand of only $22.62 million. Its overall leverage level was 4.24 at the time. Net debt/EBITDA was almost 5.5. The EV/EBITDA of the company stood at 10.45.
Breaking down Nexstar's outstanding debt as of March 31, 2013, it included a first lien debt of $348.3 million on the term loan and $10 million on the outstanding under revolver, the second lien bonds at $319.7 million and finally, the senior unsecured bonds, at about $250 million.
While the debt is something to watch and consider, for now the positives in the company are far outweighing the negatives, and as it eases through its transition period, it looks like it'll come out far stronger than it is now.
Hedge Funds
Even so, that hasn't stopped institutional investors from continuing to pour capital into the stock, as it appears the momentum of the company and other strengths are considered to be overriding the concerns over debt challenges.
A lot of hedge funds are bullish on Nextstar, led by Silver Point Capital, which has holdings valued at $27.6 million in the broadcaster. Renaissance Technologies is the second-largest holder of shares among the hedge funds, with a position of $22.3 million in the firm. Other hedge funds bullish on Nextstar are North Run Capital, Scopus Asset Management with $12.4 million in the company and Act II Capital with $11 million initiated in the latest reporting period.
Of major money managers holding significant positions in Nextstar are Citadel Investment Group, D. E. Shaw and Kingdon Capital.
Guidance
Capex for the first quarter came in at $6.8 million, up from the $4 million in the same quarter in 2012. That's primarily from the costs associated with building the state-of-the-art broadcasting and news facility in Memphis. This will provide support for the 3 stations Nexstar has in the Memphis and Jackson, Tennessee markets.
Capex for 2013 is estimated to be in a range of $18 million to $20 million. In 2014, capex is also expected to be approximately $20 million, with it tapering off into the mid-teens on a normalized basis afterwards. This assumes no more acquisitions, which is highly unlikely.
Free cash flow has moved in unison with the expansion of the platform of the company, and the company says that and the expertise it has in integrating and operating newly acquired stations has been the chief reason it has produced such a solid long-term growth record. That should continue on over the next couple of years.
As for its acquisition strategy, there have been numerous opportunities, with close to $3 billion in assets in local TV, Allbritton and Fox. Co. on the market. Consequently, there is ample opportunity for the company to continue to grow via acquisitions, although Executive Chairman, Chief Executive Officer and President Perry A. Sook said that even though some of those assets fit into the middle-markets the company targets, they will only pay a price that makes sense and provides value to shareholders. Sook added that he believes there will be a lot more opportunities to buy beyond those properties.
If it can be done correctly, Sook is committed to continue buying properties and growing the company. There is a lot of room to grow, as you can see when viewing the map below of where Nexstar has a presence. At this time, the company reaches only 13.9 percent of the American market.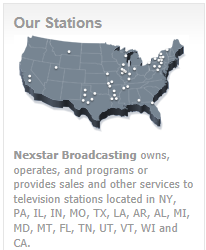 Organic growth is estimated to continue, specifically in the non-political categories. Some advertising areas that have been growing are automotive, furniture, schools and instruction, cable and media. Categories declining in ad spend include attorneys, retail, medical and fast food, among others. Surprisingly, financial advertising, including banking, wasn't mentioned on the most recent earnings call.
One intriguing area that could boost the advertising revenue of broadcasters and other media outlets is Obamacare. There have been rumblings that the uncertainty and complexity surrounding the initiative will result in some major advertising to help explain how people must interact with the requirements.
Sook said it is impossible to measure the size or timing of it, but confirms there is talk behind the scenes of a strong advertising push in that segment of the medical market.
The company is taking into consideration the impact of ad spend in that category, but can't confirm it's a surety yet.
As for the near term, the second quarter is looking even better than the first quarter, with more than half of the 15 ad categories the company tracks on a local and national level showing an increase. Those showing growth are also doing so at a higher percentage in the second quarter than in the first.
For the year, Nextstar looks for another record performance.
Conclusion
When looking at the overall picture concerning Nexstar, there is a lot to like, not only based on past performance, but how the company is positioned for strong growth in the future - whether organic or via acquisition. They have been doing both well, and that's a great sign for shareholders and investors.
While debt remains a concern, the operating cash flow (NYSE:TTM) is 66.95 million, and levered free cash flow is 61.75 million. In the near term, Nextstar doesn't see any material effect on its levered position, and as revenue and earnings grow, the company will continue to strengthen its balance sheet.
Balance Sheet

With a market penetration in the United States of under 14 percent, there is an enormous amount of growth potential for the company in the years ahead, and I especially like the way it's building up its nonpolitical advertising revenue as it positions itself for two out of the next three years of a boost in that regard as political campaigns get underway. That means predictable income outside of political spending.
The potential downside is if the economy doesn't continue to grow, as many companies cut their marketing budgets as one of the first responses to tough economic conditions. That's where the debt becomes more of a concern for the firm.
If the projected record performance in 2013 becomes a reality, it could make a $30 share price look anemic in comparison.
Assuming no major economic downturn, I don't see Nextstar as being overpriced, even after it's extraordinary run over the last 12 months. There is a possibility higher expenses may cut into earnings in the second quarter, which would hinder the performance in the short term, but if management is correct, the rest of 2013 should be exceptional.
This is a company that needs to be on the radar of those liking the smallcap broadcasting sector.
Disclosure: I have no positions in any stocks mentioned, and no plans to initiate any positions within the next 72 hours. I wrote this article myself, and it expresses my own opinions. I am not receiving compensation for it (other than from Seeking Alpha). I have no business relationship with any company whose stock is mentioned in this article.